JHC begins new theme park projects
By Brian Knatchbull
Courtesy of The Jim Henson Company
October 23, 1998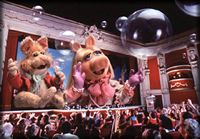 The Walt Disney Company has extended its relationship with The Jim Henson Company for exclusive theme-park rights to Henson properties in Southern California.
Henson president Charles Rivkin has also announced that The Jim Henson Company is planning to create a series of Muppet-themed, location-based family entertainment centers in communities outside of Florida and Southern California. The centers may compete with Disney's growing web of regional entertainment centers, including Club Disney and DisneyQuest.
The Henson deal will bring an embellished version of the 7-year-old Muppet*Vision 3D attraction at Disney-MGM Studios Florida to the $1.4 billion Disney's California Adventure park being built next to Disneyland. The park set to open in 2001, is part of an expansion of Disneyland into a resort featuring dining, shopping and new hotels. Muppet*Vision 3D, an audience-immersed, 3-D movie and preshow experience, will anchor the park's Hollywood Distract. Muppet*Vision 3D has become one of the most popular attractions at Disney-MGM.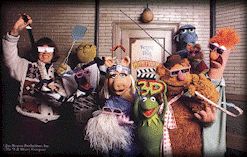 With the moving of Henson's movie and video deals going from Disney to Sony, Charles Rivkin reports that "the relationship (with Disney) has gotten much better," noting Henson's program licensing deals with the Disney Channel. He said Jim Henson "always saw Disney's theme parks as the home for our franchise."
Henson has no additional plans to design attractions at either Disney resort in the United States, and have no plans to add Muppet*Vision 3D or any other Henson attraction to Disney resorts in France or Japan.