MuppetZine comes to an end
Courtesy of Danny Horn
October 12, 1998
MuppetZine, the incredibly popular and much-beloved zine that entertained and enlightened Muppet fans in their thousands, is closing its doors after twenty issues. This is an unprecedented event, as magazines are not usually known to have doors.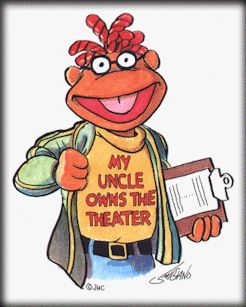 There have been many rumors floating around the Muppet-fan community about the end of MuppetZine -- one being that the magazine was bought out by the Walt Disney Company and will soon be repackaged as MulanZine. This rumor is as false as almost all the information printed in MuppetZine's news sections. The truth is that Danny Horn, the gifted and irresistibly handsome publisher of MuppetZine, has escaped. MuppetZine may return at some point, if we find him.
Meanwhile, Danny is happy to "pass the torch" of MuppetZine over to Muppet Central. MuppetZine articles are now being archived at Muppet Central, in the Articles section, and Danny's new Muppet-fan projects will be on Muppet Central.
Subscribers with outstanding subscriptions (and weren't they all outstanding?) may get refunds in cash or in back issues.
Danny knows that many Muppet fans are sad to see MuppetZine go. Danny offers these words of comfort: "Remember that when Muppet Magazine folded, subscribers got sent copies of Alf Magazine instead. Just be glad I'm not inflicting that on you."