Jeff Moss dies of colon cancer
Courtesy of Yahoo News and CTW
September 25, 1998
Jeff Moss, 56, one of the original creators of "Sesame Street,'' died Friday morning of complications arising from colon cancer.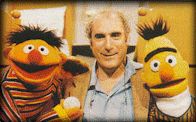 Moss, who served as founding headwriter and composer-lyricist on the show, had won 15 Emmys for his work, and wrote the songs for four Grammy Award-winning records. His music and lyrics for "The Muppets Take Manhattan'' earned him an Academy Award nomination. In addition, Moss helped create such beloved Muppet characters as Cookie Monster, Oscar the Grouch and Guy Smiley.
"From the beginning, Jeff played a critical role in creating the educational and creative standards of 'Sesame Street,' which lead to the instant success of the show,'' said Joan Ganz Cooney, chairman, executive committee and co-founder of Children's Television Workshop, the producer of "Sesame Street.''
"A music visionary, Jeff's talent helped us reach and teach millions and millions of children lifelong lessons with memorable songs like 'Rubber Duckie' and 'The People in Your Neighborhood.' His wonderful lyrics and music reflected the mood and style of the show -- fun, energetic, sometimes sentimental and always entertaining. Jeff will be sorely missed by his friends at 'Sesame Street.' "
Moss also wrote "Sesame Street'' hit songs "I Love Trash,'' "Skin'' and "I Don't Want to Live on the Moon.'' Johny Cash, Julie Andrews, The Boston Pops and many other top musical stars have performed Moss' songs. His first single, "Rubber Duckie,'' sold more than a million copies. Another Moss hit, "Nasty Dan," was recorded by Johny Cash and Claude Francois in France, where it became No. 1 on the pop charts.
Moss' theater works included "Double Feature,'' which was choreographed by Tommy Tune and staged in New York, and "Sweetness,'' which was also performed in New York. His text and score "In the Beginning'' was choreographed by Twyla Tharp and performed by her company.
Moss started composing as a youngster. He studied classical music at New York's Browning High School and went on to Princeton, where he studied music and wrote books, music and lyrics for the college's Triangle Club Productions.
Moss penned more than a dozen best-selling books under the "Sesame Street'' name, including "The 'Sesame Street' Book of Poetry.'' He is the author of three children's poetry collections, "The Butterfly Jar," "The Other Side of the Door" and "Bone Poems," as well as "Bob and Jack: A Boy and His Yak'' and "Hieronymus White," stories in verse.
Moss is survived by his wife, Annie, and son, Alexander.
A memorial service is being planned in New York shortly.