Bennett and Kermit sing on new CD
Courtesy of Columbia Records and Sony Wonder
September 16, 1998
As he enters his 50th year in show business, Columbia Records artist Tony Bennett is releasing "The Playground,'' a delightful new chapter in his ongoing tribute to the Great American Songbook. Filled with songs and performances designed for parents and kids to enjoy together.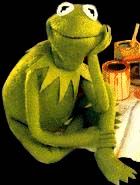 Tony shares the mike and duets with some very special guests: Kermit the Frog (on "Bein' Green'' and "Firefly''), Rosie O'Donnell (on "Put On A Happy Face''), and the ever-so-ticklish Elmo (on "Little Things''). The episode of Muppet Tonight in which Tony Bennett stared earned an Emmy Award last year.
The album will also feature such swinging interpretations of family classics like "Ac-Cent-Tchu-Ate The Positive,'' "Swingin' On A Star,'' and "(It's Only) A Paper Moon.''
For the album, Tony has joined forces with his longtime collaborator Ralph Sharon on piano, Clayton Cameron on drums, Paul Langosch on bass and Gray Sargent on guitar. Several of "The Playground's'' 16 tracks feature a children's choir and the CD packaging will include song lyrics. The title song, "The Playground,'' was originally an instrumental composition by the late jazz pianist Bill Evans, who collaborated with Tony on two critically-acclaimed albums in the 1970s. Tony approached songwriters Alan and Marilyn Bergman to write lyrics to Evans' music and the result became "The Playground's'' opening cut.
"The Playground'' was produced by Tony Bennett and Danny Bennett, his son and manager; the album was recorded and mixed by Joel Moss.