Dan Clark gives fans a "sneak peak" at "Brats"
By Brian Knatchbull
August 31, 1998
From Jim Henson Television, DECODE and Wandering Monkey comes a new Saturday morning Kids' WB series, "Brats of the Lost Nebula." It premieres this October on Kids' WB network and also in Canada on the YTV television network. It is currently in production in Toronto, Ontario Canada.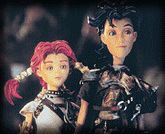 "Brats of the Lost Nebula" will follow the adventures of five kids from different war-torn planets after they're thrown together and are forced to survive by their wits. The motley tribe of orphans search for their lost families but wind up as 'kid warriors,' fighting off evil planetary invaders called "The Shock".
I was able to talk with "Brats" Executive Producer, Dan Clark. He gives fans some new information on this exciting series. Here is what he had to say about the new program.
How is "Brats of the Lost Nebula" different from standard Saturday morning fare?
Dan Clark: "Brats of the Lost Nebula in terms of style, technology and approach is utterly different from anything currently on Saturday morning. From a science-fiction standpoint, Brats is very cool storytelling. We've worked hard to create our own totally unique world while at the same time adhering to all the things that got us into sci-fi in the first place. Which is to say, good science-fiction holds a mirror up to the audience's condition, sports epic mysteries, complex characters, exotic technology, and plays for high stakes."

"Brats is about making a family where you find it and about banding together with very different creatures to fight and quest for something you believe in. The show runs the gamut between angst and joy, action and comedy, big thrills and rowdy weirdness."
"Brats was made by literally hundreds of talented sci-fi fans: writers, directors, creature fabricators, CGI animators, character designers, performers, etc. A lot of Saturday morning television is 'standard fare,' but Brats is radically different television made by people who just wanted to watch it."
The concept sounds similar to "Thunderbirds," was that an influence?
Dan Clark: "Oh yeah, certainly, "Thunderbirds", "Sting Ray", "Captain Scarlet" and all of the Andersons' action puppet projects influenced me greatly. The reason Wandering Monkey wanted to do the show with The Jim Henson Company was because of Jim's past dedication to story and character. "Dark Crystal", "Labyrinth" and "Jim Henson's The Storyteller" series were equally big influences."
"With that said, Brats is informed by a bunch of different stuff. Anime is a huge influence on me, as well as rave art, graphic novels, alternative animation/puppetry/CGI, video games and just mod pop culture in general.
Will adults as well as kids be able to enjoy the show?
Dan Clark: "Yeah, absolutely. When we do an episode of Brats we don't tell ourselves, "Okay, now let's make a kid's show." Brats is for anyone with an imagination and a spare half hour."