Juhl resigns from new Muppet movie
By Phillip Chapman
August 27, 1998
Last month, Muppet Central's D. W. McKim interviewed veteran Muppet writer Jerry Juhl. At that time, he was reluctant to discuss the new Muppet film because projects in preproduction "could change tomorrow."
Well, they have.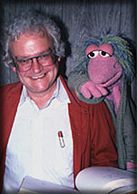 In a letter to Muppet Central, Mr. Juhl wanted to inform Muppet fans that he is "no longer connected with the next Muppet film project (the one I think of as the Gonzo/UFO movie). The Henson Company and I had artistic differences about this story. These things happen."
Jerry Juhl originally wrote a script, and Kirk Thatcher independently wrote another. In July, it was still not certain which script they were going to use.
According to Jerry Juhl, "Two years ago, quite independently, both Kirk Thatcher and I started to develop movie ideas for the Muppet characters. Kirk's movie is about the Muppets as space travelers in a sort of Star Wars universe. My movie is about Gonzo and UFOs. Very different projects, despite some similarities of subject matter. I hope someday Kirk's movie gets made, because it is really funny."
Jerry Juhl, however, stated that The Jim Henson Company decided to pursue the UFO concept for their next project. "I wrote a number of drafts of it. Those drafts, I know, form the basis for the development that has continued since I left the project. People have gotten confused about this, partly because of a similarity of working titles. Kirk originally called his screenplay, "Muppet In Space." I had called my project "Star Gonzo," a title I did not expect to last. At some point Columbia started to call it "Muppets From Space."
Jerry Juhl went on to say that, "To my knowledge Kirk has not done work on the UFO movie. Work has been done on it by Joey Mazzarino. He worked on, and may be credited on, the new Sesame Street Elmo movie."
When asked about whether or not he would receive story credit for originating the idea, Jerry Juhl said that has not yet been determined. "The Gonzo/UFO movie is in preproduction and will be shot in the near future as far as I know. Movie credits in situations like this are always decided by a Writers' Guild arbitration committee that studies all versions of the script and assigns credit." Currently, the movie is expected to begin filming October 26 in North Carolina.
Since his television retirement in 1987 (after the end of Fraggle Rock), Jerry Juhl has worked on the previous two Muppet movies in 1992 and 1996. However, even though Jerry is not involved in "Muppets From Space," he still wants to be involved in future Muppet productions.
"You'll know I'm retired when they carry me out in a box," comments Juhl. "I have been doing movie projects for the Muppets for the last few years, I haven't done any TV stuff because TV would require me to live in places like LA. But trust me, I don't feel retired! As for future projects... long range planning is bad for your health."
On August 5th, there was a sudden director change for the project. Randal Kleiser had parted ways from directing "Muppets From Space" due to "creative differences," and was quickly replaced with Tim Hill. The film marks the feature directing debut for Tim Hill. Tim is the creator, writer, and director of the Nickelodeon stop-motion series "Action League Now."