"Brats" undergoes name change
By Brian Knatchbull
Courtesy of Playback TV Entertainment Magazine
August 15, 1998
I came across some information regarding "Brats of the Dark Nebula" which is to air on the WB Saturday Mornings this fall.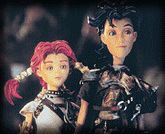 It was reported in Playback, a Canadian TV & Entertainment magazine, that the series is now called "Brats of the Lost Nebula" and it started filming in May 1998 and goes until January 1999 in Toronto, Ontario Canada.
"Brats" will air at 11:00 AM, and is a totally new "edge-of-your-seat" Sci-fi action-adventure, combining "got-to-see-it-to-believe-it" puppetry and computer-generated imagery, which follows the adventures of five orphans, "Brats" (whose families have mysteriously disappeared), from different war-torn planets thrown together and forced to survive by their wits in a galaxy under attack.
Traveling in intergalactic spaceships and equipped with exotic technologies, this motley tribe searches the stars for any surviving family members while battling the evil and mysterious "Shock" warriors, invaders who are out to destroy them. The series utilizes innovative puppetry to bring life to the dynamic characters and combines it with state-of-the-art computer-generated imagery to create rich alien environments and exciting action scenes.
It is a co-production of The Jim Henson Company, DECODE and Wandering Monkey production companies. The show will feature puppetry and computer-generated imagery.