Elmo In Grouchland begins filming on Monday
By Phillip Chapman
Courtesy of Yahoo News
May 30, 1998
As we've been discussing since January, Elmo from "Sesame Street'' will make his feature film debut in Elmo In Grouchland. It was officially announced Friday by Columbia Pictures President Amy Pascal.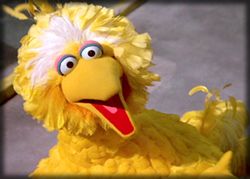 Joining Elmo in the film, which is set to start principal photography on June 1 in Wilmington, N.C., are Big Bird, Oscar the Grouch, Bert and Ernie, and the entire "Sesame Street'' cast, as well as Vanessa L. Williams ("Eraser,'' the upcoming Columbia picture "Dance With Me'') and Mandy Patinkin ("Chicago Hope,'' "`Dick Tracy,'' "The Princess Bride'').
Audiences of all ages will delight in following Elmo as he inadvertently falls into a far-away land full of rude, grouchy, trash-loving creatures and stinky garbage.
Accompanying the cast of regulars and celebrity guest stars is a variety of new characters designed by Jim Henson's Muppet Workshop: an annoying bunch called The Pesties ruled by Bug The Bug; Grouch Girl Grizzy; The Stenchmen, unique trash monsters who sing and dance under the watchful eye of Grouchland's Queen of Trash (Vanessa L. Williams); Huxley (Mandy Patinkin), a greedy, grouchy thief who gives villainy a new name, and many others.
"Elmo In Grouchland'' appeals to kids, who will love the action and adventure, and to adults, who will enjoy the sophisticated humor, original music and parodies.
The film is directed by Gary Halvorson from a screenplay by Mitchell Kriegman and Joseph Mazzarino. Brian Henson, Stephanie Allain and Martin G. Baker are executive producers. Alex Rockwell and Marjorie Kalins are producing the film, with Kevin Clash and Timothy M. Bourne serving as co-producers. Lorie Furie and Doug Belgrad are the Columbia executives overseeing the project.
Produced by The Children's Television Workshop (CTW), 71-time Emmy Award winner "Sesame Street'' is one of the pioneering shows in the arena of children's television. Featuring the "Sesame Street'' Muppets, which are trademark characters of The Jim Henson Co., and a diverse human cast, the show is recognized for successfully blending entertainment and education to create a fun, nurturing environment for children of all ages. The upcoming 1998-99 season will be Sesame Street's 30th anniversary on PBS.
CTW and Nickelodeon recently launched Noggin, an educational cable network for children.