Muppets return to roots with Maryland exhibit
Courtesy of the Associated Press
March 13, 1998
Kermit the Frog began life looking more like a lizard -- made of an old spring coat and a split pingpong ball. Now, his original incarnation is back in an exhibit that traces Kermit's 42-year journey to stardom.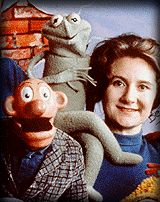 The original Kermit in 1955, with Jane Nebel and sidekick 'Sam.'.
The split pingpong ball, with a couple of dashes of black paint, became Kermit's eyes when he and other ''Muppets'' first appeared in 1955 on a Washington television show called ''Sam and His Friends.''
And while Muppets creator Jim Henson originally developed Kermit and his pals for entertainment, they became known worldwide for children's education when, 14 years later, they got their big break on Public Broadcasting System's ''Sesame Street.''
The Muppets ''are largely commercial entertainment, but there's always a little heart, a little moral to it,'' said Paul Avery, a University of Maryland instructor who put together the exhibit, ''The Muppets Take Maryland,'' at the university's College Park campus.
''There's always the message that people need to work together, and how you treat people is important,'' said Avery, who teaches a course related to the Muppets.
Kermit got his start at the College Park campus, where Henson met his partner and later wife, Jane Nebel, as a student.
On ''Sam and His Friends,'' Kermit became ''frogified,'' as Henson put it, from his original lizard-like image.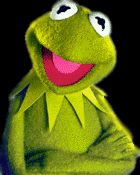 The modern Kermit.
But it wasn't until 1969 that producer Joan Ganz Cooney, appalled by the state of children's TV, put Kermit and others onto ''Sesame Street.''
The characters went on to even wider fame in their own television show, and in Hollywood movies.
Henson, who died in 1990, invented the word ''Muppets'' by combining ''marionettes'' and ''puppets.''
''There was nothing in Kermit outside of the piece of cardboard,'' Henson once said. ''It was originally cardboard -- and the cloth shape that was his head.''
''He's one of the simplest kind of puppet you can make, and he's very flexible because of that ... which gives him a range of expression.''
Kermit still makes appearances on ''Sesame Street.'' Now, says the Henson firm's publicity, he is the bright green, ''gentlemanly, sophisticated and intelligent'' frog-reporter.
The American version of Sesame Street appears in 39 countries, and 34 other countries have their own versions.
The exhibit runs through Friday.
Another early Kermit is on tour as part of the traveling ''America's Smithsonian'' exhibit celebrating the museum's 150th anniversary. That show travels to Portland, Ore., April 3, Birmingham, Ala., May 29, and later to California, Illinois, Ohio and Texas.