Elmopalooza receives low ratings
By Phillip Chapman
Coutesy of Variety
March 2, 1998
Unfortunately, Elmopalooza received "less than anticipated" ratings as the show aired Friday night on ABC. It was programmed against a repeat of "Speed" on Fox, and the Tara Lipinski-Michelle Kwan figure skating finals on CBS.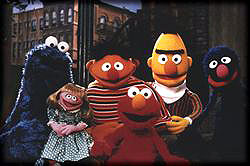 The overall ratings for Elmopalooza were 4.7/8. This means that only 8% of households with their sets turned on from 8:00-9:00PM were watching the special. The entire evening is also the worst Friday average (6.1/10) for ABC this season.
However, many industry insiders and outsiders don't believe in ratings because they only count about 1% of the American viewing public. Still, Children's Television Workshop and The Jim Henson Company will probably make their money back on the special - a video and DVD release of the is planned for April and a CD soundtrack is expected sometime this Spring.