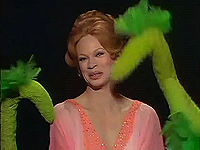 EPISODE NOTES
While The Muppet Show had two specials that aired on ABC as pilots, The Muppets Valentine Show and The Muppet Show: Sex & Violence, this debut episode and the subsequent Connie Stevens show were shot before the rest as pilots as well.
According to Jerry Juhl, a lot of these two episodes were reshot or reworked. Though not as anarchic as the show would eventually become, it nonetheless stands out as a strong pilot episode. Having the show done in a theater (as opposed to a random assortment of sketches) added a sense of unity. Kermit, a well established character, makes a stronger host than Wally or Nigel. Let's see one of them get kissed twice in 25 minutes!
Much of the cast either came from one of the two pilots or previous Muppet productions, but the major supporting characters, Fozzie, Scooter, and Miss Piggy were brand new (although it could be argued a prototype Piggy appeared in Sex & Violence or even a 1974 Herb Albert Show appearance). Throughout the year, more new characters would be created as well as expanding the cast with more older characters from various specials.

Although most major characters had a continual puppeteer, there was a lot of character switching in the first season. Many background characters and monsters would have a different performer/voice each appearance. Jerry Nelson, who played Statler in Sex & Violence (and Waldorf in the Muppet Meeting Films) reportedly did Statler a few times, Mildred would have at least three performers (who all did a good job trying to use the same voice), and Miss Piggy was initially traded off between Richard Hunt and Frank Oz, often in the same episode.
Indeed, in this episode, she's first played by Richard Hunt in "At the Dance" then in "Temptation", the infamous scene where she goes from chorus girl to star, she's voiced by Frank Oz speaking and Richard Hunt singing!! It's possible that Oz's voice could have been dubbed later but more likely, Frank is physically performing Piggy and the song was prerecorded with Richard's vocals.
It's interesting to note how Piggy may have sounded had Hunt ended up performing her regularly instead of Oz. While Richard is known for his vocal talents, Oz was initially scared of doing voices and not as strong a singer as Hunt, Jerry Nelson, and John Lovelady. Yet, later in the season, Frank would stretch his ability surprising everyone, including himself, as he started doing some Piggy singing. Also note Piggy does not wear long evening gloves.
The pig with brown hair in the closing number is a rebuilt Dr. Nauga from "Sex & Violence". This pig would be seen frequently throughout season 1. Next year it will be transformed yet again into the Dr. Nauga-inspired Dr. Julius Strangepork.

The "Temptation" number is really the high point of the episode - even aside from its significance as Miss Piggy's launching. Before the song even begins, the whole routine of Kermit trying to conduct the clueless Glee Club is hysterically funny and becomes wilder when the song begins - Piggy's a joy to watch even when she's still in the chorus. Keep your eye on Piggy when she sings, "Here is my heart" and thrusts her chest into Kermit's face...and Kermit's priceless reaction!

Mildred and George, not having been romantically linked in their previous appearances, would end up as dancing partners in almost each installment of At The Dance this year. Each week, Frank Oz attempts to upstage the other performers with Mildred/George's dancing which gets wilder each week. Interestingly enough, in England around this time, there was a sitcom called "George & Mildred" which was a spin-off of "Man About the House", the show that the American "Three's Company" was based on. ("George & Mildred" would have been the British equivalent of "The Ropers".)

Standup comedian Fozzie Bear was originally planned to be the "second banana". Even though he's on stage in other songs and sketches, he doesn't actually do any monologues (aside from his opening theme jokes) in the aired versions of the first two episodes. (However, Fozzie's comedy act is the very first act in the original unaired version of this episode).

Jerry Nelson, one of the veteran Muppeteers at this point, was not involved with a lot of the season's earliest episodes but would become a regular performer in the latter half of the season. Muppet fans may also have been surprised that the cast does not include Fran Brill, who was the main female puppeteer with the Muppets at the time, having performed in "Sesame Street", "Saturday Night Live", Muppet Meeting Films, and the "Sex and Violence pilot". She would eventually do a couple episodes this season only. Eren Ozker would be the main female presence on the show, but did not return for season two in order to return to the States and start her family.
For the purposes of this episode guide the purple monster that appears in the Western Sketch will be referred to as "Miss Kitty" since this is the only time where any name was given to the character.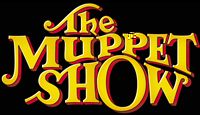 EXECUTIVE PRODUCER Jim Henson
PRODUCED BY Jack Burns
WRITTEN BY Jack Burns, Jim Henson, and Jerry Juhl
DIRECTED BY Peter Harris
THE MUPPET PERFORMERS
FEATURING Frank Oz (Fozzie Bear, Snowths, Mildred,
George, stole, Miss Piggy)
with Richard Hunt (Statler, Scooter, Miss Piggy, pig, bartender, frog)
Dave Goelz (Muppy, Gonzo, Miss Kitty, Zoot, pig)
Eren Ozker (dancer, saloon girl, chicken, Juliet)
John Lovelady (cowboy, frog)
Jim Henson (Kermit, Mahna Mahna, Waldorf, Flower-Eating
Monster, Rowlf)
PUPPETS BY Bonnie Erickson with Caroly Wilcox, Mari Kaestle, Dave Goelz, Rollin Krewson, John Lovelady, Faz Fazakas, Larry Jameson
SPECIAL PUPPETS BY Don Sahlin
MUPPET COSTUME DESIGNER: Bonnie Erickson
MUPPET CREATIVE CONSULTANTS: Frank Oz, Mike Frith
ART DIRECTORS: David Chandler, Paul Dean
CHOREOGRAPHER: Norman Maen
ORCHESTRA CONDUCTED BY Jack Parnell
MUSICAL ASSOCIATES: Derek Scott, Conn Bernard
LIGHTING DIRECTOR: John Rook
ASSISTANT TO PRODUCERS: Joan Chaplow
THEME MUSIC BY Sam Pottle
AUDIO: Ted Scott
VIDEO TAPE EDITOR: John Hawkins
SENIOR VIDEO ENGINEER: John Willmont
SENIOR CAMERAMAN: Dennis Bartlett
VISION MIXER: Carole Legg
COSTUMES BY Ann Hollowood
MAKEUP BY Shelia Mann
SENIOR FLOOR MANAGER: Richard Holloway
FLOOR MANAGER: Martin Baker
STAGE MANAGER: Caryl Cruickshank
EXECUTIVE PRODUCER FOR HENSON ASSOCIATES, INC: David Lazer
Juliet Prowse - Episode 1
Taping Dates: January 29-February 1, 1976
Original Airdates: April 25, 1977 (New York)
DVD Release: Time-Life, 2002; Columbia Tri-Star (UK HMV Exclusive), 2003; Buena Vista Home Video, 2005
BRIAN HENSON INTROS
These special introductions were recorded in 1999 and have been seen on Odyssey and the Time-Life video releases. They are a minute each. Some talk about the specific episode they proceed and others like this one, are "generic" non-episode specific bits of information that are recycled for other episodes.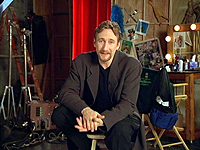 GENERIC INTRO: MINOR CHARACTERS
Brian Henson: "The Muppet fans are sometimes really crazy people. It's amazing. Every crazy little walk-on character they know the names. So if you want a few facts that will impress your friends, tell them about these characters. Here's Wayne and Wanda. These two were an accident-prone singing duo who were in the pilot but only actually lasted throughout the first season. Or how about Betsy Bird? She was a beautiful eccentric dancing bird who appeared in several shows but she never really quite took off. Or here's Fleet Scribbler who's an abrasive tabloid reporter that the press loved but the show's writers couldn't stand. He was soon written out of the show. Just keep watching and you might see Fleet and a few other unsung Muppet heroes on The Muppet Show."
[Note: Brian was right about the crazy Muppet fans, such as the ones bringing you this episode guide! How crazy are we? Enough to tell you that Brian actually provides some misleading information. Betsy Bird was not in "several shows" but actually only in one show - that with guest James Coburn. Brian's description seems more apt for the multicolored Fletcher Bird who like Betsy Baytos' Betsy Bird was created to showcase the dancing talents of its performer, Graham Fletcher, but ended up being little more than a glorified "extra". As for Brian's comment referring to Wayne and Wanda's being in the pilot, while they don't appear in the official pilots The Muppets Valentine Show or Sex and Violence, Brian is most likely alluding to their appearance in the original (unaired) version of the Juliet Prowse episode.]
OPENING THEME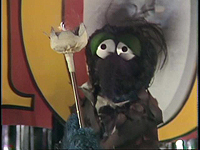 Fozzie's joke: "Hey, have I got an opening joke for you tonight!" (Laughs) "Oh, you're gonna love this...there's two kinda..." (Curtain closes)
Gonzo's gong: Gonzo hits the "O" in the "The Muppet Show" logo and it explodes.
STAGE CURTAIN
Kermit welcomes the audience to the show and announces tonight's guest star is Juliet Prowse and "as if that weren't enough, we've also got Mahna Mahna whatever that means."

OPENING NUMBER: "MAHNA MAHNA"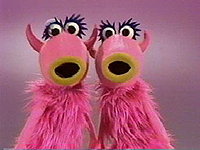 Two cowlike creatures called Snowths try to sing a jazzy song vocalizing "Du doo du doo du" while a wild eye creature, Mahna Mahna, keeps getting between them shouting his name and scatting to the Snowth's disapproval.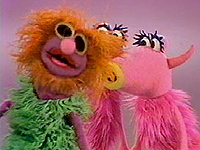 [For The Muppet Show's first opening number, they break out a Muppet classic! The song had previously been done in various forms on the "Ed Sullivan Show" in 1968 and on "Sesame Street" in 1969. However this new version has a great new ending! The song appears on the original Muppet Show soundtrack, Muppet Hits, and The Muppet Show: Music, Mayhem and More.]

BALCONY
Two elderly gentlemen are watching the show from a theater box off stage left, Statler and Waldorf from the Sex & Violence pilot.
STATLER: The question is what is a Mahna Mahna?

WALDORF: The question is who cares?
BACKSTAGE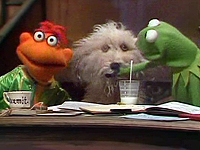 Kermit enjoys some milk (sipping from a straw). A young kid, Scooter, the theater's "go-fer" and dog Muppy (a modified version of "Hey Cinderella"'s Rufus) want to talk about the song they're doing. When Kermit insists they're not performing, Scooter reminds Kermit his uncle owns the theater and the "Simon Smith and His Amazing Dancing Dog" number's one of his favorites. Muppy, thinking himself a killer doesn't take too well to Kermit's "cutest little creature" around comments, biting Kermit and finishing his milk!

STAGE CURTAIN
Kermit still cursing the dog checks himself and introduces Gonzo the Great.

ONSTAGE: GONZO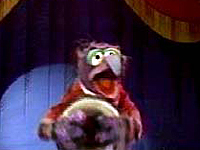 His act: eating a rubber tire to the music of "The Flight of the Bumblebee". [A version of this appears on the original Muppet Show soundtrack, where Gonzo manages to finish the tire.]

BALCONY
WALDORF: He's doing it! He's eating a tire!

STATLER: Amazing!

WALDORF: Astounding!

STATLER: Boooor-ing!
WINGS/BACKSTAGE
Gonzo is booed off the stage cursing that the yokels in the audience know nothing about art. [Modern performance artists trace their influences back to Gonzo!] Scooter apologizes to Kermit (now wearing a tux) on Muppy's behalf just before informing him Muppy wants his own dressing room and star billing.
KERMIT: WHO IS THIS CRAZY DOG??!

SCOOTER: He's my uncle's favorite pet.
There's a great intercutting of shots showing a real dog descending the stairs just before Muppy approaches Kermit's desk. Check out Kermit's expression when Muppy licks him!
Juliet Prowse emerges from her dressing room remarking she's never had to share one with a man who eats a tire! [See Muppy, even the guest doesn't get her own dressing room!]

STAGE CURTAIN
Kermit introduces Juliet.

ONSTAGE: JULIET'S SOLACE
Slightly faded into the forest scenery, Juliet performs a beautiful, flowing dance with minimalistic-looking Gazelles. They fade into the scenery at its end.

BALCONY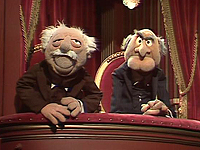 WALDORF: She just vanished! How did she do that?

STATLER: Probably like this (vanishes).
AT THE DANCE [debut]
A sketch originally conceived in the Sex & Violence pilot, a group of Muppets dance in a ballroom telling jokes, reminiscent of Rowen & Martin's "Laugh-In".
[At the Dance would be in all but one episode of the first season and would appear less frequently each subsequent season.]
Mahna Mahna dances with Wanda (a singer we'll learn about next episode) while Mildred and George from The Muppets Valentine Show dance together. Miss Piggy dances with another pig. The Flower-Eating Monster (originally from a Julie Andrews special) asks if he can smoke, which he does...smoke comes billowing out of the monster filling up the ballroom!
UK SPOT: SONG - "YOU & I & GEORGE"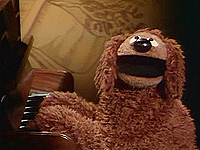 Rowlf plays piano and sings one of the most unheard of classic songs of our time - a song that only sold two copies. "I bought one and George bought one, where were you?"
[Rowlf would later perform this song in the fourth season Phyllis George episode when it's nominated for a Fred Award, and in one of Jim Henson's last performances over ten years later on the Arsenio Hall show. The song also appears on the 1985 video Children's Songs and Stories with the Muppets and Rowlf The Dog: Ol' Brown Ears Is Back album released in 1993.]

TALK SPOT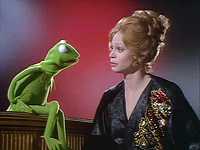 [Like At the Dance, Kermit's onstage interview with the guest would be in almost every episode of the first season and decreasing each year, ending in season 3.]
After being called "the Robert Redford of frogs", Kermit gets Juliet to kiss him. [Pretty smooth - "Muppets Tonight" host Clifford had to wait until his second female guest for a kiss!]

BALCONY
WALDORF: More more!

STATLER: Less less!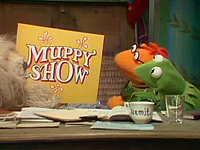 BACKSTAGE
Fozzie Bear perfects his John Wayne impression in preparation for his Cowboy Sketch.
Muppy proceeds to present his latest demand. Muppy wants the title of the whole show changed to "The Muppy Show".

STAGE CURTAIN
Kermit announces "It's cowboy time!"

COWBOY SKETCH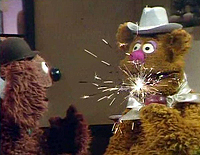 Rowlf sets up the scene as he plays saloon piano, takes time to say hello to a mean looking purple monster ("Hello, Miss Kitty"). He recalls the day Kid Fozzie came to town. Fozzie attempts to rob the bar with pickles! After much taunting, he shoots the chandelier down trapping the bartender. After Rowlf knocks away his carrot/knife, Fozzie produces - an APPLE ... and the fuse is lit!
[Although Fozzie's apparently the "bad guy" and Rowlf the "good guy", Rowlf's hat is black while Fozzie's is white!]

BALCONY
WALDORF: That's one of the reasons I always thought the Muppets are weird. They think explosions are funny. Explosions aren't funny." (Statler's cigar explodes) ...although some of them are really quite droll.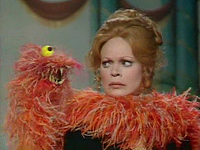 ONSTAGE
Zoot asks Juliet what has one eye, sharp teeth, and is long and fuzzy - it turns out to be her fur stole.
[Notice the classic reaction from Juliet. The background used here would be featured throughout the first season for guests and Muppets to tell one-liners like this.]

BACKSTAGE
Prima donna doggy's locked himself in his dressing room so Kermit recruits Fozzie to take his place. [The live dog is used again going up the stairs - it's a nice effect as we see the door close when he gets up there but almost seems gratuitous since Scooter's telling Kermit "he's locked himself in his dressing room" right after the door slams. Fozzie asks Kermit why he's not doing an act this week after just having been in the Cowboy Sketch! Granted, he's supposedly referring to his standup monologue but it's still out of place, especially for the first episode!]

STAGE CURTAIN
Kermit introduces "Simon Smith and His Amazing Dancing...Bear"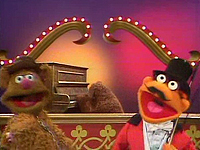 SONG: "SIMON SMITH AND HIS AMAZING DANCING BEAR"
Scooter dressed as ringleader with mustache sings while Fozzie (not too thrilled about being on a leash) hams it up! Rowlf accompanies in background on piano.
[The song appears on the original Muppet Show soundtrack and Muppet Hits.]

BALCONY
STATLER: Hey, Waldorf, I was wondering if maybe you... (continues to move his lips)

WALDORF: Darn, I'd better get some new batteries for my hearing aid.

STATLER: Ha ha ha! I fool him every time! (Waldorf punches Statler in the jaw which scrunches up his face - a routine that would become a trademark!)
ONSTAGE: MUPPET GLEE CLUB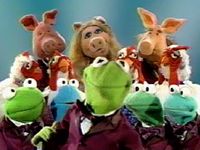 Kermit (back in his tux) conducts the Muppet Glee Club, an assortment of frogs, chickens, and pigs (including a lady pig with big blue eyes and long blond hair, Miss Piggy.) He waves his baton but no one sings! Kermit points out this is a Glee Club (Chicken: "Why yes, that is what our letterhead says!") and he should hear something when he waves his baton. Unfortunately everyone sings something different!
Kermit gets the group to agree on "Temptation" and assigns the lucky Miss Piggy the solo. ("Yes, my love. [Aside to another pig] I love him.") The Glee Club does an amazing acappella vocal rendition. The music kicks in before Piggy does her solo - where she pushes through the singers from the back row up to Kermit, declaring her love for the frog, taking him in her arms and giving him a big smooch. Kermit does his best to conduct around her.
[PUPPETEER SPOTTING: Keep your eyes underneath the chickens on the right hand side of the screen towards the end of the number when Piggy pounces on Kermit. Dave Goelz' face is totally exposed for a split second before the frogs in the foreground move to cover him up!]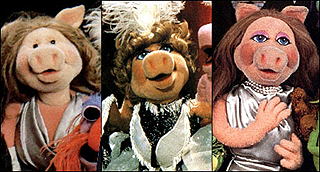 The Miss Piggy puppet evolved somewhat from her earlier appearances. She has new blue eyes that are different than the beady eyes the puppet had sported prior to The Muppet Show series, though they're also different than the eyes that will appear on the puppet for the rest of the season. Since the original concept of the character was to base her off of Peggy Lee, she may have been given newer eyes to make her look even more like the classic singer (and once those eyes are in place, the resemblance is rather frightening). Another difference in the puppet unique to this episode is that a visible rip appears in the back of Piggy's mouth. One can even see the puppeteer's hand through it! This would be fixed by adding a new felt inside mouth over the tear.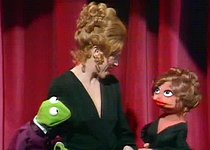 STAGE CURTAIN
Kermit presents Juliet with a Muppet likeness of herself for appearing on the show and earns a second kiss (actually third, if you count Piggy's kiss).
This and the Connie Stevens episode do not feature any Muppets beside Kermit and the star likeness coming out for goodnights.

CLOSING THEME
WALDORF: What did you think?

STATLER: Beats sitting around watching television.
Mahna Mahna pops up between them yelling out a final "Mahna Mahna".

Guide Written by
D. W. McKim and Phillip Chapman
With contributions from
Ryan Dillon, Jogchem Jalink, Dave Ebersole and Warrick Brownlow