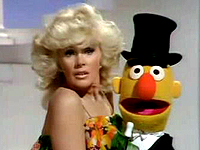 EPISODE NOTES
Jerry Nelson is not credited for this episode.
As mentioned in the Prowse summary, a lot of these two episodes were reshot or reworked. Miss Piggy's karate chopping Kermit was probably added later as was the Newsman. This is the Newsman's debut episode, but this particular bit would have been shot toward the latter part of the season since he has his glasses and later voice.
The Swedish Chef (previously seen on Sex & Violence) debuts here. The Chef would become such a classic character that he would later get his own short-lived cereal, Croonchy Stars and even a newsgroup devoted to him! Jim Henson would operate the main puppet speaking in mock-Swedish while Frank Oz controlled the hands (using his real hands) often surprising Jim in the process.

Singing duo Wayne & Wanda are also introduced this episode as singers that Kermit obviously has been giving the run-around. They won't actually sing until next episode - and it will be the show's self appointed censor, Sam the Eagle who brings them on each episode. Wanda will only be seen this season (due to her puppeteer, Eren Ozker leaving the cast) while Wayne would pop up every now and then in later seasons. We learn in season 4 when the duo makes a surprise appearance that Kermit had fired them!

This is only one of two At The Dance segments in the first season where George & Mildred don't dance together; Mildred dances with Dr. Teeth while George is paired with Zelda Rose (first seen dancing with Sam Eagle in Sex & Violence).

"Sax & Violence" is a true Muppet classic - the song itself is instrumental, making it an odd choice for inclusion on the original soundtrack album! Especially since the joy in this piece is visual. All the humor comes from Zoot and Mahna's movements and reactions. It's very simple but extraordinarily funny!
In the first season scripts, the Newsman is referred to as "Muppet Reporter". Content with never actually naming him, he would come to be known as The Newsman from second season onward.

The "tradition" of giving the guest a Muppet likeness ends in this episode, having given Juliet Prowse a likeness the episode before.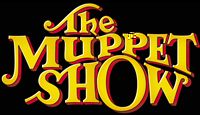 EXECUTIVE PRODUCER: Jim Henson
PRODUCED BY Jack Burns
WRITTEN BY Jack Burns, Jim Henson, and Jerry Juhl
DIRECTED BY Peter Harris
THE MUPPET PERFORMERS
FEATURING FRANK OZ (Fozzie Bear, Miss Piggy, Mildred, Animal, female whatnot, Bert)
with RICHARD HUNT (Statler, Wayne, Scooter)
DAVE GOELZ (Gonzo, Zoot)
Eren Ozker (Hilda, Wanda, female whatnot, Connie)
John Lovelady (rat, Bruce Fox)
JIM HENSON (Kermit The Frog, Waldorf, Swedish Chef, Dr. Teeth, Nigel, Newsman, Ernie)
PUPPETS BY Bonnie Erickson with Caroly Wilcox, Mari Kaestle, Dave Goelz, Rollin Krewson, John Lovelady, Faz Fazakas, Larry Jameson
SPECIAL PUPPETS BY Don Sahlin
MUPPET COSTUME DESIGNER: Bonnie Erickson
MUPPET CREATIVE CONSULTANTS: Frank Oz, Mike Frith
ART DIRECTORS: David Chandler, Paul Dean
CHOREOGRAPHER: Norman Maen
SPECIAL MUPPET DANCING BY: John Bottoms
ORCHESTRA CONDUCTED BY Jack Parnell
MUSICAL ASSOCIATES: Derek Scott, Conn Bernard
LIGHTING DIRECTOR: John Rook
ASSISTANT TO PRODUCERS: Joan Chaplow
THEME MUSIC BY Sam Pottle
AUDIO: Ted Scott
VIDEO TAPE EDITOR: John Hawkins
SENIOR VIDEO ENGINEER: John Willmont
SENIOR VIDEO ENGINEER: John Crane
SENIOR CAMERAMAN: Dennis Bartlett
VISION MIXER: Moyra Bird
SENIOR CAMERAMAN: Dennis Bartlett
VISION MIXER: Carole Legg
COSTUMES BY Ann Hollowood
MAKEUP BY Shelia Mann
SENIOR FLOOR MANAGER: Richard Holloway
FLOOR MANAGER: Martin Baker
STAGE MANAGER: Caryl Cruickshank
EXECUTIVE PRODUCER FOR HENSON ASSOCIATES, INC: David Lazer
Connie Stevens - Episode 2
Taping Dates: January 19-21, 30 1976 and February 1, 1976
Original Airdates: February 28, 1977 (New York) and March 12, 1977 (LA)
DVD Release: Buena Vista Home Video, 2005
GENERIC INTRO: MOCK SWEDISH
Brian Henson: "Hi, I'm Brian Henson. When I was a kid my father was so into gadgets... cars especially. And he had this tape that he used to play which was "How to Speak Mock Swedish". And he used to drive to work and I used to ride with him a lot. And he would drive to work trying to make a chicken sandwich in Mock Swedish or make a turkey casserole in Mock Swedish. It was the most ridiculous thing you had ever seen. And people at traffic lights used to stop and sort of look at him a little crazy."
"But that was the roots of the character that would eventually become The Swedish Chef. And if you watch The Swedish Chef one of the most exciting things about it is the head is just speaking away and trying to follow the hands which are grabbing meat cleavers and throwing chickens over his head. To me the best part about the Swedish Chef is the more you don't understand him, the more you love him. Here is The Muppet Show."
OPENING THEME
Fozzie's joke: "Hey, that Gonzo is SO dumb, he just heard that we're running short of water, so he wants us to dilute it!"
Gonzo and his gong: Gonzo strikes the gong and breaks it.
CURTAIN
Kermit welcomes us to the show wearing a striped suit and a straw hat, and informs us that this week's guest is the "beautiful and vivacious Connie Stevens". He also introduces us to another friend of his, Lydia.

SONG: "LYDIA, THE TATTOOED LADY"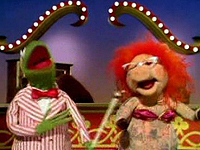 The curtains open and Kermit is standing in front of a very Vaudevillesque set (the same set as "Simon Smith and His Amazing Dancing Bear"), with Rowlf and Animal in the background playing piano and drums, respectively. Kermit starts singing about his friend, Lydia the Tattooed Lady. A female pig with red hair, glasses and tattoos all over her body pops up and dances while Kermit sings. Lydia flirts with him and kisses him repeatedly when Kermit finishes the song. [This song is available on the original Muppet Show album and Rowlf the Dog: Ol' Brown Ears Is Back.]

IN THE WINGS
Kermit meets a jealous Miss Piggy.
KERMIT: Oh, er, Piggy, have you met Lydia?

PIGGY: No... have you met my left fist?!
STATLER: I love it! I love it!

WALDORF: Of course he loves it; he's the kind of guy that plants poison ivy.
BACKSTAGE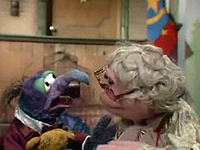 Gonzo the Great is chasing Hilda, the old wardrobe woman, around and pestering her to mend his old beat-up teddy bear. Hilda refuses, saying Gonzo is too old for a teddy bear.
GONZO: Do you think I'm mature enough to move up to Raggedy Ann?
Gonzo persists, but Hilda stands by her position. Fozzie overhears Hilda's declaration that the bear is the worst thing she's ever seen in the theater.

SWEDISH CHEF [debut]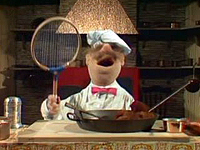 The Swedish Chef is making meatballs. He accidentally drops a meatball and it bounces! He bounces a few more on the counter, and they bounce, too! Chef: "So, de beency bouncy burger, eh?" He decides to serve them with a tennis racquet. [This "recipe" was also used in the 1979 special "The Muppets Go Hollywood".]
BALCONY
The Swedish Chef sends them out into the audience and Statler Statler volleys the meatball back.
BACKSTAGE
Wayne and Wanda are standing outside the dressing rooms upstairs, and Wayne complains that they have no spot to sing on tonight's show. Wanda observes that the stage is empty and Wayne says this is their chance. Guest star Connie Stevens appears and listens to their conversation. Wanda says that now is the time for the Connie Stevens spot, so they can't go on. Wayne gets furious.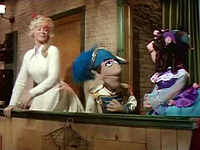 WAYNE: Oh, we'll cut the Connie Stevens spot!! Who needs the Connie Stevens spot?! Who cares about the Connie Stevens spot? (Wayne sees Connie).... I can't wait for the Connie Stevens spot!
Wayne and Wanda quickly rush into their dressing room. Connie descends the stairs and meets Kermit (now changed into tux), who remarks that the song she is about to sing is one he doesn't ever remember hearing. Connie says it's a very special song, dedicated to her old high school sweetheart, Jimmy MacAffee. She recalls her days in the 50s of sitting in his car and singing this song.
CONNIE: He had this long, thick greasy hair, y'know, and used to wear this big leather jacket and y'know something, if we had saved Jimmy's hair, we wouldn't have ANY oil shortages today!
Connie asks where the back-up group Kermit had gotten her was. Three large shaggy monsters with pink fur and orange hair rush by in tuxedos. Kermit informs her that they are her back-up group.
CONNIE: Well, they're not the Temptations!

KERMIT: No... those are the Mutations.
Kermit introduces Connie Stevens and the Mutations with a 50's style disc jockey intro.

SONG: "TEENAGER IN LOVE"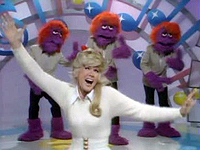 Connie is wearing a poodle skirt and singing, with the Mutations grunting and "aah"ing in the back. They try to drown her out and upstage her, but Connie's dedication and persistence prevails.
[The Mutations will become a part of the opening theme at the bottom of the archway in season 2.]
STATLER: How poignant, I remember being a teenager in love.

WALDORF: Yeah, but Queen Victoria wouldn't have you!
BACKSTAGE
Gonzo asks Kermit his opinion on his bear (while Fozzie listens, of course). Kermit says it is the worst and he wants to get rid of it.
AT THE DANCE
Regular Laugh-In type jokes. All the members of Electric Mayhem are dancing except Floyd; Zoot with Janice, Dr. Teeth with Mildred, and Animal with an unlucky girl. Also on the floor, Mahna Mahna dances with Miss Mousey (from the The Muppets Valentine Show).
DR. TEETH: I see they're finally starting to class this place up.

MILDRED: How do you mean?

DR. TEETH: They're making the rats wear neckties.
[Note: Bruce the Fox is a reconfigured Baskerville the Hound.]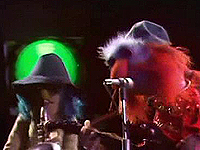 UK SPOT: SONG - "AIN'T MISBEHAVIN'"
Floyd sings, Janice and Zoot play. [Note: This was most likely recorded later when the show was being reworked since Jerry Nelson, who was unavailable during the initial taping dates, contributes an uncredited performance as Floyd, using the same bass voice that he uses during the "Mr. Bassman" number in the Mummenschanz episode.]

TALK SPOT
Kermit and Connie are sitting at the Talk Spot couch (the only time Kermit's regular set piece is replaced with a loveseat), and saying that they are glad they're finally alone together. As is Muppet tradition, they express it in song.
SONG: "CLOSE TO YOU"
Connie begins to croon to Kermit, but Fozzie appears and starts harmonizing with her. Kermit is none too pleased. They eventually all join in and sing together.
WALDORF: I'd like to get close to Connie Stevens, but I'm too close to something else.

STATLER: What's that?

WALDORF: Ninety.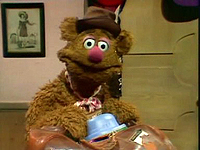 BACKSTAGE
Fozzie is packing in his dressing room. He isn't needed, he sniffs. Suddenly, he overhears Gonzo and Scooter talking about "the bear" outside the door. Scooter says he likes the bear and that he laughs and laughs every time he sees him. Fozzie likes what he hears! Gonzo says that Kermit thinks they should get a new one. There is a pause and Scooter says, "Yeah, well that'd be nice, too!"
SONG: "SAX AND VIOLENCE"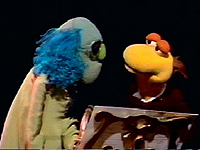 Zoot is standing alone in a darkened room with a music stand. Nigel, the orchestra pit conductor, walks in and asks Zoot if he's ready to start playing. Zoot has reservations.
ZOOT: What if I refuse to play it?

NIGEL: What if I get a new sax player?

ZOOT: What if you and I get right down to it and do this little beauty, huh?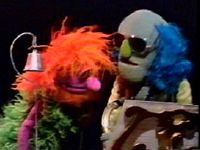 A jazzy rift starts to play and Zoot examines his music. At the end of every measure, lets out a solitary note on his sax. Mahna Mahna enters with a bell and starts to play instead of Zoot. Mahna Mahna starts to hit Zoot's sax and even Zoot's face! Zoot finally blows his sax with such force that it explodes Mahna off the stage.
(This classic is on the original 1977 Muppet Show Album and Muppet Hits from 1993.)

CURTAIN
Kermit introduces Gonzo the Great.
Gonzo plays the 1812 Overture on the violin while growing a tomato plant. The tomato plant starts to grow, but runs amok, picking up Gonzo, Hilda and Scooter and carrying them away.

BACKSTAGE
Fozzie bids a tearful farewell to a baffled Kermit. Gonzo interrupts saying, "If the bear goes, I go". Fozzie is touched by his loyalty.
FOZZIE: The ball is in your court, frog!
Kermit explains to Fozzie that everyone was talking about Gonzo's teddy bear and tells them they can both stay. Gonzo and Fozzie celebrate.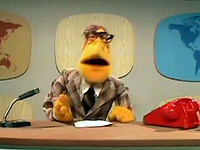 NEWSMAN [debut]
The Newsman tells us that they will be receiving a hotline call from Washington, D.C. He picks up the red phone, but drops it, burning himself ("That is hot!").

CURTAIN
Kermit, introduces two dear friends, Ernie and Bert! Ernie feels totally comfortable onstage, but Bert is scared, saying that this is different from Sesame Street ("This is a big time variety show!"). Ernie reassures him, telling him he is a suave and sophisticated showman. Bert says that Ernie is just saying that and will soon comment on his pointy head and floppy arms. Ernie admits that Bert's head is pointy, and his arms are a bit floppy, and, also, his nose is still loose. After replacing Bert's nose, Ernie takes him off screen and turns him into a suave, sophisticated showman, complete with tux, top hat and cane. Bert feels the urge... the urge to sing!!
SONG: "SOME ENCHANTED EVENING"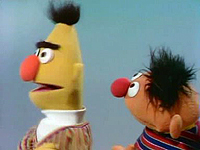 A sweeping backdrop falls in behind Bert, complete with a grand staircase. At the top, Connie is wearing a flowing dress. She descends as Bert sings to her and they dance a passionate dance, Bert letting his hair down as never before. Connie runs back up the staircase as Bert, finishes singing and the backdrop falls out of focus. Ernie comes back on and Bert comes down to reality.
BERT: Did I just make a complete fool of myself?

ERNIE: Absolutely, Bert.
GOODNIGHTS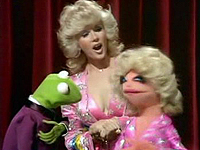 Kermit invites Connie onstage and gives her a Muppet likeness of herself. Connie says she had a great time, but is cut short by Gonzo's tomato plant, which wraps around her and carries her off.
KERMIT: We lose more guests that way.
This and the Juliet Prowse episode do not feature any Muppets beside Kermit and the star likeness coming out for goodnights.
CLOSING THEME
STATLER: You think this show is educational?

WALDORF: Yes, it will drive people to read books.

Guide Written by
David Beukema, D. W. McKim and Phillip Chapman
With contributions from
Jogchem Jalink and Dave Ebersole