Rarities
Muppet Collectibles

Jim Henson Autographs
While Jim Henson undoubtedly signed thousands of various autographs over the years, here are two examples of some of the ones that are quiet collectible.
The first features Jim Henson in a photo from the late 1970's. If you'll notice there is a similar picture of the characters (on the Springbok puzzle for example) which was shot at the same time. The cameraman actually taking this picture with Jim aired on "60 Minutes" in 1979.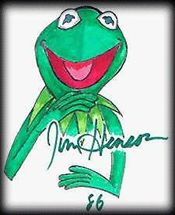 This is a really nice autograph because it is in color, features all of the characters, and is not only signed by Jim Henson but Kermit the Frog as well.
This second autograph is on a more common "signature card." However, often these signature cards just contain signatures (which are still very nice to have). Jim often signed things with his signature green sharpie marker. On some signature cards Jim drew a quick little sketch of Kermit. But on this one, the artwork is drawn and colored by Henson himself, making this more valuable and rare. During the 1950's while in college, Jim Henson drew all kinds of artwork and posters.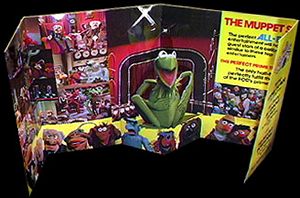 This very large, Muppet Show display poster was sent to select major market television stations when The Muppet Show premiered on television in 1976. The poster measures five feet by three feet.
It includes lots of rare photos from the second pilot, "Sex and Violence" and Muppet appearances with celebrities such as Ray Charles and Barbara Eden. This is a one-of-a-kind collectible and one of the best Muppet Show display pieces ever created.

The Muppet Movie keychain (1979)
This is a vintage goldtone Muppet Movie keychain given to the film cast and crew. It features the Muppet Movie logo with a smiling Kermit appearing out of the "O" in "Movie".
The same logo was also given as as stickpen.

The Muppet Movie Belt Bucklet (1979)
Similar to the Dark Crystal belt buckle a few years later, Jim Henson gave a Muppet Movie belt buckle to members of the cast and crew. The buckle features the Muppet Movie logo as seen on the record cover.

The Electric Mayhem Bus (1979, 1999)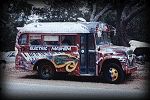 This is the original bus from The Muppet Movie and Muppets From Space. It runs perfectly, and included a letter of authenticity signed by Brian Henson. The bus has been updated over the years. For example, originally their were records on the walls inside, now there are CD's.
In January and August 1999, this bus was auctioned on eBay for $49,000 and $50,000 respectively. However, it didn't sell. We tried to take up a collection around here, but we were just a "little" short.

Miss Piggy's Wedding (1980)
This Atari 2600 game prototype is one of only 3 of these known to exist. The other 2 prototypes are currently owned by overseas collectors. We don't currently know who wrote the game, but as best as we can tell, the game was shelved simply due to the market crash and accompanying sale of Atari to Jack Tramiel who wanted to focus on computers, not video games.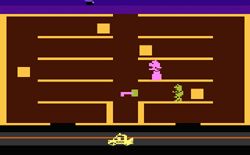 The playfield consists of Miss Piggy, Kermit The Frog, a key, a yellow vehicle at the bottom of the screen (likely a Taxi) and dots reminiscent of Adventure which move vertically along the screen.
In this game you can: (1) take control of either Kermit or Miss Piggy, (2) two players can participate simultaneously, (3) touching the key closes the two exits at the bottom of the screen and 4) running into the opposition (Kermit or Miss Piggy) after touching the key "eliminates" that player.
There also were several prototype Sesame games which were never released: Alpha Beam with Ernie, Big Bird's Egg Catch, Cookie Monster Munch, Oscar's Trash Race, and Grover's Music Maker.

The Muppet Show Belt Bucklet (1981)
Jim Henson gave this Muppet Show belt buckle to members of the cast and crew. The buckle features the Muppet Show logo with Kermit in the middle. This is one of the more sought after company gifts that Jim Henson gave during the Muppet Show era.

The Muppet Show Jacket (1981)
Another great gift from Jim Henson to cast and crew was a replica of Scooter's signature green Muppet Show Jacket.
"The Muppet Show" logo and Kermit are featured on the back. A yellow stripe is down the arms with orange trim on the neck and waist of the jacket.

Kermit the Frog Pendant (1981)
This is another company gift given to guest stars and cast of "The Muppet Show".
The Kermit pendant is sterling silver and features everyone's favorite frog in a bizarre and almost undescribable position. It appears that he is running or leaping. Maybe he's doing the Saturday Night Fever, or maybe not.

Little Muppet Monsters Art Cell (1985)
Here's an incredibly rare early concept drawing of the adult Muppets in animated form for the animated "Little Muppet Monsters" series.

Only two episodes of the show aired on CBS in 1985 under the title, "Muppets, Babies, and Monsters". The "Little Muppet Monsters" half-hour segment was replaced with another episode of "Muppet Babies" shown back-to-back.

Muppet Vision 3D - Studio Print (1991)

This is an authentic reproduction photographic print of the original "Muppet Studios" 3D project study and conceptual painting. The original painting has been locked in the Disney vault forever and ever.
There are only 5 of these in existence. Brian Henson has one of these rare professionally captured reproduction originals. It is rarer and more valuable than many of the most valuable Disney cells. This piece of original Disney artwork was photographed at the Disney Studios, Burbank, California. Framed in beautiful oak frame, matching matting to preserve this piece.

Muppet Meeting Films Watch (1994)
This is a rare FAO Schwarz Muppet analog watch only given to employees featuring Leo, performed by Jim Henson, in the Muppet Meeting Films.

Kermit the Frog Ring (1995)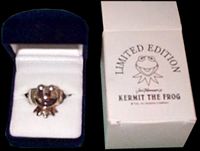 This limited edition, silver Kermit the Frog ring was a holiday gift from Sony Creative in Japan to the friends and family of The Jim Henson Company.
The exquisite ring comes in a blue velvet box and has ©Henson and SILVER 925 engraved on the inside. The ring should fit a woman or small man's finger.

Muppet Vision 3-D Jackets and Shirts (1991)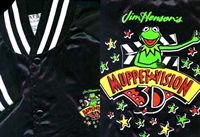 A variety of different jackets and shirts were given to those who worked on Muppet Vision 3-D. This includes a red jacket with signature Muppet Vision logo with Kermit. A black jacket with Muppet Vision logo. And a green T-shirt with Muppet Vision logo. There are different varieties and colors on the above items as well.

Muppet Treasure Island Jacket (1996)
Here is the official "Muppets From Space" jacket given to cast and crew who worked on the film.
The jacket is black and features "The Jim Henson Company" logo in signature green on the back. Kermit is included as well. The green text looks very sharp against the dark black. A silhouette of Gonzo is on the front of the jacket with "Muppets From Space: Cast and Crew" inscribed underneath.

Kathrine Baumann Crystal Bags and Cases (1997, 1998)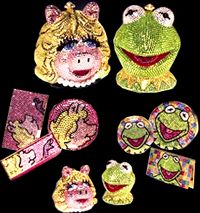 This Kermit and Miss Piggy Collection was created by Kathrine Baumann. Kathrine is known for designing and producing exclusive limited edition wearable and displayable art. Celebrities at the Oscars have worn many of her designs in the last few years.
The Kermit Collection was released in May 1998 and the Miss Piggy Collection was released in June 1997. Original retail prices for these items range from $320.00 to $3,000.00.
This Jim Henson Licensed Collection includes Miss Piggy and Kermit Pill Boxes, Bags, Card Cases, and Compacts with Mirrors. Each piece is covered in Swarovski Crystals from Austria and completed by the same artist start to finish. They are extremely detailed, even down to Miss Piggy's eyelashes and pearl necklace. Each pill box and bag opens up and is covered inside with a gold lining.
These creative designs will add a little sparkle to your Muppet collection and will be treasured for a lifetime. They are wonderfully handcrafted and even come with spare crystals incase one needs to be replaced. These are a must have for every serious Muppet collector. The photo does not do them justice.

Signed Miss Piggy Glove (1999)
This is Miss Piggy's purple signature glove signed "Love, Miss Piggy" (Frank Oz). Miss Piggy donated this glove to "The For All Kids Foundation" as seen on "The Rosie O'Donnell Show" on February 8, 1999.
This item was auctioned on eBay for about $500. Muppet Central's Daniel O'Toole won the auction.

Signed Kermit's Craft Corner Jacket (1999)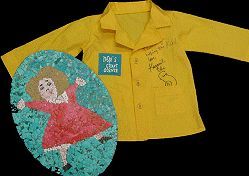 When Kermit the Frog visited Rosie's Craft Corner on December 3, 1999, he wore this yellow jacket that he and his Muppeteer Steve Whitmire have signed for Rosie's charity auctions.
They have written "Hi Ho! Thanks for helping the kids! Love, Kermit the Frog and Steve Whitmire." Kermit and Steve have autographed the mosaic picture of Rosie also included.

Signed Gonzo's Craft Corner Jacket (1999)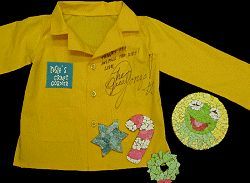 With the help of Muppeteer Dave Goelz on December 3, 1999, The Great Gonzo has autographed the yellow jacket with "Rosie's Craft Corner" patch that he wore when he was on "The Rosie O'Donnell Show."
Also included in this auction is a Kermit the Frog mosaic box signed by Kermit and Muppeteer Steve Whitmire. A mosaic candy cane, wreath and star from Rosie's Craft Corner are also part of this package.

Dr. Teeth Signature Vest (1999)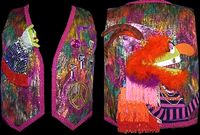 From "The Muppets Big Book of Crafts" is this handmade Dr. Teeth vest from the Muppets New York workshop.
The front of the vest features a real Muppet hand on the left side with Dr. Teeth's caricature on the back.

Zowie Entertainment (1999)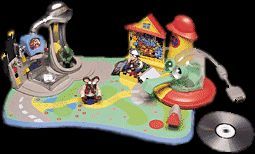 Produced by Zowie Entertainment Inc., 1999.
This "Muppets From Space" tie-in was never offically released but there are several sets out there on the collector's market.
These "smart toys" enable kids to change on-screen worlds and characters through natural play patterns, Zowie PlayZones uses a proprietary sensing and recognition technology -- Zowie Power -- which allows the movement and manipulation of three-dimensional figures and objects to control and adjust on-screen activities.
This set features three Muppet characters (Kermit, Gonzo, and Rizzo) in four Muppet worlds (The Muppet Boarding House, The ABC Cement Factory and Government Spy Headquarters, Gonzoian Space Ship, and Muppet Labs). There are a series of computer and live action type games in real time to go along with the play set. Three different skills levels are available.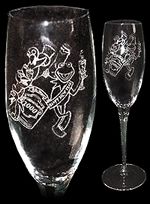 Kermit Millennium Celebration Glasses (1999)
These champagne glasses featuring Kermit the Frog celebrating with penguins were gifts to staff during the December 1999 holiday season.
These glasses were the last company gifts given before the EM.TV buyout in February 2000. Some of these glasses broke in transit making them quite collectible in mint condition.

Star Jars (1999)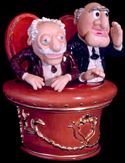 These Star Jars were never officially released, however, prototypes of the following do exist making them very rare and valuable for collectors.
Statler & Waldorf Cookie Jar
Star Jars released a limited edition Statler & Waldorf cookie jar in their Muppet Show theater box. The characters and the theater box have incredible detail down to the gold on the box and the detail in their eyes. This piece was limited to a run of 1000.
Muppet Show Theater Cookie Jar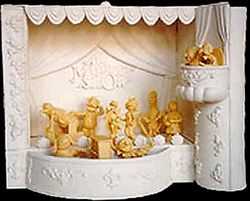 The following cookie jar with 12 different salt and pepper shakers was unfortunately discontinued before it officially went into production. To the right is a prototype cookie jar as a great replica of The Muppet Show theater including balcony and orchestra pit. The back of the jar even features an exit for the backstage of the theater.
The salt and pepper shakers for the theater included: Kermit & Miss Piggy, Fozzie & Gonzo, Animal & his drums, Rowlf and his piano, Statler & Waldorf, and Bunsen & Beaker.

MuppetFest Souvenirs (2001)
Muppet Show Live Script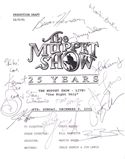 On December 9, 2001, the first annual MuppetFest fan convention culminated with one of the most special events a Muppet fan will ever see. For the first time ever on a live stage, "The Muppet Show Live" was performed before our very eyes.
This is an autographed copy of the script given to a few fans at the convention. Autographs include Brian Henson, Martin Blake, Jerry Nelson, John Kennedy Jim Lewis, Dave Goelz, Steve Whitmire, John Henson, Bill Barretta, and Craig Shemin.
You can read the entire script of this performance in our MuppetFest section.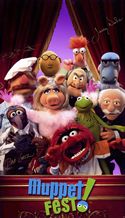 MuppetFest Signed Lithograph
This fantastic signed lithograph was given to "gold" reservations durring the MuppetFest fan convention. This lithograph had a run of about 300.
It's a large photo on very thick paper, and features the Henson performers signatures in gold. It is 15 inches by 10 inches and includes signatures from Jerry Nelson, Bill Barretta, Dave Goelz, and Steve Whitmire.
Go back to Muppet Collectibles.

Section compiled by
Phillip Chapman
With Contributions from
John Hardie (Miss Piggy's Wedding)
Lori Abernathy (Kathrine Baumann Crystal Bags and Cases)