Dark Crystal Promo Sheet (1981)
This is an 8 by 11 inch promo sheet entitled, "Castle of the Dark Crystal" by Brian Froud.
Used while the film was still in production.

Dark Crystal Belt Buckle (1982)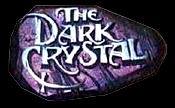 This belt buckle was a gift to the cast and crew who worked on the movie, The Dark Crystal. It was not commercially available.
The buckle accommodates a belt up to 1 1/4" wide. It is made of solid metal and is quite weighty.

Augra Painting (1982)
This dramatic Brian Froud painting of the witch Aughra, Keeper of Secrets was produced in 1982 for advertising purposes for the Dark Crystal. Unfortunately it was never used and is quite valuable today.
It was one of six completed paintings of the major characters in the film for advertising and promotion. The painting is acrylic, and sized at 18 by 24 inches and signed and dated by Brian Froud.

Labyrinth Production Notes (1986)
The Labyrinth Production Notes is a 44 page spiral bound notebook packed with behind-the-scenes information about the movie. It includes the complete list of credits, information about each character, and biographies for the actors and producers.
Go back to Fantasy World Collectibles.

Section compiled by
Cindy Chapman and Phillip Chapman