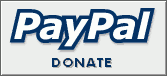 Muppet Show Busts Series 3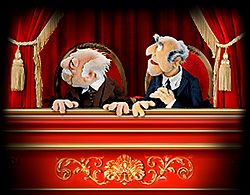 Phillip Chapman (July 25, 2003) - More than any other series to date, this is the Sideshow-Weta Muppet bust wave that I have been looking forward to most. With series 3, we have the first-ever mass produced likeness of the Electric Mayhem's sweetheart Janice, the culinary Swedish Chef, the arrogant Link Hogthrob, and everyone's favorite go-fer Scooter.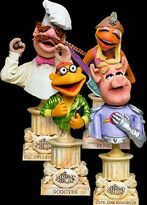 In series 1, Kermit and Rowlf scored homeruns for their beautiful texture and attention to detail. Series 2, featured excellent sculpts of Sam the Eagle and Gonzo. The series 3 must-haves include Janice and the Swedish Chef. Scooter and Link have a few flaws, but they are still wonderful additions to your collection.
The Chef is the largest bust to date, while Scooter and Janice are several inches shorter. Since these range in price from $50-$60 a piece, along with the added costs are higher expectations. Some of the busts in this series do not disappoint, while others could have been improved upon.
As with the previous releases, each bust is on a marble pedestal with the Muppet Show logo featured with the character's name underneath. The base is detailed and yet not overstated. Each series 3 bust is extremely well-packed including strong Styrofoam and twisty-ties keeping the mini-sculpture in place. Your favorite character will not be going anywhere.
It appears that as of this writing the series 3 busts have been limited to a release of 3000 according to Sideshow's Web site. Series 1 and 2 were limited to a release of 5000. The series three figures used in this review were numbered on the basis of being one of 5000. It is likely the production numbers changed early on in the manufacturing process.
Visit Sideshow's Web site to order these fine collectibles and for more photos and information on their upcoming releases. You can save 15% off each series if you purchases all four at one time. Series 4 is scheduled for a fall release and will include: Fozzie, Zoot, Beaureguard and Lew Zealand. Series 5 is scheduled for a winter release and will feature Miss Piggy, Animal, Dr. Teeth and Crazy Harry.

Janice Muppet Show Bust - * * * * 3/4
Sculpted by John Craney - 8.5 inches high
View a 360 degree turnaround to see this bust at all angles

One of the most exciting things about Sideshow's line is that we receive high-quality sculptures of some of the rarer Muppet characters. Janice is a hugely popular character that now receives her first full-figured, three-dimensional release.

Her sculpt is exceptional. Janice has slightly textured skin with her trademark luscious lips and thick eyelashes. Her teeth and tongue are accurately depicted. A lot of detail has been given to her hair, every strand is individual, each flowing in a unique direction. The smooth texture of her hair is a nice contrast to her facial features.

Janice's hat compliments her head nicely. The hat is in scale with her face. The teal medallion corresponds nicely with the teal in the guitar. Earlier prototypes of Janice included more of a florescent guitar. The final release is just right in that the guitar compliments the color scheme of the sculpture without dominating the piece. Her pink and black guitar strap is a nice touch which only enhances the detail of the figure. Janice is a beauty and a must-have. She's a definite tribute to her long-term performer Richard Hunt.

I alluded to this in the series 1 review, but it is impossible to imagine Janice without her long-term partner in the band, Floyd Pepper. As of this writing, Floyd has not been officially announced in bust form. Floyd is the most glaring omission from this line. All of the other Electric Mayhem members are present. Hopefully, Sideshow will do the right thing and either add a sixth series (with possibly Floyd, Rizzo, Sweetums holding Robin, and Pepe) or at the very least produce a Floyd bust to conclude this wonderful line.


The Swedish Chef Muppet Show Bust - * * * * 1/4
Sculpted by John Harvey - 10 inches high
View a 360 degree turnaround to see this bust at all angles

When you view the Swedish Chef bust, you will immediately notice that the design focuses on the Muppet Show era puppet verses the modern one commonly seen today. The earlier design used here features the Chef's nose nearly identical to the same color as his skin. Instead of wearing the modern blue and white striped shirt, the chef is wearing his traditional off-white clothes as seen on the Muppet Show. I prefer this earlier look and I am thrilled Sideshow went with this approach.

If you have a chance to see this bust in person, what will stand out immediately is the highly-defined texture of his eyebrows and moustache. They are intricately detailed with each strand of hair going in a wild direction.

The Chef's active expression while holding the metallic, sharp cleaver is a wonderful pose for this sculpt. I would have preferred the cleaver to have been at a higher angle than his hand so that the cleaver would be more visible. You can not really see the cleaver when looking face-forward. His nose is slightly pinker than his skin, but not a brighter color as is usually seen in modern Chef collectibles.

The smoothness of the top of the Chef's hat is a wonderful touch. The same texture is felt on his apron. This greatly enhances the figure. The Chef's shirt has many detailed crevices including detailed sleaves, buttons and his signature pink bowtie.

I found it interesting that Sideshow used Muppet hands on the sculpted figure. When Jim Henson operated the Chef's mouth, Frank Oz would use his real hands to wreak havoc. It might have been nice to have seen some subtle fingernails instead of "Muppet hands". The Jim Henson Company might have preferred to go with the all-Muppet look in this case though.

The Chef will make a wonderful additional to your Sideshow line. He'd even look right at home in your kitchen.

Scooter Muppet Show Bust - * * * 1/2
Sculpted by Warren Mahy - 8 inches high
View a 360 degree turnaround to see this bust at all angles

Next to Janice, I was most looking forward to Sideshow's rendition of Scooter. This sculpt is a hit-and-miss. Some elements of this bust are wonderfully done, but a few areas are off and they do detract from the overall look of the piece.

If you look at Scooter straight-on, he looks fairly accurate. The individual strands of orange hair are outstanding. His realistic glasses and pupils are clearly focused. Not unlike the Beaker sculpt from the first series Scooter's skin is a little pale for my tastes. It seems that Sideshow used the actual colors of the puppet instead of the way the character appears brighter on film with lighting and effects. On the bust I received, at the corner of Scooter's nose is a little bump. It is barely visible, so it may be just a rare malfunction in production.

When you view Scooter's profile, it almost appears like his head has an unusual point at the top. Looking at him face-forward does not immediately give this perception, but there is indeed a lump at the top of his head.

Scooter is holding a clipboard with a blank sheet of paper. It would have been nice if the paper had a little text written on it, like "Thirty seconds to curtain" or something that fit his character. His green satin jacket is extremely slick and well done. The Muppet Show text logo on the back is straight and helps to highlight the piece. Like Scooter's skin, the green in his jacket is a little pale. For a rod puppet, Scooter's hands are a little large as well.

Overall, this is a nice figure when viewed face-forward, but if more attention could have been devoted to other areas, it would have been the highlight of this series.


Link Hogthrob Muppet Show Bust - * * * *
Sculpted by Ben Wootten - 9.75 inches
View a 360 degree turnaround to see this bust at all angles

The bust of Link Hogthrob is much more eye-catching than just looking at these pictures. It is a very well-done piece, except for one detail.

If you look under Link's mouth and his double-chin, there is a strong red hue to his pale skin. It looks almost like Link is literally wearing a lot of make-up (kind of ironic for the "macho man"). Curious if this was just a one-time happening, I compared this with Palisades Link Hogthrob figure which did not contain any pink overtones around the chin area. When you see the sculpt in person, you will likely notice that the red hue is stronger than it needed to be.

The details in Link's hair, eyebrows, and ears add a great deal of expression to the character. The contemplative, tilted head adds to the look of the piece as well. Hopefully his huge head will be in scale with Miss Piggy who is scheduled for a series 5 release. Link's right hand is missing which somewhat takes away from the sculpt.

The texture and design on Link's Pigs in Space suit is incredible. The stars, logo and lightning bolt on his chest are all three-dimensional and individually sculpted as if you were feeling the patches on the actual puppet. The glittery look of his outfit is not overstated, but is just right. His shoulder pads and gloves are outstanding with detail. Link's cape is a nice contrast to the rest of the sculpt.

While Sideshow's series three Muppet busts were a slight disappointment to my high expectations from the first two series, Janice more than made up for it. Now that we have twelve Muppet Show busts, they are indeed quite impressive and eye-catching when displayed together. Hopefully, Sideshow will continue to improve on some of the weaknesses mentioned in this review, especially the absence of Floyd from this line. With challenging sculpts ahead such as Fozzie, Dr. Teeth, Animal and Miss Piggy, Sideshow has an opportunity to produce some of the most outstanding character likenesses we have ever seen.