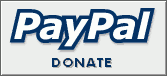 Muppet Show Busts Series 1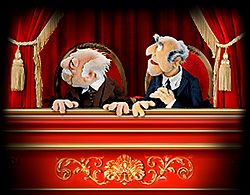 Phillip Chapman (11-13-2002) - The long-awaited Muppet Show anniversary busts from Sideshow-Weta Collectibles have finally arrived and they truly are wonderful works of art.
Before we get into the specifics, I want to preface this review with a few statements. Initially, you may think these busts aren't for you, especially at the estimated price of $50 a bust (Sideshow does offer a 15% discount if you buy the whole set from their Web site). Photos of these busts really don't do them justice. They need to be seen up close with your own eyes to truly appreciate the detail, the texture, and the weight of these miniature sculptures.
Secondly, the word "bust" can be misleading. These sculpts measure anywhere from 7.5 to 9.75 inches high and 3.5 to 4.5 inches wide. A few fans were surprised to find out how small these busts actually are. When the word "bust" is used it sometimes initially creates a bigger perception in people's minds. Beaker is by far the tallest of the group at 9.75 inches and Rowlf is the widest character at 4.5 inches.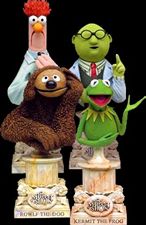 Regardless of your expectations, I believe you are in for a wonderful treat. It's not that often that Henson merchandise reaches these high-standards. These busts are in the same league as the 1997 Kermit Tiffany lamp or the Sigma ceramics from the 70's and 80's. The same attention given to Palisades line of action figures is evident in every one of these sculpts. The people who produce these busts love the Muppets like you and me. Sideshow wanted to get the details right and not rush these products out the door.
Each bust is on a marble pedestal with the Muppet Show logo featured with the character's name underneath. The base is detailed and yet not overstated. Your attention and eyes immediately focuses on the character, as it should be.
The packaging is bright and bold featuring the Muppet Show logo, curtain, and various shots of the bust and others from the series. Each bust is packed very securely in two pieces of heavy and sturdy Styrofoam. The neck of the bust is also wrapped in plastic which is secured to the back piece of the Styrofoam. These beauties are packed very securely. While some fans like to keep items in their boxes in order to preserve and display collectibles, these busts are meant to be prominently displayed out-of-the-box.
All-in-all, these are beautiful treasures. Even if you can't afford the whole set, you may regret passing on your favorite characters. These would make fantastic Christmas gifts for the Muppet fan in your life. Each hand-numbered bust is limited to a run of 5,000.
Sideshow-Weta are currently planning on releasing the following busts with a new series being released every three to four months:
Series 1 - Kermit, Rowlf, Bunsen and Beaker
Series 2 - Gonzo, Sam the Eagle, Statler and Waldorf
Series 3 - Scooter, Janice, the Swedish Chef and Link Hogthrob
Series 4 - Fozzie Bear, Lew Zealand, Beauregard and Zoot
Series 5 - Miss Piggy, Dr. Teeth, Animal, and Crazy Harry
If these five series do well, it's possible Sideshow may add a sixth series. The most glaring omission to me from the above group is Floyd Pepper. All the other members of the Electric Mayhem are represented in bust form. Floyd is needed to make the collection complete. Other characters that would help round out series six are: Sweetums (maybe even with a little Robin), Rizzo the Rat, and Pepe the King Prawn.
Visit Sideshow's Web site to order these fine collectibles and for more photos and information on their upcoming releases.

Kermit Muppet Show Bust
Sculpted by Ben Hawker - 7.5 inches high by 4 inches wide
View a 360 degree turnaround to see this bust at all angles

Of all the Muppet characters, I am typically most critical of the likeness of Kermit. Everyone's favorite frog has been reproduced in so many ways over the years in the form of almost every kind of merchandise imaginable. Even so, Sideshow wanted to get Kermit "just right" and not easily produce a likeness that was close. Sideshow did well as Kermit appears to be very, very accurate to the real puppet.

The texture of Kermit's skin is simply so real that you want to reach out and touch him. Each point of his collar is raised at a slightly different angle. The details in the crevices of his smile, his neck and head are spot on. His hands and flippers are extremely accurate to the real puppet, something a lot of merchandise never displays accurately. Most importantly, Kermit's eyes are focused. His eyes are not only the proper size, but also placed in the right spot on his head. Kermit's eyes are critical to the character and Sideshow nailed this design. Don't be surprised if Kermit is the first in this series to sell out.

Rowlf Muppet Show Bust
Sculpted by Chris Guise - 7.75 inches high by 4.5 inches wide
View a 360 degree turnaround to see this bust at all angles

Of all the series 1 busts, I was most looking forward to seeing Rowlf in person. Between the complexities of his fur and the vital facial characteristics, Rowlf presents a lot of challenges to accurately depict his likeness. When you first look at Rowlf, you are awestruck by the detail in his fur. It is literally amazing as each piece of fur is unique with a different texture.

Whoever chose this pose for Rowlf did an incredible job as Rowlf contemplates the madness that is going on around him. (The same pose is featured on our collectibles menu). His expression is so lifelike that it appears that Rowlf is literally real, like he's looking right at you. The right side of Rowlf's mouth is curved inward a little more than the left, providing a realistic look. If I could change anything about Rowlf, I might like his fur a little more reddish-brown. This is very minor though as Rowlf is excellent.

Bunsen Muppet Show Bust
Sculpted by Ben Wootten - 8.5 inches high by 3.5 inches wide
View a 360 degree turnaround to see this bust at all angles

If you've seen Palisades Bunsen Muppet Show figure, then you have likely noticed that Bunsen is a light green color even though the puppet appears more yellow onscreen when lighted on the set. Like Palisades, Sideshow went with the accurate colors used on the original puppet. Some might initially see Bunsen as "off" due to this difference, but after some time the sculpt grows on you.

Bunsen's lab coat, vest, and shirt are highly detailed. The various textures provide a nice contrast to his textured felt-like skin. Bunsen's triangular nose, chin, cheeks, and ears are subtle yet very accurate. Even the slight inward curvature of his glasses is depicted accurately. Bunsen has a slight point at the top of his head in the back. This seems to be exaggerated a little more than I would like. He's still a great likeness just not totally perfect.

Bunsen Muppet Show Bust
Sculpted by Ben Hawker - 9.75 inches high by 4 inches wide
View a 360 degree turnaround to see this bust at all angles

Not unlike Rowlf, a lot of anticipation is surrounding the Beaker bust. Fans of Beaker, are diehard. We'll do anything for our favorite lab assistant. It is probably because most of us can relate to being a victim of real-life mishaps not unlike Beaker. Until the past couple years, you could count the amount of Beaker merchandise released all-time on one hand.

Beaker's head, eyes, nose, and mouth are exquisite. The placement is just right. Beaker's mouth is very detailed with his tongue accurately displayed within his deep curved mouth. (This would be an easy place for Sideshow to slack off, but they did not.) The texture of Beaker's nose is different than his smooth eyes or felt-like skin. Beaker is holding a beaker appropriately enough as if Bunsen is insisting he drink the latest Muppet Labs concoction. The only things I would change is that while Beaker's hair is finely detailed (every strand is different), it's hard to sculpt Muppet hair on a figure. It's done remarkably well, but it seems to be a little too much hair on top. It will be interesting to see how they deal with Miss Piggy's full head of hair. Also, Beaker's pink skin color appears a little too pale. Kind of like Rowlf, I'd prefer the skin color be a little darker, but it's still one of the best likenesses of Beaker we've ever seen.