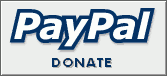 Muppet Show Busts Series 2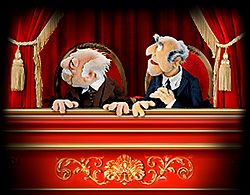 James V. Carroll (3-14-2003) - Series two of the Muppet Show busts demonstrate a clash of quality and style. These sculpts from Sideshow Weta, along with Palisades's action figures, are some of the best Muppet product to come along in years. Comparisons of the two are inevitable. They are both high-quality items.
The busts sport a hefty price tag of around sixty dollars a piece ($187 for the whole wave). To break it down, you could buy an entire action figure series and playset for the cost of one of these busts. Such an investment naturally raises the standard of critique. I like the busts and hope to afford the whole set. They are worth only half the retail price, but Muppet product has always been more expensive.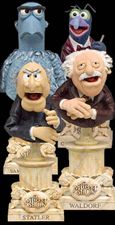 The classic Romanesque bases are back. They perfectly suit the busts. The faux marble mimics the architecture of the Muppet Theater and lends some well-deserved class to the characters.
The packaging utilizes the same red Muppet Show graphics that have been on all the products. The window boxes display the busts nicely for the "mint in box" collectors. The simplicity of packaging design highlights the sculpture rather than distract from it. I am glad it has remained the same.
This time out the likenesses are rather spotty. Some are good, others are not as impressive. I expect a higher level of quality control for my sixty bucks. It is cool to have a Statler and Waldorf set of busts even if they are under whelming. I can't recommend all of these, but have decided to individually rate each bust on its own merits.


Gonzo Muppet Show Bust - * * * * 3/4
Sculpted by Warren Mahy - 7.75 inches high
View a 360 degree turnaround to see this bust at all angles

Capturing this lovable hook-nosed weirdo is a difficult task. Many companies have tried and all have fallen short in some respect. The subtle nuances of his face makes him one of the more difficult characters for Henson puppet makers to build.

This sculpture is the definitive Gonzo product. Sideshow opted for the modern Gonzo and it is a good choice. His fur is fine and understated as it should be. I would have liked to see more spongy texture on his nose and subtle folds on his eyelids. The jacket could use more texturing too. The slick consistency of the maroon tux stands in contrast with the rest of the bust. Such details really shine on a piece this size.

His wispy hair is made of soft plastic to keep it from breaking. It also makes every bust unique because the hairs will likely vary. Gonzo is holding his trademark bugle that he blows at the beginning of each Muppet Show. It is sculpted from plastic and can be loose in his hands if twisted around. It won't fall out and can be repositioned in the grasp of his perfectly formed fingers. The metallic sheen is evenly painted.

He is a small guy, perfectly in proportion with Kermit. He does seem dwarfed by Sam and Bunsen, but scale is a relative issue. Most of us haven't actually seen these puppets in person. We only have films and television shows for reference, so I trust the sizes are close enough.

Gonzo has a look of surprise like he just blew something funky out of his horn. I would prefer droopy eyelids. That sort of moodiness defines the inner subtext of the character. This expression also works beautifully. The size and placement of the eyes are correct. He does not have a cartoony appearance seen in other Gonzos. There's just the right amount of space along corner of the eyes where they join the head.

The shape of his head is flawless. He has the right amount of neck and there are slight lumps where his eye sockets meet the head. The mouth is formed in an open position. There could be more of an indention where the lip meets the inside of the mouth, but it has the correct shape. The sides of the mouth are sloped downward, not sculpted in the awkward smile represented in other products. The nose has a subtle curvature often missed in most representations. This bust is the standard of what such products should aspire to be. The profile is just as striking as the front view.

The paint is applied evenly. No thin spots show through, but the nameplate is a little sloppy. He is brightly colored. This could have been a Henson demand, but it's a shame that an elegant representation is marred by the color scheme. Gonzo's hands are notably darker shade than his head. If his face matched his hands it would be perfect. That's a small issue compared to his nose. The pictures suggest a purple hue. It isn't sky blue, there are slight purple undertones around the edges and the bottom lip is painted pink. His beak is much bluer than the puppet. It is a lighter shade than the Palisades action figure, but with much less shading. Sideshow came so close; it almost wants me to break out the acrylics.

I am not certain how they can vary the paint in production. It would be nice to see some airbrushing in spots instead of flat color. It is most evident inside the mouth. The red color doesn't fluctuate like it should. The backs of the eyelids are painted the same color as the nose instead of a continuous yellow. The process is correct, but the color looks odd. I wish this sculpt had the same coloring as Palisades' series five Gonzo action figure prototype.

After having this bust on my desk for the past couple days, the color no longer bothers me. I just marvel at the artistry from sculptor Warren Mahy. This is the bust to get from series two. Break open your Miss Piggy banks and head over to sideshowtoys.com. You won't be sorry. Every bust should should be like this one. All toy makers should use it as a model.


Sam the Eagle - * * * * 1/2
Sculpted by Daniel Falconer - 9.25 inches high
View a 360 degree turnaround to see this bust at all angles

No Muppet set is complete without our cultured and patriotic feathered friend. This bust doesn't disappoint. He exhibits the grace and dignity we have come to know as Sam the Eagle.

The intricate detail in each of his many feathers is amazing. Every vein is accented. The body has the right amount of fluff. A closer look reveals a few beautifully placed stray hairs around his neckline. They could have gone wilder around the head and in his eyebrows. His torso has a natural fuzziness in contrast to the plumage. It would have helped to apply more texture to the head. He is smoother than I remember and there are some very slight smudges in the skin.

The amputation at the elbow of his right arm is strange. This is a normal practice in sculptures, but most of the other busts in this collection have both appendages. They could have easily wrapped it around the body or posed it. That would have meant more feathers and those suckers seem time consuming.

Sam is in one of his classic contemptuous poses. His left arm is placed on his chest and his eyes look to his left as if he is embarrassed by his surroundings. He is the most regal of all the busts. His closed mouth is appropriate for this "straight man" expression, but it would have been nice to see the detail inside.

He is a dingy, darker blue than I expected and body is too similar to the color of his face. I remember his body being a lighter color. It would have given this figure the extra pop it needs, but Sam has always been understated.

The bust is quite large. It's certainly the heaviest of the collection. Sam has always been a pretty big eagle. There's something satisfying about such a solid sculpture.

The bust represents the degree of excellence I expect from a work of this sort. If you like Sam the Eagle, this sculpture by artist Daniel Falconer is worth the price.


Statler Muppet Show Bust - * * *
Sculpted by Roger Lewis - 8.25 inches high
View a 360 degree turnaround to see this bust at all angles

I thought the Muppet Show's infamous hecklers would be the main highlight of series two, but true to form they hit a sour note. It's really cool to have them represented and they are worth owning for their novelty value, but they are the weakest sculpts to date.

They both are spongy and have an unfinished clay feel to them that doesn't fit with the rest of the line. He looked smoother in the promotional photographs and it appears that the texture was a hurried afterthought. Statler and Waldorf have slightly different skin tones, which I enjoy.

The first thing I notice about Statler is his crossed eyes. I know his pupils are supposed to be close together, but not like this. It's peculiar that detail would be taken in painting irises while ignoring the placement of them. This keeps the figure from being expressive.

His hair could have some wilder strands, but the variation of color is a nice touch. His ears have that same squiggly nature of the puppet. His hands are in a position to throw pick up a tomato or hurl an insult.

His navy jacket reveals carefully placed pinstripes. This is the most impressive part. The subtle wrinkles are also nice. He also has a blue necktie barely visible because of his position. They didn't pass on detail with the body.

Statler reflects the modern puppet. The top lip is lower than on the original puppet. This appears to be a trend in all-new Muppet merchandise. His mouth and chin are also rather cartoonish. I don't remember him looking quite like this. It's a fair likeness.


Waldorf Muppet Show Bust - * * *
Sculpted by Greg Tozer - 7.75 inches
View a 360 degree turnaround to see this bust at all angles

Waldorf is difficult to peg because he has changed so much throughout the years. This version tries to capture the early days of the Muppet Show, my favorite period of the character.

His hair and mustache are clumpy and darker than I remember. There are not enough stray hairs. His chins are also a problem. Waldorf has a mushy kind of face. This makes him one of the most challenging characters to sculpt. His eyes are smaller than normal. They appear to be placed on. The same goes for his mouth. I don't feel that this is one strong sculpture, but a sort of unfinished work of assembled pieces that need to be integrated and tweaked. Out of all the busts, he has the most clay-like feel to him. The exaggerated skin texture is most evident on Waldorf. The porous texture is so overdone that it feels like he will crumble at the touch like when foam disintegrates with age.

It would have been interesting to add some fabric texture to his plain brown jacket. You can clearly see his vest and yellow striped tie. His is posed with his mouth open and folded hands as if he's shouting one of his grumpy one-liners.

Waldorf is one of my personal favorites and he should have been better represented. This is also a fair sculpture of him. The severe texture can be seen from across the room, while the rest of him isn't as sharp. Although I wanted to like it more, I'm glad it's part of my collection.


If you have the cash, these busts are a good investment. Sideshow and Palisades have recently raised the bar on Muppet products, so I am more critical than I would be of a vintage Sigma sculpture. It is disappointing when some of these items under those standards. I wouldn't blame some fans for passing on the series. They don't have much of a play-factor. I would still encourage purchasing your favorite characters. There are some real jewels scattered in the collection so far. Gonzo and Sam are this wave's Rowlf and Kermit (from series one). Even with a blue nose, I do not think there will ever be a better sculpt of Gonzo commercially available. In the end, I am just stoked to have such a cool collection. It makes me smile to look at them and that's enough for me.