Mickey plays it smart in last-minute hopes for Henson
Tired of writing about how the Mouse is always screwing up, Jim Hill tells a tale about how the corporation's recent clever business dealings with KirchMedia may actually give the Walt Disney Company the inside edge when it comes to acquiring the Jim Henson Company.
By Jim Hill
December 10, 2002
I'm getting really tired of pounding on the Mouse. I mean, there's just no sport in it for me anymore. Which is why - today -- I'm going to do a story about something that I think that the Walt Disney Company is doing right. Something that Mickey is handling in a really clever way … Which is: making another play for the Muppets.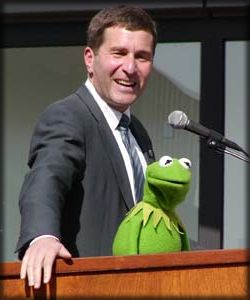 Henson CEO Charlie Rivkin wants to retain controlling interest in the Muppets.
Yep, you heard right. The Mouse is supposedly after the Muppets again. Of course, nothing's official yet. But - over the past few weeks - I have heard from a variety of sources associated with the Walt Disney Company, the Jim Henson Company and KirchMedia that Mickey's been nosing around Kermit's door once more. Kicking the tires, if you will. Crunching the numbers. Trying to figure out (once and for all) if it would really be a smart move for the Walt Disney Company to actually acquire the Jim Henson Company.
Of course, Disney wants to limit its risk here. Make sure that - if the corporation actually makes a play for the Muppets - that they have a really good shot at acquiring the Jim Henson Company.
Toward this end, just last month, one of Disney's international arms - Buena Vista International Television - cut a deal with KirchMedia, Germany's biggest television group. (Kirch - for those of you who don't know - is the company that swallowed debt-laden EM.TV back in March of 2001. And EM.TV & Merchandising AG - again, for those of you who don't know - is the German-based corporation that purchased the Jim Henson Company for $680 million 'way back in February 2000.)
Now keep in mind that KirchMedia has also had more than its share of money troubles. That this major player in European media actually had to file for bankruptcy protection last spring. And there were many in this field who doubted that the insolvent German broadcasting giant would ever survive this ordeal.
But then here comes the Walt Disney Company to Kirch's rescue. Through their Buena Vista International Television arm, the Mouse signs this enormous deal with KirchMedia. A multi-year pact that will give Kirch the exclusive German TV rights to such hit Disney films as "The Santa Clause 2," "Sweet Home Alabama" and "Signs" as well as popular Touchstone Television programs like "Alias," "Scrubs" and "8 Simple Rules for Dating My Daughter."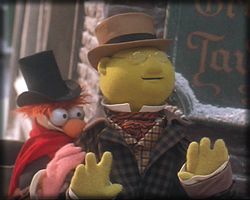 Now keep in mind that the Walt Disney Company is the very first major western media outlet to step up to the place & sign a deal like this with KirchMedia since that media consortium had to file for bankruptcy protection last spring. By signing this deal, the message that Disney seems to want to get across to the international business community was that: "We know that Kirch has had some financial problems. But we believe in this company. More importantly, we believe that KirchMedia will be here, broadcasting in Germany, for many years to come. Which is why the Walt Disney Company is perfectly happy to enter into an multi-year pact with the Kirch corporation."
To give the deal some further heft, Disney also awarded ProSieben (a commercial German television channel that's controlled by KirchMedia) the rights to begin airing two blocks of Disney Television Animation programs (to be specific, the "Buzz Lightyear of Star Command" animated series as well as the "Legend of Tarzan" animated series) starting in 2003. The Mouse also gave Kirch the rights to air a number of older hit films from the Disney library, including "Pretty Woman," "Armageddon" and the live action version of "101 Dalmatians."
Naturally, KirchMedia was absolutely thrilled that the Walt Disney Company had done something like this. Made such a public gesture of support. Demonstrating that - in spite of all of Kirch's money problems - the Mouse still wanted to do business with them. By signing these multi-year pacts, the Walt Disney Company had effectively said to all of its competitors (AOL / Time Warner, Viacom, Vivendi Universal et al) that Mickey thought that KirchMedia would be around for many years to come.
The German executives of this firm were obviously quite grateful that Disney would make a gesture like this. But just HOW grateful? … Well, I guess we'll find out sometime over the next four weeks.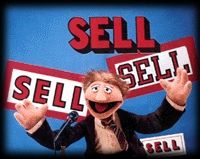 What's so important about the next four weeks? Well, even though this media group is now basically just a division of KirchMedia, EM.TV & Merchandising AG is still struggling to resolve its own money problems. In fact, the debt laden company has until December 31st to repay a $64.5 million loan or risk having the German bankruptcy courts step in.
EM.TV executives are earnestly hoping that they'll be able to take the money that they'll make off the sale of the Jim Henson Company and use those funds to retire this $64.5 million debt. Which is why the pressure is really on right now for this almost defunct corporation to quickly close a Kermit & Co. acquisition deal with someone - ANYONE - before the end of the month.
As of right now, there are reportedly five different groups actively working toward acquiring the Jim Henson Company. These groups are (in no particular order):
1. Dean Valentine. Once the president of Walt Disney Television, Touchstone Television and Walt Disney TV animation. More recently the president and CEO of UPN. Valentine is said to be looking into forming a production partnership with Mort Marcus (another Disney Television veteran) and using the Muppet stable of characters as fodder for a new line of direct-to-video projects.

2. Entertainment Rights PLC. This London-based firm - best known for the creation (and exploitation) of such popular U.K. children's shows like "Postman Pat," "Merlin the Magic Puppy" and "Tracey Beaker" - is also looking to acquire the Jim Henson Company with an eye toward making some serious money off of licensing the Muppets.

3. Classic Media LLC. A NYC-based company that has already acquired the feature film, TV, home video and consumer products rights to characters like Mr. Magoo, Casper the Friendly Ghost, Richie Rich, The Lone Ranger, Lassie and Lamb Chop. Classic Media is looking to acquire the Jim Henson Company so that it can add Miss Piggy & pals to its stable of saleable stars.

4. Billionaire Haim Saban. Whose Saban Capital Group (while working in partnership with Evercore Partners, Inc., a New York based private equity company) was reportedly rebuffed earlier this fall when it made a $128 bid on the Jim Henson Company. But - despite this setback - Haim's supposedly still in there, swinging. (It's been reported that - just like Dean Valentine, Entertainment Rights PLC and Classic Media -- Saban's chief interest in acquiring the Jim Henson Company was so that he too would be able to license the Muppets.)

5. A buy-back of the Jim Henson Company led by Henson CEO Charlie Rivkin. (With an eye toward proving that the Muppets were still a viable and valuable franchise [with the hope that it would help him acquire all the financing necessary to buy back the company], Rivkin personally masterminded this year's spectacular comeback of the characters. The Denny's deal. The Mastercard ad. Kermit's appearance in the Macy's Thanksgiving Day parade. The "It's a Very Merry Muppet Christmas Movie." That was all Charlie's doing.)
And lurking - somewhere 'way in the background - is the Walt Disney Company. Hoping that their recent dealings with KirchMedia might compel EM.TV to give them an especially good deal on the Jim Henson Company.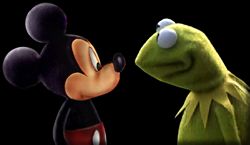 Or - if that gambit fails - Disney's also reportedly toying with the ideas of licensing the rights to use Henson characters in movies, TV and/or a theme park setting … Should it be Dean Valentine & Mort Marcus, Entertainment Rights PLC, Classic Media LLC or Haim Saban's group who ends up acquiring Kermit & Co.
But make no mistake, the Walt Disney Company is reportedly quite serious in its interest in acquiring the Jim Henson Company. Or -- at the very least -- acquiring the rights to use the Jim Henson characters. I've heard talk that the Mouse is actually thinking of applying the money that the corporation will make off of the sale of the Anaheim Angels toward the cost of buying the Muppets.
"And what's the sense of selling an ultra hot sports team like the Angels in order to acquire a bunch of moldy old Muppets?" you may ask. Well, the harsh reality is: Owning a sport franchise like the Angels or the Mighty Ducks has been a lot more costly (not to mention infinitely more aggravating) than Disney had ever anticipated. For example, In order to keep the roster for its World Series Champion team intact (which - hopefully - will make the Angels that much easier to sell), Disney had to agree to a steep payroll increase. 43% over the next two years.
This means that Disney will have to spend $84 million next year to run the Anaheim Angels organization next year. With little hope of ever recovering that cost through ticket sales.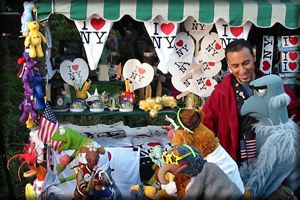 Whereas the Muppets … This is something the Walt Disney Company actually has had some experience in: Brand management. Taking an already established group of characters (Like Kermit, Fozzie and Gonzo and/or Mickey, Donald and Goofy) and creating new projects for them. Finding new ways for these much beloved characters to reconnect with consumers. Keeping these assets evergreen.
This is what Disney is hoping that they'll eventually be able to do with the Jim Henson Company's stable of characters. Provided - of course - that Buena Vista International Television's recent dealings with KirchMedia DID actually help set the stage for the Walt Disney Company to successfully acquire the Jim Henson Company. Or -- at the very least -- see to it that the Muppets ended up in the hands of people that Disney had had prior dealings with - like Dean Valentine, Mort Marcus and/or Haim Saban.
Either way … The next four weeks are going to REALLY interesting for Muppets fans and/or those of us who (occasionally, anyway) like writing about how the Walt Disney Company did something smart for a change.
Like cutting a deal with the KirchMedia gruppe which (hopefully) will give the Mouse the inside edge when it comes to talking with EM.TV and Merchandising AG about acquiring the Muppets.