STAGE CURTAIN
Kermit is excited to have Peter Ustinov as a guest as well as an offshoot of the Boston Pops Orchestra (just the wind section).

OPENING NUMBER: "EVENING AT THE POPS"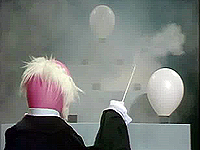 A conductor points to a group of balloons as they musically pop (Inspired by Gonzo's attempted act last week?) At the end, the conductor turns around revealing his head as a balloon which pops.
[The conductor is a faithful reconstruction of the balloon puppet from At the Dance in the Harvey Korman episode.]

BALCONY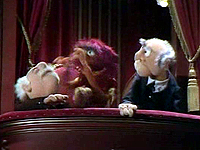 BACKSTAGE
Piggy sighs that her heart is going pitter-patter. (Kermit: "Maybe you've had too much coffee.") When Piggy mentions she's thrilled at being so close to the man she's loved and admired for years, Kermit explains he's unavailable prompting Piggy to clarify she's referring to Peter!

STAGE CURTAIN
Kermit brings out Peter who's still getting used to performing among colleagues who aren't people; his chair walked away from under him. Kermit explains that was a Muppet as well as the wife of the show's writer...the Hatrack! Kermit prepares Peter for the next sketch in which the guest now gets to be a Muppet.

MUPPET LABS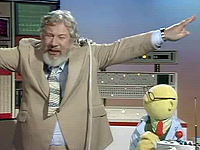 Dr. Bunsen Honeydew presents his breakthrough in international statesmanship, the robot politician (Peter). Demonstrating how the international machine will end corruption in government forever, Bunsen flicks the switch allowing Peter the opportunity to portray a British Prime Minister, American President, and Russian Premier. The machine starts to smoke as Peter launches into a rage of different languages, arms flailing wildly until he explodes.

BALCONY
Fozzie looks for the Tower of Talent, Peter Ustinov, saying appearing in a sketch with him is the highlight of his career...which he said about Kermit last week.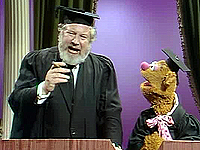 STAGE CURTAIN
Sam, in his "never ending struggle to uplift these proceedings" introduces a discussion on post-Victorian economics by Professors Arnold Nood and Frederick Nik.

SKETCH
Prof. Nood (Peter) tells the story of Benny with Prof. Nik (Fozzie) egging him on. When Benny shaves his beard after a warning not to from his fairy godmother who angrily turns him into a Grecian urn, the theory is proved that "A Benny shaved is a Benny urned."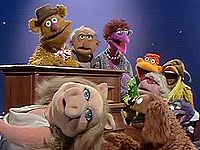 UK SKIT: MUSICAL NUMBER - "ANOTHER SOMEBODY DONE SOMEBODY WRONG SONG"
Miss Piggy gets to perform the song Kermit promised Lena Horne last week that he'd let her do! Backed by Rowlf on piano and backed by Fozzie and a Muppet Chorus, Piggy gives an overly emotional reading to the song!

BACKSTAGE
Hilda gushes that Peter took the time to notice her hemstitch. When Kermit tries to compliment the costume mistress, she brushes him off.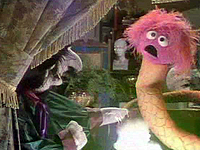 MUSICAL NUMBER: "YOU DO SOMETHING TO ME"
A vampiresque villain turns a singer into such creatures as a bird, cat, fish, and potted plant.

NEWSFLASH
The Newsman interviews Dr. Felix Oglebomb (Peter) about his (nearly) infallible cure for the common cold.

STAGE CURTAIN
Sam announces it's inspiration time ("and goodness KNOWS we need some.")

WAYNE & WANDA
The duo sing "The Falling Leaves". You can guess what happens.

CONVERSATION PANEL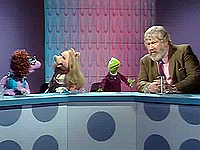 Moderator Kermit, Miss Piggy, Cynthia Birdley, and Dr. Kent Von Frong (Peter) discuss psychiatry. Cynthia misunderstands nearly everything said prompting Peter to explain various trade jargon to better understand the various terms as "complex. Sublimation. Regression! Gestalt!" (Cynthia and Piggy: "Gesundheit!") The practicing doctor (Cynthia: "Isn't it time you stopped practicing and got on with it?") closes with a demonstration of the Janus Theory of Primal Scream Therapy.

BALCONY
Waldorf searches for his contact lens.

BACKSTAGE
Scooter announces he wants to be just like Peter; something he said about Kermit last week. ("I was wrong.") When Scooter asks, "Would you like to grow up and be an international star or would you like to grow up to be a frog?", a worn Kermit walks onstage and sings...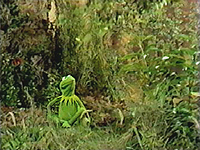 MUSICAL NUMBER: "BEIN' GREEN"
Walking onto a set depicting a green grassy field, Kermit pours his heart out in his famous song. [This version of the song closes the original Muppet Show soundtrack and is featured on The Muppet Show: Music, Mayhem and More. Kermit will also sing this version in next season's Peter Sellers episode...something about guests named Peter that do this to him.]
STAGE CURTAIN
Peter comes out to say his good-byes with the hatrack, complimenting him of being a writer of many talents ("wears more than one hat"). He then cheers Kermit up by announcing he's been jealous of Kermit since he's always wanted to be a frog.

CLOSING THEME

BALCONY