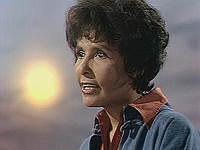 EPISODE NOTES
Lena Horne first performed with Kermit in the early seventies on Sesame Street. She sang a poignant version of "Bein' Green".
She returned to Sesame Street about five years later helping Grover overcome his shyness in the song, "How Do You Do". (This song was released on the 1979 album "The Stars Come Out on Sesame Street").
In this episode, she demonstrates her natural rapport with the Muppets, most notably in her scene with Gonzo.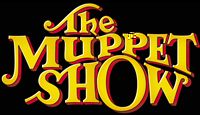 THE MUPPET PEOPLE:
FRANK OZ (Fozzie Bear, George, Miss Piggy, Mildred, Animal)
and JIM HENSON (Kermit the Frog, Rowlf, Waldorf, Newsman, Boppity, Swedish Chef)
with RICHARD HUNT (Statler, Miss Piggy, pig, Scooter)
DAVE GOELZ (Zoot, Gonzo)
EREN OZKER (Janice, dancer, Hilda, Wanda)
JOHN LOVELADY
PETER FRIEDMAN (mop)

WRITTEN BY Jack Burns, Marc London, Jim Henson and Jerry Juhl
PUPPET MAKERS: Bonnie Erickson & Don Sahlin and Caroly Wilcox, Mari Kaestle, Dave Goelz, Rollin Krewson, Faz Fazakas, Larry Jameson
EXECUTIVE PRODUCER FOR HENSON ASSOCIATES,
INC./MUPPETS: David Lazer
THEME MUSIC: Sam Pottle
ORCHESTRA: Jack Parnell
MUSIC CONSULTANT: Larry Grossman
MUSICAL ASSOCIATE: Derek Scott
FLOOR MANAGER: Richard Holloway
VISION MIXER: Felicity Maton
PRODUCTION ASSISTANT: Joan Chaplow
VISION: John Crane
CAMERAS: Bill Brown
VTR EDITOR: John Hawkins
SOUND: Roger Knight
LIGHTING: John Rook
DESIGN: Paul Dean
EXECUTIVE PRODUCER: Jim Henson
PRODUCER: Jack Burns
DIRECTOR: Peter Harris
Lena Horne - Episode 11
Taping Dates: July 13-15, 1976
Original Airdates: November 1, 1976 (New York) and November 6, 1976 (LA)
DVD Release: Buena Vista Home Video, 2005
GENERIC INTRO: MUSIC
Brian Henson: "Hi, I'm Brian Henson. Music has been a big part of the Muppets since the very beginning. When my father started, his first show was called Sam and Friends. At that time, he used to perform with my mother and they would puppeteer lip-syncing to records."
"By the time of The Muppet Show my mother was now at home raising a house full of crazy kids, and the Muppets were singing with their own voices. And they sang with some of the greatest musical talents of our time: Paul Simon, Elton John, Diana Ross, and many, many more. Whether it's chickens playing chopsticks on the piano or a bunch of eskimo pigs singing "Lullaby of Broadway", you can never tell what you will hear next. Here it is, The Muppet Show."
OPENING THEME
Fozzie's joke: "I bet on a horse that came in so late, they had to pay the jockey time and a half."
Gongo's gong: Gonzo hits the gong which makes a foghorn noise.
STAGE CURTAIN
Kermit presents an act discovered by George the Janitor.

OPENING NUMBER: "RAG MOPS"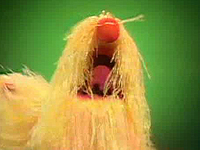 A group of singing and dancing mops hurl about the stage singing rag.

BALCONY
STATLER: That kind of act only comes once in a lifetime.

WALDORF: If you're lucky.
BACKSTAGE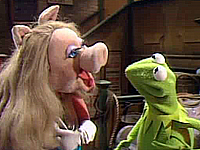 Miss Piggy wants to know why Kermit cut her song from the show. Kermit starts to explain it's because Lena Horne is the guest but before he can finish, Piggy thinks he's getting at saying he didn't want her to overshadow Lena rather than the other way around and gives Kermit a quick smooch for his consideration.

STAGE CURTAIN
Kermit announces Lena Horne's name is synonymous with "style, taste, and talent".

MUSICAL NUMBER: "I'VE GOT A NAME"
Lena sings her song petting Muppy while backed by George, Gonzo, Fozzie, Mildred, Hilda, and Brewsters.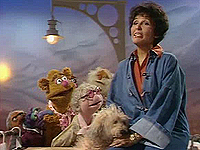 [The live dog version of Muppy is shown in the opening and closing shots of the number as well as walking down the backstage steps in the last backstage scene and going back up the stairs into his dressing room in the next scene.]

BALCONY
WALDORF: I could listen to her sing till the end of time.

STATLER: She doesn't sing that. Not her style.

WALDORF: No no, I mean I could listen to her sing forever!

STATLER: No, she doesn't sing that either.

WALDORF: Why don't you just check yourself into the old fools' home while they still have a bed left?!
BACKSTAGE
Miss Piggy assures Kermit that the consideration he's shown Lena Horne has only reinforced her undying love for the frog. When Kermit graciously refuses her advances, Piggy gets rather melodramatic.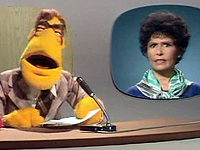 NEWSFLASH
The Newsman interviews Mrs. Lola Bramswell (Lena) about her seaweed diet. ("Twice a day, I find myself going in and out with the tide.")

AT THE DANCE
Keep an eye our for two of the mops from the opening number dancing together!
MILDRED: Do you like circuses?

GEORGE: I love 'em!'

MILDRED: Then you must like Ringling?

GEORGE: I don't know - I never ringled.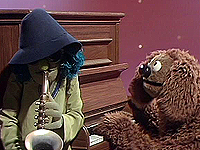 UK SKIT: MUSICAL NUMBER - "THEME FROM LOVE STORY
Rowlf on piano and Zoot on sax get caught up in the emotion of the instrumental piece.
[Andy Williams will sing Love Story during the fourth season of The Muppet Show.]

TALK SPOT
Fozzie complains that even though Kermit peppers his remarks with "us" "we" and "ours", no one else ever gets to chat with the guests and as a result they only get to know Kermit. Lena disproves his theory when she recognizes Fozzie.
LENA: When you've made a name for yourself in show business, everybody knows you. So it's only natural that I would know the great Fozzie Bear.

KERMIT: Sure, just as it's natural that you would know Lena Horne.

FOZZIE: Lena Horne? Oh, I love Lena Horne! She's terrific, I mean she's great! [To Lena] Don't you?
Kermit tries to politely hint to Fozzie that Lena's the guest this week and Fozzie asks Lena if she's going to stick around to see her!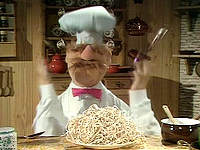 SWEDISH CHEF
The Chef prepares spaghetti. But unfortunately the italian delicacy tries to walk off its plate and eventually strangles the cook.
[The spaghetti is a puppetry marvel, appearing to move by itself.]

STAGE CURTAIN
Gonzo rushes onstage after being introduced by Kermit promising a unique version of "Pop Goes the Weasel" with a surprise ending. Before he can begin, Animal approaches and pops the balloon he's holding behind his back prompting the audience to once again boo him offstage.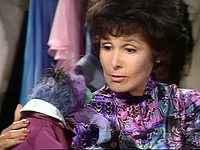 DRESSING ROOM: SONG - "I'M GLAD THERE IS YOU"
An upset Gonzo is consoled by Lena who explains sometimes it takes a long time for an artist to be appreciated. Letting him know she thinks he's great, she sings "I'm Glad There Is You". [In a nice bit of continuity, Gonzo still clutches his broken balloon.]

BACKSTAGE
Kermit mouths off to Scooter that sometimes in their business, one needs to be ruthless, merciless, and cruel. Explaining what he means he tells the go-fer he axed Piggy's song so Lena wouldn't make her look ludicrous. Scooter gets a little too inspired and tells Piggy the news...and gets karate-chopped. ("Kermit never told me about this part!")

STAGE CURTAIN
Kermit introduces that bundle of laughs, Fozzie Bear.

FOZZIE'S COMEDY SPOT
Fozzie uses Statler and Waldorf's heckling to segue into a discourse of Japanese actors. ("Did you know that Toshido Mafumi means 'No Smoking' in Japanese?") He concludes with a tribute to Marcel Marceau, balancing himself on one leg...then on no legs. Just as he thinks he's finally prevailed over the curmudgeons, Waldorf warns him, "If you stay on any longer, you'll be running into the prayer of the day!"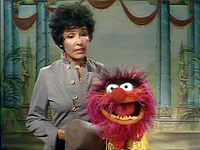 ONSTAGE
Searching for her dressing room key, Lena asks Animal to help her find it. He smashes her foot with a mallet forcing the guest to scream loudly. ("B Flat.")

BACKSTAGE
Piggy confronts the foolish frog with what she learned and delivers her second series of karate chops of the evening.
KERMIT (into intercom): Monsters, stand by please!

PIGGY: Aren't you going to be standing by too?

KERMIT: No, why?

PIGGY: Because YOU'RE the monster!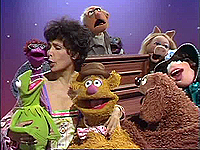 MUSICAL NUMBER: "SING"
Lena and a group of Muppets gather around Rowlf's piano and sing the "Sesame Street" song.
[No monsters though! Piggy's there though, seemingly recovered - she doesn't even react when Kermit joins in.]

STAGE CURTAIN
Lena tells Kermit that after listening to Piggy sing backstage, she thinks she should have her own spot on the show. Kermit considers it, cueing Piggy to smooch her frog crazy and forcing Hilda to tell the crowd, "We'll see you next time on "The Muppet Show".

CLOSING THEME
STATLER: Author, author!

WALDORF (half asleep): Is he here?

STATLER: Who?

WALDORF: Arthur.

Guide Written by
D. W. McKim and Phillip Chapman
With contributions from
Jogchem Jalink and Dave Ebersole