Dolls and Puppets
Muppet Collectibles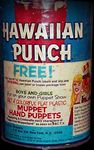 Hawaiian Punch (1970)
Hawaiian Punch had a promotional offer for 4 mail-away Muppet puppets that were released as a tie-in to the "Hey Cinderella" special on ABC. The text on the can says "Boys and girls put on your own puppet show. Get four colorful, plastic Muppet hand puppets." The puppets featured King Goshposh, Cinderella, and two others.

Fisher-Price (1978)

The original Fisher-Price dolls and puppets are some of the best Muppet toys that have been produced. All five of the original dolls and the two puppets are classics and should be part of everyone's collection. Even though it takes considerable more work to find these dolls in their original boxes, they display beautifully and are much more valuable in their original boxes from the late seventies.
Kermit Doll
This classic Kermit doll is everyone's favorite frog with Velcro on his hands so he can be posed in all kinds of positions.
Fozzie Bear Doll
As you can tell by the shape of his head the Fozzie doll was based on the original, first-season Fozzie who was later redesigned after the second season of the Muppet Show. Fozzie's hat is supposed to be non-removeable.
Another great Fisher-Price release, the Rowlf puppet is more stylist than his original Ideal counterpart. He's a lot of fun to play with as his ears flop around when you perform him. Like the Animal puppet, Rowlf has a hole in his back that you can put your hand through.
Scooter Doll
The Scooter doll has a green satin jacket with the Muppet Show logo and hard plastic shoes. His face and body are stuffed. Velcro is on his hands, but he's not real poseable.
Animal Puppet
The Animal puppet is an incredible version of the character, so much so that Igel would release a puppet based on the same mold twenty-years later. With this puppet, you put your hand through Animal's back in order to operate him. The eyebrows move up and down from a lever located inside his body above his mouth.
Two different versions of this doll were released the original had red and orange fur, the later and more common version of this doll used pink and orange for fur.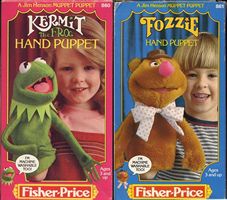 Kermit and Fozzie Puppets
The Kermit puppet is remarkable for not having any stuffing in his head, so the puppet is really fun to perform. Kermit has a broad range of expressions not possible in most kids' puppets.
The Fozzie puppet is also very nice with no stuffing in his head. The original puppet had Fozzie's hat sewn on, even though most of them that are around today are no longer attached.

Fisher-Price (1979)
Miss Piggy Puppet

Fisher-Price's original line continues with the Miss Piggy puppet, the first Piggy doll ever produced, with a nice vinyl head and blonde hair. It's hard to find any today that don't have mangled hair.
This puppet was interestingly released in two different boxes, one was taller with cellophane and an open front (like the other Fisher-Price dolls). The later box was a little smaller, had cellophane, and it was enclosed all-around. A lot of people were playing with Piggy excessively at the store so they changed the box design so she became a harder to reach without opening the box.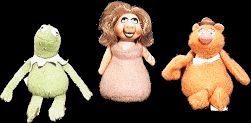 Muppet Beanbags
The Kermit beanbag is plush with plastic eyes. Fozzie is plush with a plastic hat. Miss Piggy has a plastic head with plush body. The beanbags are all about 6 inches tall. Like the larger Fisher-Price Miss Piggy puppet, the hair on the beanbags is often unruly as well.

Pelham Puppets (1979, UK)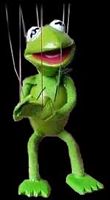 Pelham Puppets released a series of Muppet marionettes featuring Kermit and Animal. Prototypes of Miss Piggy and Rowlf do exist in private collections, however, they were never officially released because Henson was not fully satisfied with the quality of the character likenesses. There are some Pelham "rip-offs" floating around out there so if you are purchasing one be sure that you are acquiring an authentic doll.
Kermit
The Kermit marionette is a lot of fun and will be a popular item in your collection. Even though Kermit's head is slightly bigger than his body this is a neat marionette, especially since it's the only official Kermit marionette ever produced.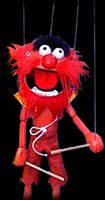 Animal
This is a Muppet marionette of Animal. He is approximately 15 inches tall from head to toe.
Animal has a molded composition head, hands and feet, is dressed in felt costume decorated with clothes and wooden drum sticks. Animal has bright red fur hair and a huge moving mouth. A very fun and expressive Muppet marionette.
Go back to Muppet Collectibles.

Section compiled by
Artie Esposito, Cindy Chapman, and Phillip Chapman