Dolls and Puppets
Muppet Collectibles

John H. Wilkins Company (1958)
In 1957 Jim and Jane Henson started to make commercials, starting with advertisements for Wilkins Coffee. The pair would eventually make over 300 commercials, just for Wilkins Coffee alone! The commercials were incredibly short and direct to the point, with each one being approximately only seven seconds long.
Wilkins and Wontkins Puppets

Wilkins was the protagonist, and displayed a lot of the traits which would later evolve into Kermit. Wontkins was a gruff voiced and cantankerous character who refused to drink Wilkins Coffee; as a direct result, all manner of catastrophes befell him. The characters and concept were so popular that they hawked products in other major TV markets as well.

Wilkins Coffee had a promotion asking the consumer to "Send in $1.00 and a label to receive a pair of Wilkins and Wontkins puppets". And here they are, the first Muppet collectibles. They are approximately 7-8 inches tall.

Ideal (1965)
The original Rowlf puppet is fantastic and resembles the 1978 Rowlf puppet in many ways. However, the eyes on Rowlf are made out of two layers of plastic, the first being the white, the second thicker layer being his black pupil. Like the Fisher-Price, you put your hand in Rowlf's head to make him speak. Unlike the Fisher-Price, the Ideal version has a bright red tongue (not sewed down in his mouth). The Ideal Rowlf also has a neat tail, unlike the Fisher-Price.
Kermit Puppet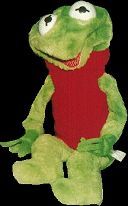 The Ideal Kermit is roughly the same length as the Ideal Rowlf, approximately 20 inches. His legs, arms, and head are made of a green plush material and his body is red felt. During much of the sixties Kermit wore a red sweater before he got his collar and became a frog in 1969. His mouth is felt also. At the back of Kermit, a metal rod sticks out which inside splits into two metal rods and goes down each arm. The metal rod at the back allows you to control the arms while you are working the head. He has no collar or pointed flippers, as you can see from the photo, but Kermit was not yet "officially" a frog when this doll was released in 1965.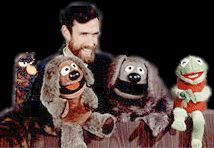 In this picture taken during the filming of an Ideal commercial, you will also see the third Ideal doll, the Snerf. He was a Muppet monster who's neck would often move up and down. He is a precursor to the Muppet Snerfs who would have horns on their faces more than 10 years later during the run of "The Muppet Show". It is likely this doll was just a prototype and never commercially available.
The Ideal Box
The same box was used for Rowlf and Kermit, except for the round white "my name is" sticker on the front.
Left Side

Front

Right Side

Back
Go back to Muppet Collectibles.

Section compiled by
Phillip Chapman
With Contributions from
Michael Dixon (Ideal Kermit)
and Galen Fott (Ideal Box)