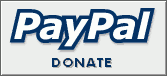 Janice is a member of the family
By Quinn Rollins
October 10, 1998
The Muppet family of characters extends beyond the familiar faces of Kermit, Piggy, Gonzo and Fozzie. Beyond this core of characters everyone knows by heart, there is a surrounding circle of characters as memorable for their quirks and their heart. They don't have as many lines in episodes or films, they don't have as many products emblazoned with their likenesses, but they're part of the Muppet family. Janice, the lead guitarist for The Electric Mayhem, is a member of this family.
Janice was first designed as a man by Michael Frith, blue-skinned, with "two wisps of beard," an animated throat, and "utterly emaciated." By her premiere on The Muppet Show, however, she had metamorphosed into the blonde, big-lashed, big-lipped woman we know and love. Why do we love her?
First, she is one of few female characters from The Muppet Show to regularly interact with the regulars. Piggy, Janice, and Camilla are the three female Muppets to make the transition to films. Of these, Piggy usually hogged the glory, but Janice always seemed content with her role on the show.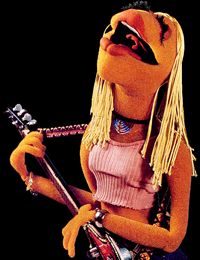 Janice was the lead guitarist for The Electric Mayhem, and her main squeeze, Floyd Pepper, played the bass. This is where Janice was often seen, and her playing and vocals sweetened the sound of the band in The Muppet Show and the first three films (Janice was seen, but not voiced in The Muppet Christmas Carol and Muppet Treasure Island).
Some think of Janice as a "ditzy blonde," but I prefer to think of her as laid back and easygoing. Her speech, laden with "like" and "fer sure," and her relaxed disposition was a welcome counterpoint to the often frantic Miss Piggy. Janice was a smart character, often making cutting remarks at the others' expense.
Janice's most memorable sketches weren't always those with the band. She also played Nurse Janice in "Veterinarian's Hospital" with Nurse Piggy and Doctor Bob, where they shared jibes at the patient's expense, and often each other, telling the worst possible puns, with Janice and Piggy usually setting up Rowlf's horrible jokes. And it was hilarious.
Janice was also frequently seen on the dance floor, usually with Floyd, but often with others, as they spun around to the same tune telling jokes only Muppets can get away with.
The thing I enjoy most about Janice's character now is that she often brought an edge to the Muppets that the core characters can't get away with. She was very obviously an adult, and had some of my favorite Muppet lines in The Great Muppet Caper and The Muppets Take Manhattan.
| | |
| --- | --- |
| | "Still, the management is cheerful, though the whole joint's gone to hell..." from the "Happiness Hotel" number in The Great Muppet Caper, one of the few times a Muppet ever swears, and it's Janice! |
| | "Look, Mother, it's my own life, okay, so if I want to live on a beach and walk around naked...." also from The Great Muppet Caper. |
| | "Look buddy, I don't take my clothes off for anyone, I don't care if it IS 'artistic'..." from The Muppets Take Manhattan. |
The latter two quotes caused uncomfortable silences--I've personally used them to the same effect in meetings at school and work, breaking the tension and cracking people up. Thanks, Janice.
Janice is also a peacemaker; in The Muppets Take Manhattan, after Gonzo and Janice get into an argument, she's willing to make up with a hug to the weirdo. It may not seem like much, but it's certainly more than Piggy would do... (hiiiiii YA!).
No tribute to Janice would be complete without a tribute to Richard Hunt, who performed her for so many years. Unfortunately I have very little knowledge of Richard's life or his work outside of the Muppets. I do recognize that he was an incredibly talented man. His performance of Muppets varied from Sweetums to Janice to Statler to Beaker to Scooter. Hunt made them all into memorable characters. His musical gifts were readily apparent. His humor came through in all of his creations. Richard passed away shortly after Jim Henson, and with him he took
the hearts of many Muppets and their fans.
What's to become of Janice? She has been seen with the band in both Muppet movies made since Richard's passing, but unvoiced. The claim for replacing some of Richard's (and Jim's) characters is that some, like Kermit, obviously needed to be replaced. Two very notable characters, Rowlf and Scooter, always a core part of the Muppet family, haven't been revoiced. Janice and Dr Teeth, both members of The Electric Mayhem, have also been passed over. The argument has been made that The Electric Mayhem is dated, and they should be phased out. I heartily disagree.
Even during the seventies, their music wasn't confined to any era of rock. As all enduring bands, they would add to their repertoire as the years went by. Even if the music was deemed "dated," the characters are not. On The Muppet Show, and more obviously in the first three films, the importance of The Electric Mayhem wasn't their music, but their characters. Their separation and later reunion with the other characters in The Muppets Take Manhattan isn't poignant because of the loss and gain of the musicians, but of the friends.
The Electric Mayhem, including Janice, Dr Teeth, Floyd, Zoot, and Animal, belong with the Muppets as surely as Kermit, Piggy, Fozzie, and Gonzo, they are family. How to use them? As they were used in the first three films. As family.