The Muppet Office
Muppet Collectibles

Antioch Publishing Company (1979)
Muppet Bookmarks
Antioch produced a seires of photo bookmarks with humorous captions. Featuring Kermit, Piggy, Fozzie, Animal and possibly others.

Hallmark (1980)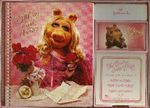 Address Desk Set
Spiral bound address book with an exquisite photo of Miss Piggy and the words "All My Ardent Admirers" on the cover. Also included was a plastic note holder that kept white sheets of paper handy.

Stuart Hall Company (1980)
Notebooks
Back to school notebooks promoting the movie The Great Muppet Caper.
Ring Binders
Back to school ring binders were also made.

Hallmark (1981)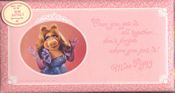 Miss Piggy Desk Set
The desk set items could be purchased together or seperately. They include the following:
Pencil Holder - "Rule #1: The star is always right! Rule #2: When in doubt refer to Rule #1!" This neat cloth covered pencil holder is in a nice shade of pink to match all the other desk accessories
Miss Piggy Utility Box - "Once you get it all together... don't forget where you put it!" Perfect for handy items such as erasers, paper clips, or lip stick.
Pen Holder - A flat weight that held a large plumed pen.
Desk Pad - A large pad of paper that became the centerpiece of the desk. An image of Miss Piggy wrapped in a white fur borders one side.
Date Book
Note Pad Holder - Cardboard holder with lots of white slips of paper.

Antioch Publishing Company (1981, 1989)
Self-Stick Bookplates

Package of 30 self-stick bookplates, 4 and 1/2 inches by 3 and 1/4' inches. These decorative bookplates feature Miss Piggy and Kermit in a library with Miss Piggy saying "Please return this book to Moi!" These bookplates were designed to be placed on the inside front cover of your books.
A bookplate is different than a bookmark because a bookplate has a place that says "This book belongs to" where you put your name. They are self-stick so that they stay permanently with the book.

3M Corporation (1990)
Post-It Notepads were released by 3M featuring Kermit and Miss Piggy at the office.
"Is it Friday yet?"
"I Love My Job: It's the work I hate"
"Moi's Rule: If it really matters, they'll call back"
"If you can't say something nice, say it in a memo"
"Stick THIS in your disk drive!"
"Enough work, let's dance!"
"Bosses are great when they do what they're told"

American Telecommunications Corporation (1983)
Kermit Telephone (Touch Tone)
Kermit is relaxing in his chair. The receiver hangs on his foot.
Kermit Telephone (Rotary)
This is the same phone as above, however, it has a rotary dial on it. The rotary version of this phone is more rare.

Flair (1989)
Paper Mate Pens
Three Paper Mate pens made by Flair. Orange pen has an illustration of Fozzie. The red pen has Kermit. And the green pen has a picture of Gonzo. They were all sold in one package.

Mead Binders and Folders (1992)
3-Ring Binders "Save the Pond"


| | | |
| --- | --- | --- |
| | | |
| "Save the Pond" (Kermit sitting on a globe) | "Think Green" (Kermit with a microphone) | "grEen=mc2" (Bunsen, Beaker and Janice in Muppet Labs) |
| | | |
| "One Frog Can Make a Difference" (Kermit sitting in the swamp) | "Wocka Wocka" (Fozzie telling riddles, with Statler and Waldorf telling him to "recycle" his jokes) | |
"One Frog Can Make a Difference" was also released as a paper notebook.

Dakin (1994)
Kermit Paper Cube
Daking made this Kermit paper cube. It featured a drawing of Kermit's head printed around the sides of the cube.

TeleDynamics (1996)
Kermit Candlestick Telephone
Modeled after an old-fasioned phone, Kermit's head is the mouthpiece, while his arms cradle the receiver. The phone is trimmed in dark green and gold. The phone has a push-button rotary dial.

Tiffany Lamp (1997)
Kermit the Frog has long been known to light up the life of his fans. Now, Kermit illuminates the traditional Tiffany lamp, adding a joyous decor statement to any room.
As part of the Kermit Signature Collection, each phase of this creation was completed under the creative guidance of Henson artists. It is made with kiln fired stained glass and measures 20 inches high by 14 inches wide. The picture really doesn't do this lamp justice. It is truly magnificent and a must for your collection. Tiffany's Kermit lamp is one of the most beautiful high-end Muppet collectibles ever released.

Moller Designs (1997)
Kermit Bookends
Moller Designs made these metal bookends with a stylized Kermit cut into the metal and folded at a right angle. The metal Kermit figure leans out of the bookends with a broad smile.
Miss Piggy Bookends
Matching the Kermit bookends, the Piggy bookend is a stylized silhouette of Piggy cut into the metal and folded at a right angle. The metal Piggy silhouettes are sitting with their backs against the bookends.

Republic of Somaliland (1999)
This limited edition tribute stamp of Jim Henson was limited to a release of 4,000.
This picture is of Jim Henson from the first season of The Muppet Show. Stamp was issued by the former British Somaliland which succeeded from Somalia in May 1991.

Kyrgyzstan (1999)
This limited edition tribute stamp of Jim Henson was limited to a release of 2,000. The stamp honors: Jane Pauley, Brad Pitt, Jim Henson, and Kim Basinger. Kyrgyzstan is one of the fairly new independent Russian republics in Central Asia, bordered on the north by Kazakstan, on the east by China, on the south by China and Tajikistan, and on the west by Uzbekistan.

Paper House Bookmarks (1999)
The die-cut bookmarks feature Kermit smiling with arms crossed, Piggy posing in a red gown, and a cuddling Kermit and Piggy.
For more info on the items in this line, check out Paper House stickers and Paper House cards.

Sony Products (2000, Japan)
This is a great Kermit mousepad released overseas in Japan as part of the overseas exclusive line of "Kermit Collection" merchandise.
Go back to Muppet Collectibles.

Section compiled by
Cindy Chapman and Phillip Chapman