Emmet Otter's Jug-Band Christmas: Collector's Edition

Phillip Chapman (October 1, 2005) - Originally based on a book by Russell Hoban, Emmet Otter's Jug-Band Christmas is probably the most loved Henson special not staring the classic Muppet Show or Sesame Street characters. It was taped in 1977 even though it didn't air in the United States until 1980.

Emmet Otter is not only a great story with heartwarming music, but it features the talents of the Henson crew when they were arguably at their creative best. It has been released on VHS and DVD four times in the US (1983, 1996, 1998 and 2005) more than any other Henson televised special. This Collector's Edition release from HIT Entertainment does not disappoint.

There does seem to be some debate as to on what network this special originally aired. The Museum of Television and Radio and other TV sources credit this special as first airing on ABC on December 15, 1980. Throughout this disc though, HIT states that HBO first aired this special. (HBO did air Emmet Otter annually throughout the 1980's.)

OVERALL PRESENTATION

The DVD menus feature plenty of video motion and effects. The opening menu appears to have a new wideshot of Frogtown Hollow with a bird flying in the air. Considering the source material for this television special is 28 years old, audio and video quality is very good throughout.

As we announced earlier in the year, it is true that's Kermit's brief opening and closing lines have been entirely removed from this special. This is due to Kermit now being an owned character of The Walt Disney Company and no longer part of Henson. All of the other scenes present on Columbia's DVD release are included here as HIT's version has a runtime of 49 minutes and 6 seconds. The other missing scenes are here on the DVD, but we'll get to that in a moment.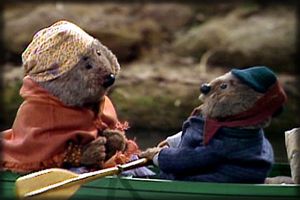 There has been some speculation that the Kermit scenes were cut either because HIT didn't care enough to work out the licensing issues with Kermit or that HIT didn't want to pay Disney for including the Kermit footage. Neither of these speculations are true. I've talked with several HIT folks working on this project and they confirmed that Disney would not allow HIT to include the Kermit footage for any price. HIT made every effort on their part to release this special with the Kermit scenes intact (even if that meant paying Disney for the Kermit scenes), however, Disney would not allow it.
I want to say this though about the cuts. Every single Emmet Otter video or broadcast has some scenes cut. There has never been an official uncut release of Emmet Otter and I doubt if there ever will be. There are some fans that will be so upset about Kermit's absence that they will miss seeing an amazing plethora of bonus features and interviews about Emmet Otter that are actually much longer than the original special itself.
Frank Oz performs Ma Otter. Marilyn Sokol would later record Ma's voice to match Frank's performance.

BONUS FEATURES

All of the Emmet Otter bonus material is new and worth the price of admission alone. The layout of the bonus features seems a little backwards though. Typically, the best bonus feature is presented first, and in this case that would be the new one-hour documentary, however, the documentary is at the bottom of the bonus features screen.

SING A-LONG: Not unlike Fraggle-oke, instead of a radish, you can follow the bouncing mistletoe to the words of "Brothers". Strangely, this is the only song with this sing-a-long feature.

EMMET OTTER'S FAVORITE TUNES: This section includes direct links to all of the songs from the special. A "play all" button would have been nice here for those longing for an Emmet Otter Soundtrack album. This songs are as presented in the special itself (meaning that "Ain't No Hole in the Washtub" includes the extra verses but "The One Bathing Suit" does not). The longer reprise of "When the River Meets the Sea" is included as well.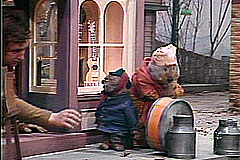 PHOTO GALLERY: Now we begin to get over the "kiddie fluff" to the features serious collector's like you and me have been waiting for. Featured here is an amazing gallery of over 100 conceptual drawings and behind the scenes production photos from this special. While some restoration work took place on many of these images, it would have been nice to have captions included for those less familiar with the Henson folks working behind the scenes. A "play all" button also would have been handy.
BLOOPERS: Eight minutes of hilarious bloopers are featured, even though one of them is for the same take over and over. According to the DVD, it may be the most takes ever required for a scene in a Henson production. I'm sure there were some great bloopers of Kermit on his bike, but due to Disney's ownership of Kermit we are not able to see that.
ALTERNATE/DELETED SCENES: Showcased here are the differences from the original televised airing of Emmet Otter including the following scenes.
Expanded Laundry Delivery Scene (as was in the original special)
Original "Ain't No Hole In The Washtub" (with opening dialogue but shorter song)
"Better Fill Harrison, We're Off To A Shaky Start" (Will Possum's comment to Harrison Fox)
Abridged Reprise of "When The River Meets The Sea"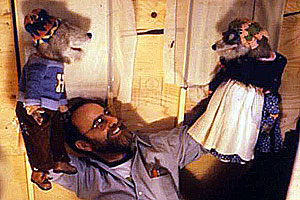 Jerry Nelson performs two characters on Emmet Otter's Jug-Band Christmas. Jerry's main role was as Emmet Otter.

THE LOST SONG: Singer, songwriter extraordinaire Paul Williams introduces a song that was cut from the special "Born In A Trunk" sung by Marilyn Sokol. The song was going to be performed during the talent show by the female owner of the music store seen at the beginning of the special. It has a burlesque rhythm and Marilyn Sokol's vocals soar in this one-minute tune.

BEHIND THE SCENES DOCUMENTARY: The documentary "Behind the Scenes in Frogtown Hollow' is nothing short of splendid. While HIT could have easily put together a little ten minute segment on the making of this special. They spent an entire hour filled with interviews, stories, concepts and development. Interviewed are: Jerry Nelson, Marilyn Sokol, Cheryl Henson, Michael Frith, Paul Williams, Caroly Wilcox and Rollin Krewson. Maybe it was just a schedule conflict, but it is shame that head writer Jerry Juhl was not interviewed for this documentary, especially with the news of his passing September 26.

CONCLUDING THOUGHTS

With a street price of $10 or less, Emmet Otter's Jug-Band Christmas: The Collector's Edition is a huge bargain. The new interviews and behind-the-scenes footage is wonderful and a must have for any Henson fan. You'll want to put this special release at the top of your Christmas list.

Discover what you may be missing!
Learn the differences between widescreen and pan-and-scan DVDs.