Emmet Otter's Jug-Band Christmas DVD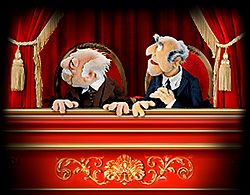 Greg Lensam (12-14-2002) - I loved "Emmet Otter's Jug-Band Christmas" as a kid. The special originally aired on ABC back in 1977 and then re-aired on CBS, HBO, and Nickelodeon in the 80's and 90's. When I heard that they were actually going to put this classic holiday movie onto DVD I jumped for joy.
"Emmet Otter's Jug-Band Christmas" is a charming music filled program with a slower more relaxed pace then most holiday faire, like the new "It's a Very Merry Muppet Christmas Movie". The special tells the story of Emmet Otter and his mother Alice, who are poor but content with their life. Having just enough money to survive day-to-day, they can not afford to give presents at Christmas.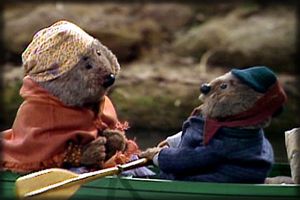 When they hear of a talent contest being held on Christmas Eve they both secretly enter, hoping to win the prize money and the chance to buy the other a Christmas present. Emmet and his friends start a jug-band, and Alice enters as a singer. But with money being tight, Alice and Emmet end up selling, or taking each others most prized possessions to enter the show.
The special features the heartwarming music of Paul Williams, who wrote the "Rainbow Connection" for "The Muppet Movie". The music is what makes "Emmet Otter's Jug-Band Christmas' so much fun. From the funny "One Bathing Suit" to the beautiful and moving "Our World", these are memorable classics deserving of a CD release. The songs will bring great holiday joy to you and your family every time you watch or listen.

Sadly the film has been slightly edited for the DVD release. The cuts to "Emmet Otter's Jug-band Christmas" aren't easy to explain. A few minor scenes have been cut. The most notable is Kermit the Frog's closing remarks being totally deleted in the DVD release. There are also some dialog edits, but the story still holds the same magic the original cut of the film did.
Unlike the highly chopped up "Muppet Family Christmas" DVD, we highly recommend this disc in spite of the few minor edits. The DVD comes in full-screen, or formatted to fit your screen, viewing format, but this was a TV production so it was not recorded in widescreen. Also the DVD has Spanish and English audio languages, scene selection, close captioning, and pretty basic menus. There are no real special features on the disk, like behind-the-scenes or deleted scenes.
The story is great, the music is wonderful, the characters are amazing and it has an inspiring message of love to people of all ages. I watch "Emmet Otter's Jug-Band Christmas" every holiday season (and even in the middle of summer). It has become a wonderful, heart-warming tradition in my family and I know you, and your family will love it, too.

Discover what you may be missing!
Learn the differences between widescreen and pan-and-scan DVDs.