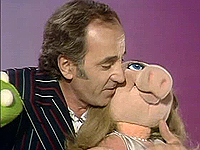 EPISODE NOTES
The now famous opening number "I Feel Pretty" was first performed on the 1973 special "Julie on Sesame Street" starring Julie Andrews and Perry Como. The character "changes" are much more smooth three years later. In the Muppet Show version Beautiful Day Monster arrives at the door while on the 1973 Sesame Street version, Frazzle is waiting for his beauty!
Before Charles tries his French experiment in the talk spot, he asks Kermit if Piggy speaks any French to which he replies she doesn't speak a word - although Piggy's demonstrated her use of the word "moi" two episodes ago.
In later seasons, her vocabulary would be peppered with more French. This isn't too much of a contradiction though as this episode takes place before any of Piggy's French speaking, excepting her use of "moi" which she could have easily picked up anywhere without knowing any other words. Even in later seasons, Piggy's mastery of the language is questioned, most notably in the Elke Sommer and Jean Pierre-Rampal episodes, implying that while Piggy has mastered a few select words/phrases, she doesn't know enough to pass a French 101 exam.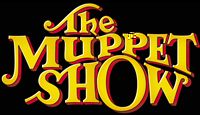 THE MUPPET PEOPLE:
Frank Oz (Fozzie Bear, Miss Piggy, Mildred, George, dancer, Animal, Sam Eagle, jug-band member)
and Jim Henson (Kermit the Frog, "Pretty" monster, Waldorf, Rowlf, student, jug-band member)
with Jerry Nelson (Beautiful Day Monster, jug-band member)
Richard Hunt (Mary Louise, Statler, Scooter, bread, Miss Piggy, pig, Mildred)
Dave Goelz (Gonzo)
Fran Brill (pretty woman)
Eren Ozker (Janice, Hilda, banana, Annie)
John Lovelady (announcer, rat)

WRITTEN BY Jack Burns, Marc London, Jim Henson and
Jerry Juhl
PUPPET MAKERS: Bonnie Erickson and Caroly Wilcox,
Mari Kaestle, Dave Goelz, Rollin Krewson, Faz Fazakas, Larry Jameson
EXECUTIVE PRODUCER OF HENSON ASSOCIATES, INC:
David Lazer
THEME MUSIC: Sam Pottle
ORCHESTRA: Jack Parnell
MUSIC CONSULTANT: Larry Grossman
MUSICAL ASSOCIATE: Derek Scott
FLOOR MANAGER: Richard Holloway
VISION MIXER: Felicity Maton
PRODUCTION ASSISTANT: Sue Taylor
SOUND: Ted Scott
VISION: John Willmont
CAMERAS: Roy Simper
VTR EDITOR: John Hawkins
LIGHTING: Phil Hawkes
DESIGN: David Chandler
EXECUTIVE PRODUCER: Jim Henson
PRODUCER: Jack Burns
DIRECTOR: Peter Harris
Charles Aznavour - Episode 9
Taping Dates: June 29 - July 1, 1976
Original Airdates: January 17, 1977 (New York) and January 22, 1977 (LA)
DVD Release: Buena Vista Home Video, 2005
GENERIC INTRO: LEW GRADE
Brian Henson: "Hi, I'm Brian Henson. When people look at the Muppets, they think what a huge phenomenal success. But the truth is my father had to work very hard to get The Muppet Show to really work. In fact they shot two pilots for the series. Both times all the American networks looked at the shows and thought a puppet show can't work for adults. It's all too zany and crazy anyway."
"A very visionary entrepreneur in England contacted my father. His name was Sir Lew Grade and what he did was he invited The Muppets and my father to England to shoot a full season of the show. [Lew Grade:] "All we were doing is taking the chance with 24 episodes. I had no idea it would be such an extraordinary phenomenal success." The show ran five seasons and was seen in a hundred countries by more than 235 million children and adults. Now with special thanks to the late Lew Grade, here's The Muppet Show."
Fozzie's joke: "I don't approve of belly dancers. Why can't they dance on the floor like everyone else?"
Gonzo's gong: Gonzo hits the "O" and it makes a Big Ben sound.
STAGE CURTAIN
After Fozzie checks the house, Kermit allows some French to slip into his introduction when announcing tonight's guest is Charles Aznavour.

MUSICAL NUMBER: "I FEEL PRETTY"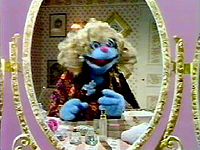 A beautiful woman prepares for her date by transforming herself into a hideous monster. Her date, Beautiful Day Monster, is enamored.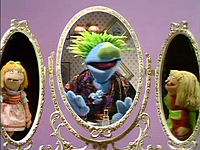 BACKSTAGE
GONZO: Kermit, are you busy?

KERMIT: Yes, Gonzo, but I can give you my ear for a minute.

GONZO: What would I do with your ear?

KERMIT (exasperated): Van Gogh impressions.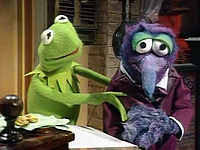 Gonzo inquires about how he's not been on the show recently to which Kermit gently but firmly replies his acts just aren't working. Gonzo protests that he doesn't entertain for the masses, that he's an artist, to which Kermit replies, "Then you should have got my Van Gogh joke." Kermit advises Gonzo to seek a manager who can guide his career.

STAGE CURTAIN
Kermit introduces Charles singing one of his favorite songs.

MUSICAL NUMBER: "OLD FASHIONED WAY"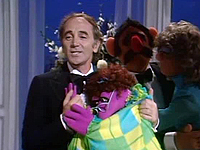 Charles sweeps Mildred off her feet as he serenades her while dancing in an elegant ballroom. (Considering Mildred's used to dancing with George, this probably isn't too hard to do.)
[The staging of this number is particularly effective as it opens with a shot of full-bodied costumed Muppets dancing. Charles then glides into frame in front of the other dancers on the same level with what initially looks to be another full bodied puppet but turns out to be Mildred in a flowing dress. One of the full-bodied dancers is Rita Moreno's sparring partner.]

BALCONY
WALDORF: I love French songs.

STATLER: I love French fries!

WALDORF: French fries? I don't get it.

STATLER: I didn't order any.
BACKSTAGE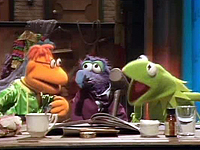 Scooter informs Kermit that in addition to serving as the show's "go-fer", he's also taken up the task of being Gonzo's manager. The first goal on Scooter's agenda is expanding Gonzo's repertoire which now includes a rock act.
GONZO (pounding on rock with mallet): ART! ART! ART!

KERMIT: OUT! OUT! OUT!
VETERINARIAN'S HOSPITAL
In this installment of the pun-filled soap, Dr. Bob (Rowlf) loses a patient. ("No pulse, no heartbeat, no hope.") The doctor assures his nurses that his previous record of saving nine out of ten is still good, "this week he was Number Ten!"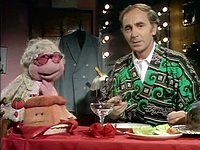 DRESSING ROOM
Hilda presents Charles with an exquisite catered meal which includes French (speaking) bread.
[The bread says, "Oh, voyons, cherie! Mais j'ai l'accent Français!" Which means, "Oh, look, honey, but I have the French accent!"]
AT THE DANCE
As a banana shows a rat its appeal, Animal's dancing partner demonstrates what it's like following his lead. [Pay close attention to Rowlf's dancing partner; it's the flattened Beautiful Day Monster from the previous episode with a blond curly wig.]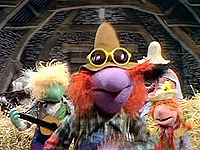 UK SKIT: MUSICAL NUMBER - "DOES YOUR CHEWING GUM LOSE ITS FLAVOR ON THE BEDPOST OVERNIGHT?
The Gogolala Jubilee Jug-band perform the classic novelty hit. [This UK skit is included on the 1985 Playhouse video, Country Music with the Muppets.]

TALK SPOT
When Kermit wonders why Frenchmen are so lucky in love, Charles reveals the secret as the beauty of the language. He demonstrates using Miss Piggy as an example. After whispering a few French phrases, Piggy goes completely hog wild over Charles unaware that he just told her, "Your oil filter has a leak and your transmission is sagging."

BALCONY
WALDORF: I love the French tongue.

STATLER: I love pig's tongue.

WALDORF: Pig's tongue? I don't get that...I know! You...

BOTH: ...didn't order any!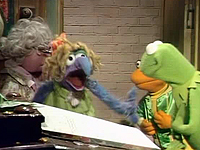 BACKSTAGE
Hilda is infuriated that Scooter and Gonzo have raided the wardrobe for a costume act. Gonzo pops in dressed as a little girl convinced that female impersonation is a noble art. Kermit proclaims "of all the dumb ideas Gonzo's come up with, this is the dumbest!" [Obviously forgetting that he donned many a dress himself during "Sam & Friends."]

DISCUSSION PANEL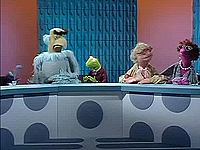 Tonight's topic: "What is man's role in the universe?" Panelists include moderator Kermit, Sam the Eagle ("Peace and courage!"), Gonzo ("Art and culture!"), Hilda ("Pins and needles!"), and Mildred Hockstadder, MA, BA, PHD, OBE, and RSVP. Gonzo continually takes everything said literally. When Sam suggests they "look carefully at what's before us and break it down into separate pieces", Gonzo smashes the table with a mallet. Mildred attempts to get back to the main question: "As to man's role in the universe...I don't think he can. I don't think he can roll! In the universe!" [The only Muppet-only discussion panel, this one is the series' funniest!]
STAGE CURTAIN
Kermit declares "great comedy" can only mean Fozzie Bear.

FOZZIE'S COMEDY SPOT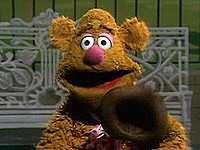 Fozzie warns Statler and Waldorf that if they continue to heckle him, he'll bury them back with just one line.
FOZZIE: Look out! That's all I can say! Just look out, look out! That's all I can say!

STATLER: Yep, that's all he can say all right!
Fozzie goes on with his act, but Statler and Waldorf remain silent - they're enjoying it. So much that they start beating Fozzie to the punch lines and doing his act. When Fozzie asks them to stop, Waldorf retorts, "Please, we work alone." Fozzie declares that was his line: "See how well it buried...me?"

BACKSTAGE
Scooter tells Gonzo he's quit managing Gonzo after he ate his contract.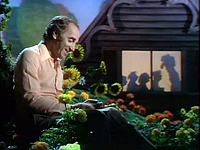 MUSICAL NUMBER: "INCHWORM"
In front of a schoolhouse with silhouetted teacher Zelda and students in the window singing the "Two and two are four" chorus, Charles sits underneath a tree outside with an inchworm crooning the verses. [A practically identical arrangement of the song is done at the end of the third season Danny Kaye episode, inchworm and all.]
STAGE CURTAIN
Charles thanks Kermit for having him on the only show where he's been able to befriend bread.

CLOSING THEME
STATLER: I really liked the show tonight.

WALDORF: At these prices, who's going to complain?

Guide Written by
D. W. McKim and Phillip Chapman
With contributions from
Jogchem Jalink and Dave Ebersole