Toys
Muppet Collectibles

Fisher-Price (1978)
Muppet Show Stick Puppets
Fisher-Price's stick puppets are the earliest plastic Muppet Show figures. Each came with a white plastic stick that fits into a hole in the toy's back. Except for Miss Piggy, they have hinged waists or poseable limbs.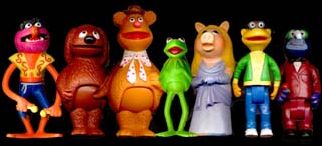 Included in this line are Animal, Rowlf, Fozzie, Kermit, Miss Piggy, Scooter, and Gonzo.

Palitoy (1978, UK)
This is a very hard to find series of rubber finger puppets from 1978. All the characters are from the waist up. There are two sets of three characters, mint on cardboard. Both sets are extremely hard to find. The cardboard package has drawings of the characters' heads on it. They look very similar to the ones on the Muppet Show Board Game from 1977, also made by Palitoy.
Finger Puppets: Kermit, Fozzie, Dr. Teeth

The package wrongly has a picture of Rowlf on it, when Fozzie is the actual puppet included in the set. Fozzie's fur is smooth on the figure but otherwise he looks good. His head is well-shaped and he's wearing his signature pokadot bowtie.
Kermit is lime-green and has his arms crossed. His mouth is open. Even though the color is a bit off, this is a nice likeness of everyone's favorite frog.
Dr. Teeth, the real prize in the set, looks fantastic. He is wearing his pink hat (without a feather). His orange beard and big nose look really good. His thin arms are articulated on the finger puppet along with his red and blue striped shirt.
Finger Puppets: Piggy, Animal, Zoot

Even though the set is from 1978, Miss Piggy has her first season Muppet Show looks (a long snout and a big forehead). She has long blonde hair, wears purple satin gloves and a light blue dress.
Animal is in a yellow outfit, he looks more like he's from 1978, though the drawing on the cardboard looks like the first season Animal. He's holding two large white drumsticks by his chest.
Zoot is probably the best looking character of set 2. He is wearing his yellow outfit and holds an orange saxophone by his chest. He doesn't have a hat.

Schleich (1978, 1979)
The Muppet Show PVC's
Schleich, a German toy manufacturer, made a set of 13 plastic statuettes (PVC's) of the Muppet cast. In America, this set of toys was available exclusively through Muppet Stuff, a specialty store that opened in New York in 1980.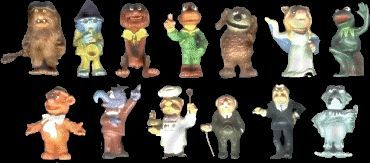 The set includes: Sweetums, Zoot, Animal, Scooter, Rowlf, Miss Piggy, Kermit, Fozzie, Gonzo, the Swedish Chef, Waldorf, Statler, and Sam the Eagle.
The Muppet Show Theater
In addition to the 13 PVC's, Schleich also produced a large Muppet Show theater with stage, balconies and doors for lots of fun and Muppet Show entertainment.

Corgi (1979)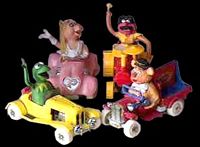 Corgi released this acclaimed set of four Muppet Show cars. Kermit is in a yellow painted car bearing the number 2030. Fozzie Bear is in a red flatbed van with a "Muppet Show" billboard on the back, Miss Piggy is in a pink convertible, and Animal is in a traction engine that had bass drums for rear wheels.
In 2002, Corgi re-released these cars with new finishes and new packaging to these long unavailable Muppet cars.

Hallmark (1982)
Hallmark made two Muppet Merry Miniatures, little plastic figures for Valentine's Day.
Kermit Merry Miniature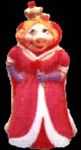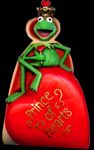 Kermit is the Prince of Hearts. He has a crown and a red robe, holding a heart shaped scepter, sitting on a huge heart marked "Prince of Hearts".
Miss Piggy Merry Miniature
Miss Piggy is the Queen of Hearts. She is standing in a crown and a red robe, holding a heart-shaped scepter.

Tomy (1983)
Muppet Flip Floppers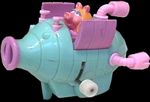 The first in this series is the "Miss Piggy Wind-up Swine Trek Flip Flopper". This is a small wind-up Swine Trek that goes in circles. The doors at the top open and close, revealing First Mate Piggy.
The "Miss Piggy Karate Champ". You can wind Miss Piggy up and then she'll "flip to her feet". Miss Piggy is wearing a white karate outfit along with her signature purple gloves.
The "Animal Racer Flip Flopper" is a small racing car with Animal driving on top. The toy goes in circles.

BMX Bicycles
A hinged Piggy is on a blue racing bicycle. There's a mechanism on the back wheel so that when you pull a plastic strip, the bicycle speeds away.
A hinged Kermit is also on a racing bicycle.
Die Cast Cars
Smaller versions of the 1979 Corgi cars, with plastic figures in metal cars.

The set includes: Fozzie Bear in blue car, Kermit in an orange VW, Miss Piggy in a pink convertible, and Animal in an orange jeep.

Comics Spain (1984, 1986)
These figures are taller than the Schleich set standing at about 2 and a half inches, compared to the 2 inch Schleich figures.

This set includes: Gonzo, Animal the Swedish Chef, Fozzie, Miss Piggy, and Kermit. Even though they aren't pictured, a European collector's magazines claims that figures of Sam the Eagle and Nigel, the Muppet Show band conductor do exist as well.

Imaginations (1988)
Movie Minis Metal Die-Cast Collectables

The Movie Minis collectables were a set of six metal figures, featuring the Muppets playing parts in "Gone with the Weird":

This set includes: Gonzo as Rhett Gonzo, The Leading Leaning Man (on stilts), Animal as Film Editor/Eater (with film cans), Kermit von Frog (Director, with camera), Miss Piggy as Miss Scarlett O'Piggy (with umbrella), Fozzie as General "Wocka Wocka" Jackson (with sword), and Rowlf as Musical Director (playing accordion).

Just Toys (1989)
Bend-Ems toys

Plastic Muppets in weird aerobic outfits. There's wire inside to move the characters' limbs into various positions.
Kermit (star on his chest)
Fozzie (banana on his chest)
Miss Piggy (purple headband and striped aerobics outfit)
Gonzo (yellow and green tanktop)
Animal (blue tanktop and striped sweatpants)

Presents (1990)
Muppet Statuettes
A set of PVC statuettes depicting the Muppet cast as 1950's high school students. This was a popular theme for 1990 as Jim Henson was planning to launch a new Muppet Kids series, "Muppet High".

This set includes: Kermit in black leather jacket, Miss Piggy with Foo-Foo, Fozzie Bear with ice cream, Gonzo as a nerd, Animal playing guitar, and Rowlf as a varsity football player.

Walt Disney World (1991)
Muppet Character PVC's
In 1991, Walt Disney World produced a set of PVC statuettes to tie-in with the Muppet Vision 3-D film. What was strange about this set, was the fact that no Kermit figure was produced.

This set includes: Bean Bunny, Animal, Miss Piggy as Southern belle, Fozzie Bear, Gonzo, Sweetums and Robin, and Miss Piggy as Statue of Liberty.


Just Toys (1993)
Muppet Christmas Carol Bend-Ems

Kermit and Robin are Bob Cratchit and Tiny Tim (Kermit holding Robin). Miss Piggy as Emily Cratchit dressed in an eighteenth-century outfit.

Just Toys (1994)
Muppet "Bend-Ems"

A follow-up line to Just Toys' 1989 "Bend-Ems" set, this set featured the Muppets in picnic outfits.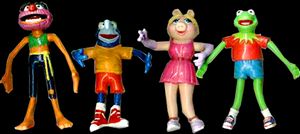 The set includes: Animal, Gonzo, Miss Piggy and Kermit.

PenParty Sunkisses Hawaii Ltd (1995)
This is a harder-to-find set of six PVC's. They all measure about 3 inches high. They were also sold as pencil toppers and key rings.
Kermit, sitting in movie reels
Kermit is sitting in a film can, with a beret and director's megaphone. His legs and lower part of the body are covered by three silver colored movie reels he's sitting in. The movie reels have the names of the three first Muppet movies on them.
Piggy, sitting on star
Piggy is dressed in a white dress and gesturing with one arm.
Fozzie, holding pile of bananas
Fozzie is sitting in a box of bananas, with a banana on his head.
Gonzo, sitting on crate
Gonzo is patiently sitting on a wooden crate, with Camilla poking out of the back of the crate.
Animal, playing drum
Animal is smashing through a drum, gesturing wildly with drumsticks.
Rowlf, playing round piano
Rowlf is wearing a jacket and tie, and is playing a circular piano keyboard that surrounds him.

Applause (1996)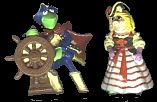 Muppet Treasure Island PVC Statuettes
Here is Kermit as Captain Smollet in a pirate outfit and a steering a ship's wheel. Miss Piggy as Benjamina Gunn is wearing a pirate hat, and red and white dress. Ironically these figures were sold as display items in aquariums.
Classic Muppet PVC Statuettes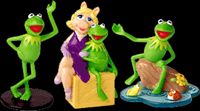 Kermit sitting on rock in a pond of water
Kermit and Piggy sitting together on a box
Kermit standing and waving (on black circle)

Miniland (1996, Spain)
Muppet Treasure Island Figures

The set includes: Spa'am, Fozzie Bear as Squire Trelawney, Kermit as Captain Smollet, Miss Piggy as Benjamina Gunn, Gonzo, Vacation Rats, and Mad Monty with Polly Lobster.
Classic Muppet Figures
These classic Muppet figures shown below were produced durring the beginning run of Muppet's Tonight in 1996. There were five of them.

The set includes: Gonzo, Fozzie with a magic wand, Kermit, Miss Piggy, and Animal holding a drum.

Applause (1997)
Plastic Figural Bank
Kermit sitting on a rock, coin slot is in the back of his neck. Nine inches high.

Applause (1998)
Plastic Figural Bank
Miss Piggy in bathtub, coin slot is in back of tub

Alpi International (1998)
Squeeze Toys
Plastic stress-reliever toys include Kermit who is sitting on a black circle, and Miss Piggy wearing a blue dress and sitting.

á la carte AG (2000, Germany)
Released overseas, á la carte manufactured some fantastic figure sculpts. Don't let the small photos below decieve you. These item are very large and highly detailed.
Statler & Waldorf
in theater box
20 by 19 inches

Swedish Chef
with chickens
24 by 9 inches

Beaker & Beaker
prototype
23 by 15 inches

Igel (2000, Germany)
Statler and Waldorf PVC's
Igel released some PVC's of Statler and Waldorf in a neat little Muppet Show theater box.
What's interesting is that these figures are nearly identical to the Schleich PVC's sold 12 years previously.
Figures and Cars | Musical
Activities | Paper Dolls
Go back to Muppet Collectibles.

Section compiled by
Cindy Chapman, Artie Esposito, Jogchem Jalink and Phillip Chapman