Videos
Fraggle Collectibles

Fraggle Songs - Volume 1 (1983)
Muppet Home Video, Distributed by W.D.T.N.T. Co., running time: 51 minutes. Available on VHS, Beta, and RCA SelectaVision CED discs.
This video contains songs from the first season of Fraggle Rock. The tape is narrated by Traveling Matt.
1. Workin', Workin'
2. Doozer Marching Song
3. Dumb Of A Son
4. I Seen Trouble
5. Follow Me
6. Ragtime Queen
7. Here To There
8. I Can Do It On My Own
9. Get Blue
10. Let Me Be Your Song
11. Fireman's Song
12. Beetle Song
13. Pantry Song
14. Catch A Tail By The Tiger
15. Why
16. Easy Is The Only Way
17. Terrible Tunnel
18. I'm Not Scared
19. Lost And Found
20. Convincing John
21. Brave Boy Jump Up
22. Rollin', Rollin'
23. Friendship Song
24. Yucky
25. Fraggle Rock, Rock
26. Dixie Wailin'
27. Music Box Song
28. Our Melody

Doozer Music (1984)
Muppet Home Video, Distributed by W.D.T.N.T., Co., running time: 16 minutes.
This tape contains a collection of 6 Doozer related songs from the first season of Fraggle Rock.
Doozer Marching Song
Why?
Doozer Work Theme
Doozer Knitting Song
The Way I've Got To Go
Yes We Can

Fraggle Rock Video Collections (1984, UK)
RCA Columbia Pictures International Video
The UK versions of the Fraggle Rock video libraries differ slightly from the US versions primarily if the respect that they released some different episodes never released in the United States. Six tapes were released and two of the six contained two episodes per tape. They were: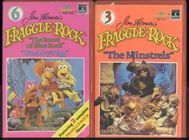 Capture The Moon *
Marooned
The Minstrels
The Great Radish Famine
Gobo's Discovery * & Mokey's Funeral *
The Beast of Blue Rock * & Wembley's Egg
*Episode never released on video in the US
Unfortunately, video cassettes made in other countries are not always compatible with US VCRs being that they are recorded in the PAL format while the United States, Canada, and Japan uses NTSC.

Virgin Video (1984, UK)

Virgin and Gold (Distribution) Ltd.
Another UK video distributor also released Fraggle Rock tapes. So far, not much is known about this series. This tape includes two episodes, one of which has never been released to video in the United States. The case graphics are different from the Columbia Pictures releases.
One of the tapes in this series includes "Red Handed and the Invisible Thief" and "Home Is Where the Trash Is". The second episode was not released on home video in the United States.
Go back to Fraggle Rock Collectibles.

Section compiled by
Nick Bondra and Phillip Chapman