Toys
Fraggle Collectibles

Fraggle Rock PVC Miniatures (1983)
The West German toy company Schleich who are known for their Smurf PVC miniatures, made quite an extensive collection of Fraggle Rock PVC miniatures as well. The sculpting job was satisfactory for the time, however, the Fraggle character's hair could have been done better.

In the first series, they did the Fraggles, Gobo, Mokey, Wembley, Boober, and Red. They also did three different Doozer designs. A Doozer taking a coffee break, a Doozer with a jackhammer and a Doozer with a walkie-talkie. The Fraggles and Doozers measure approximately 2 and 1/2 inches each.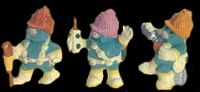 Commonly with the Schleich figures, quality control was not as strictly enforced as it could have been. The paint applications can totally ruin the final piece just by having a pupil off center. Often the hair wasn't fully painted on them either. In the case with the Gobo PVC, he can sometimes be found with one or two stripes on the front of his shirt.
Also in the '83 series, Schleich made larger PVC miniatures of the Gorg Family, Ma Gorg, Pa Gorg and Junior Gorg. The detailing on these ones is fairly accurate. Junior is a little shorter than he should be. These ones, because of their size are noticeably heavier than an average PVC miniature. The Gorgs are approximately 3 and 1/2 inches tall.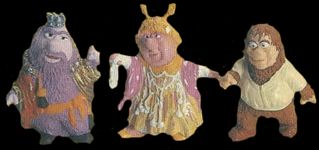 Some or possibly all of the Schleich Fraggle Rock PVC's were packaged onto blister packs. These are believed so far only to have been sold this way outside of the US
The toy company Applause also produced some of the Fraggle Rock miniatures from this line as well. They made the five Fraggles and the Doozer on the coffee break. Applause possibly bought the molds from Schleich or theirs were made simultaneously but it is not quite certain at what time Applause released their versions of the same mold.
Applause released a completely different set in 1988 so it is feasible that they also re-released their Schleich versions at the time as well. Both of the Applause series were found sold during the same time period.

Fraggle Rock Wind-up Doozers (1983)
Not only did the toy manufacturer Tomy create rather nicely designed plush Fraggle Rock dolls (if you like shrunken headed Fraggles) but they made some very neat 4 inch tall plastic wind-up Doozers. They seem to be in correct scale to their Fraggle dolls and this could be the reason that Tomy did not create a plush Doozer.
They featured the white knob winding mechanism and would march when released. One of the nice features about this toys is that at least four variations were made so one could create a Doozer work force and have them march down the hallway or wherever the radishes were to be mined!

The variations were a yellow helmet Doozer, a violet helmet Doozer, a red helmet Doozer with a mustache and, a little less common, an orange helmet Doozer with vinyl strips of hair, possibly meant to be a female Doozer. The Doozer with hair has a different belt that the other Doozers and on all of them, the belts could be removed (and easily broken).
The Wind-up Doozers were packaged on a blister card with a nice Doozer construction force illustration covering the background. The back of the card has an explanation of the Doozers and two black and white spot illustrations one of which shows two Fraggles studying a Doozer. They Fraggles appear to be Mokey and Wembley but are somewhat too generic to tell for certain.
Towards the end of Fraggle Rock's 1980s popularity, these Wind-up Doozers could be found at close-out prices in a few toy stores, however, nowadays especially on eBay, the Doozers tend to fetch a price in the $20.00 range if not more.

Traveling Matt and Sprocket PVC Miniatures (1984)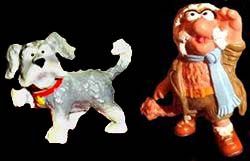 The following year, Schleich released two more characters for their Fraggle Rock PVC collection: Uncle Traveling Matt and Sprocket the Dog.
At one point, these were the stuff of rumors to some Fraggle Rock collectors but these two elusive figures exist in seemingly minuscule quantities. The two sold separately for well over $100.00 a piece on eBay in 2000.
It is possible that these two figures were sculpted by a different artist for they are better crafted than those in the original line. It is unknown if anymore were released, but a Trash Heap and perhaps Cotterpin Doozer would have been nice additions to the line among many others.

Fraggle Rock Toy Drum (1984)
Noble & Cooley Company sold this single drum separately as part of the "I'm A Fraggle Rocker " line of toy instruments. The drum is 7 1/2 inches tall and 10 inches in diameter.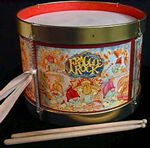 The drum is decorated with four Fraggle illustrations on it's side covering all of the worlds in the Fraggle universe: the Fraggles, Doozers, Gorgs and Sprocket. Each picture shows the characters playing instruments, or as the kids call it "rocking". The drum was packaged in a cardboard sleeve printed in 3 colors. The box sides feature the Fraggle Rock logo along with Gobo and his guitar along with the phrase "I'm a Fraggle Rocker". The top of the box sleeve shows the logo with the five Fraggles "rocking".

Fraggle Rock Tambourines (1984)
Three Fraggle Rock tambourines were produced as part of the line of Fraggle Rock instrument line by Noble & Cooley. Each tambourines measure 8 inches in diameter.
They were packaged in a plastic bag with a cardboard strip that like many of the Fraggle Rock instruments.

The set included Wembley, Junior Gorg and a Doozer. The illustration on the Wembley tambourine also shows up in the Fraggle Rock Sing-Along Record Book. As with the other instruments, the phrase "I'm A Fraggle Rocker" in included on the package. This need to be handled with care though as the tambourine can easily tear.

Fraggle Rock Guitair and Banjo (1984)
Noble & Cooley Company also produced a Fraggle Rock toy guitar and a banjo.
The Fraggle guitar features Junior Gorg with the other Fraggles around him as he plays music.
The Fraggle banjo has an illustrated picture of the Fraggle five playing instruments.

Lite-Brite Picture Refill (1985)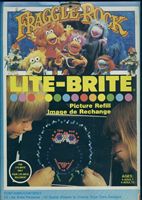 Milton Bradley produced this light up peg board with the transparent colored pegs that you punch into a paper pattern to form a lit up picture of your favorite character.
These Fraggle Rock Lite-Brite refills are a nice piece of Fraggle collecting nostalgia. This pack came with 12 Fraggle rock based Lite-Brite pictures and 24 blank sheets to create your own light pictures. The slight downfall to these is that some of the Fraggles look like they have Richard Simmons afros. This package has French and English copy and instructions.

Fraggle Rock Musical PVC Miniatures (1988)
Along with re-releasing 6 of the Schleich Fraggle Rock PVC miniatures, Applause also released a newly sculpted set of their own. This set of six is among the best of the figural Fraggle Rock toys ever manufactured.

The detailing was more exact to the character's likeness, the paint application was well executed and the poses of the actual characters themselves pushed the envelope.

This set included Gobo with a saxophone which has musical notes emanating from it, Mokey in a graceful dance pose, Wembley holding a horn and a musical note, Boober playing a flute instrument, Red with maracas and a Doozer playing a xylophone. The Gobo from this set is particularly wonderful in design and character likeness yet it's curious as to why he was not made with with trademark guitar. Wembley's face sculpt is near perfect. It's quite obvious that those involved in the creation of this set of PVC's enjoyed this task.

Fraggle Rock PVC Display (1988)
This is the plastic shelf used in stores display the Applause brand Fraggle Rock PVC's. It stands at close to 18 inches. The tray area is about 3 inches deep.
The top shelf part holds 8 PVC's. There is a sort of plateau in the middle of the tray so some PVC's. can stand higher than others. This makes for a swell way for the Fraggle collector to show off their Fraggle Rock PVC's. Since these are somewhat more limited in numbers, buying one on the collectors' market can run you close to $100.00 (depending on who's bidding against you).

Fraggle Rock PVC Miniatures (1989)
Not much is known about these Comics Spain Fraggle Rock PVC's. other than what the actual figures offer. Only the Fraggle five are known to exist in this series and judging from the copyright date on them, they may have been made as merchandising for the animated series, however, these were dated the year after the series went off air.

Gobo, Red, Wembley and Boober are carrying instruments while Mokey has a flower. Wembley Fraggle's skin color is a lot darker than it should be but it's nice to see that he has his bongo drums. This is also the only figure of Mokey to be wearing her soda tab necklace.
Two different paint variations of Gobo are known to exist. Some have him with the incorrect two striped shirt whereas the other shows him with out any stripes. It's possible a correctly stripe Gobo exists but still unknown. Both versions lack the sleeve stripes. Also, one variation has Gobo's scarf painted and the other has the feather on his guitar painted.
The sculpting jobs on these are all right but the paint application seems to vary from figure to figure. Some come with a gold sticker on their foot with the letters "C E".
Go back to Fraggle Rock Collectibles.

Section compiled by
Nick Bondra, Cindy Chapman and Phillip Chapman