Fraggle Rock 45 (1982)

Released 1985 by Muppet Music. Produced by Home Box Office. 45 single only.
This cardboard 45 record was released as part of a promotional package from HBO.
Side One
1. Fraggle Rock Rock
2. Follow Me
Side Two
1. Fraggle Rock Theme
2. Lost and Found

Fraggle Rock (1983)

Released 1983 by I. J. E., Inc. with Muppet Music. Produced by Philip Balsam and Don Gillis. LP and cassette.
The first Fraggle Rock LP capturing some of the best songs from the first season and many of the most memorable Fraggle songs ever.
Interestingly, when this album was reissued several years later on Columbia records, the song "Dum of a Son of a Gun" sung by Junior Gorg was not included in that re-release. Also on the Columbia reissue of this album and the "Perfect Harmony" reissue, the album cover is enclosed in a yellow frame.
Side 1
1. Fraggle Rock Theme
2. Follow Me
3. Convincing John
4. Doozer Knitting Song
5. Do It On My Own
6. Wemblin' Fool
7. Why?
8. Lost and Found

Side 2
1. Catch the Tail by the Tiger
* Dum of a Son of a Gun (on "Muppet Music" release, not the Columbia reissue)
2. Brave Boy, Jump Up
3. Much and Goo
4. Friendship Song
5. Fraggle Rock Rock
6. Beetle Song
7. Easy is the Only Way to Go
8. Our Melody

Fraggle Rock 45 (1984)

Released 1984 by I. J. E., Inc. with Muppet Music. Produced by Philip Balsam and Don Gillis. 45 single.
Side 1
1. Fraggle Rock Theme
2. Helping Hand
Side 2
1. Time To Live As One
2. Workin'

All Around the World (1985, UK)

Released 1985 by RCA Records. Produced by John Kongos for Henson Associates. 45 single only.
This rare and great UK single features a vocal and instrumental version of Traveling Matt's "All Around the World." This song was used in the UK Traveling Matt segments. While the music was played in the US versions near the end of the TV run, the only time the lyrics were broadcast as well in the United States was on the special "Down at Fraggle Rock: Behind the Scenes" from 1987.
The back of the single features a postcard to Gobo. It reads: "Dear Nephew Gobo... Today I heard the most amazing thing. A flat plastic wheel that plays music. Strange? It sounds like me. Love your uncle, Traveling Matt." The postcard is address to Gobo Fraggle at "The Lighthouse."

Gobo Fraggle and the Poison Cackler (1984)

Released 1984 by Hasbro. Produced by IJE Inc. Text written by Jerry Juhl. Pictures by Sue Venning. Record and 24 page book. This title was also re-issued as just a book.
This is a wonderfully illustrated and well written story about how Gobo Fraggle had to hunt down a dreaded Poison Cackler but did not feel as brave as everyone though he seemed. He later finds out that his mission is not exactly what he expected it to be.
On the tape, the Fraggles are actually reading the script that Gobo himself wrote and they add in their own commentary to it. Boober is particularly funny. They are voiced by their respective Muppet performers. The book in the Hasbro version, however, is hardback and is packaged on a large blister card along with a cassette tape. The tape has a gimmick also. The first side has the entire story, performed by the Fraggles but the second side is blank so a child can record their own stories. It's possible that there may be a danger of recording over the story but there is probably some sort of a fail safe on the first side to prevent such mishaps. Since part of the draw to the Listen 'N Look books is the blank side of the tape, there was no vinyl record to this format.

Sing-Along Book Volume 1 (1984)
Released 1984 by Hasbro. Produced by IJE Inc. The illustrator is not credited. The songs were composed and written by Philip Balsam and Dennis Lee and performed by all of the Muppet performers that worked on the show.

This "talking storybook" is not a story book at all. It consists of the lyrics to 6 of the songs from the first season of the Fraggle Rock series within its 24 pages.
Included are:
1. Catch A Tail By The Tiger
2. Beetle Song
3. Wemblin' Fool
4. Dum Of A Son Of A Gun
5. Muck And Goo
6. Lost And Found
The pictures in this book are by several artists as they are just an
assortment of random illustrations taken from the Fraggle Rock art
archives. Sadly, for some odd reason, the illustrations did not
reproduce well at all. Some look as if they were done on a photocopier.
You would think they would have better quality control on an item as
mass produced as a children's book.
It is uncertain if a volume 2 was ever released.

Fraggle Rock Show 'N Tell Picturesound Program (1985)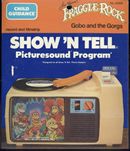 Released 1985 by Child Guidance for CBS Toys. Philip Balsam and Tim Wayne-Jones for the song usage. Record and filmstrip.
The Show 'N Tell Picturesound Program is a record and filmstrip that tells a story from one of many different cartoon and children's television shows from Mister Rogers to Mr. T. Fraggle Rock had their version as well.
The Show 'N Tell record and filmstrip were sold in an envelope package and each were meant to be played on the Show 'N Tell Phono-Viewer which was a record player that also had a built in filmstrip viewer.
The Fraggle Rock story was titled "Gobo and the Gorgs". There is no story description on the package and without the player it's difficult to know the specifics. The filmstrip images are small but it appears to be an illustrated tale of Gobo's attempt to get radishes from the Gorg's Garden and he gets Wembley captured in the process. It would be nice to know if the character's actual voices were used on the record. The B-side of the record features the song "Friends Till the End".

Perfect Harmony (1986)

Released 1986 by Columbia Records. Produced by Don Gillis and Philip Balsam. LP and cassette.
This rare album features songs from the first two seasons. This is a good record, it's just a shame there was three years in between releases. Another album or two could've easily been produced during this time.
Side 1
1. Fraggle Rock Theme
2. Go with the Flow
3. Perfect Harmony
4. Without a Hat
5. Music Box
6. Here to There
7. Sail Away

Side 2
1. Workin'
2. Dum De Dum
3. Ragtime Queen
4. I Seen Troubles
5. Dreaming of Someone
6. Pantry Chant
7. Helping Hand
8. Time to Live as One
9. Closing Theme

Music and Magic (1993)

Released 1993 by BMG Kidz/Jim Henson Records. CD and cassette.
This hard-to-find CD is a treasure and definitely worth the hunt as it contains many never before released songs and some other great favorites. This is one of the most sought after collectibles of Fraggle fans.
Both the CD and cassette came with a fold out poster that give the lyrics on one side and a map of the Gorg's garden along with character descriptions on the other. The map illustration is done by Michael Frith.
The only different on the cassette album cover is that Red Fraggle is positioned differently on the gigantic stone musical note that the Fraggle Five are sitting upon. The album includes 21 tracks.
1. Fraggle Rock Theme
2. Pukka, Pukka, Pukka Squeetily Boink
3. Let Me Be Your Song
4. Wemblin' Fool
5. Yes, We Can
6. Catch the Tail by the Tiger
7. There's a Lot I Want to Know
8. Follow Me
9. Friends Till the End
10. Is It True?
11. The Rock Goes On
12. Pass It On
13. Just Don't Know What Time It Is
14. Convincing John
15. Get Goin'
16. Doozer Knitting Song
17. The Way I've Got To Go
18. Only Way Home
19. Stuff Samba
20. Sweet, Sweet Little Treat
21. Closing Theme
Inside Fraggle Rock - Story Album (1993)

Released 1993 by BMG Kidz/Jim Henson Records. Written by Craig Shemin. Creative Consultant Louise Gikow. Book and cassette.
One of the more recent Fraggle Rock items, "Inside Fraggle Rock" was a scrapbook written by none other than Gobo and Mokey Fraggle. This scrapbook seemed to be an attempt to help familiarize old fans or introduce new ones to the world of Fraggle Rock. Gobo and Mokey write little captions to old file photos and have lyrics to the songs on the cassette tape that is included. A few of the 6 songs on the cassette tape may not have been available on any other recording.
The story includes these songs:
Fraggle Rock Theme
A Friend Is a Friend
Doozer Marching Song
I've Seen Troubles and Woe
Goodtime Goombah Soup
The Rock Goes On
Go back to Fraggle Rock Collectibles.

Section compiled by
Phillip Chapman and Nick Bondra