Posters and Wall Decorations
Fraggle Collectibles

Gobo and Sprocket Poster (1984)
This poster was published by Verkerke, copyright & Licensing GMBH. Printed in the Netherlands. It's not certain if this poster was issued as a promotional item or not. Nothing printed on it suggests that. The poster measures 24 by 36 inches.
The photo image of Gobo Fraggle and Sprocket the Dog is the same picture as the cover for the HBO Video release of the "A Friend In Need" tape. Wembley is supposed to be peeking out of the Fraggle hole in the background but has been cropped off. Gobo is so large in the image that he may be the size of the actual puppet.

Promotional Fraggle Rock Poster (1986)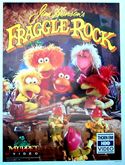 This was a poster issued to video cassette outlets coinciding with the Thorn EMI, HBO Video and Muppet Video release for the Fraggle Rock video cassette library. The poster measures 19 by 25 inches.
The images is the picture of the five Fraggles looking through Gobo's postcard scrapbook that was used as the cover for the third Fraggle Rock UK Annual.
Go back to Fraggle Rock Collectibles.

Section compiled by
Nick Bondra, Cindy Chapman and Phillip Chapman