The Fraggle Office
Fraggle Collectibles

Fraggle Rock Pencil Case (1983)
Dats made this pencil case featuring some of the most hideous likeness of Gobo and Red ever released on any piece of merchandise. The actual case is made of vinyl with a zipper for keeping stuff secure. It measures about 4 by 13 inches which will fit a 12 inch ruler. It's nice to have in a collection but still an ugly piece all the same.

Fraggle Rock Doozers Notebook (1984, UK)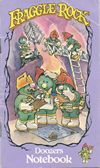 Apparently, the makers of the Hestair Fraggle Rock puzzles also had a subgroup that specified in stationary. This Doozers notebook was manufactured in England and probably only available in that region as well. It measures about 6 by 3 1/2 inches and only has graphics on it's covering. There is a small spot illustration of a Doozer with a notebook on the back along with the Fraggle Rock logo.
The cover illustration is a fun little picture with some great perspective drawing in regards to the Doozer crane positioning the top of a tower in the picture's background. It's a nice little piece of Fraggle memorabilia.

Fraggle Rock Pencils (1985)
Empire Pencil Corporation produced the Fraggle Rock pencils. They came in packs of 3 with at least 2 different pencil designs and package designs.
You get your Fraggle pencil featuring the five doing their thing or a Doozer pencil doing their things. The pencils seemed to be randomly packed.
The set with Doozers on the package includes Fraggle pencils and the Fraggle package has Doozer pencils. There also may be a Gorg pencil design as well.

Fraggle Rock Colored Pencils (1985)
Empire Pencil Corporation continued their great line of Fraggle supplies by producing the Fraggle Rock colored pencils. These came in packs of 12 in a brightly colored package.
A Doozer is featured on each pencil with the color of the Doozer's helmet symbolizing the color of the pencil. The pencils make a great accessory to the Fraggle Rock eraser.

Fraggle Rock Doozer Ruler (1985)
This is your average 12 inch plastic school ruler made by Empire Pencil Corporation, but it's covered with Doozers!

It depicts a Doozer classroom and then a wacky Doozer construction scene all within the same design printed on the actual ruler. It's interesting to note that young Doozers tend to wear more clothing that the adult Doozers wear.

Fraggle Rock Pencil Case (1985)
This yellow case by Empire Pencil Corporation features the Fraggle five and several Doozers.
There is a place on the front for the student to write in personal information.

Fraggle Rock Doozer Pencil Sharpener (1985)

This sharpener by Empire Pencil Corporation appears to be a simple cube-shaped pencil sharpener with a Doozer studying construction plans.
At this time, it's not known if this item was sold separately or as a set.

Fraggle Rock Pencil Toppers (1985, UK)
Manufacturer Unknown - Fill out our help form
Very little is known about these Fraggle Rock pencil toppers. They came from the United Kingdom but it is not known if they were exclusive to that region.

Three characters are known to exist in this set: Gobo Fraggle, Red Fraggle and a Doozer. They do not include copyright information or a year. Speculation suggests that they were at least sold atop of a pencil quite likely to have Fraggle Rock graphics and possible copyright information as well. These ones were not cared for but even with the scuffing from age, it is obvious that the paint jobs on these were very poor to begin with.
The sculpt jobs are not half bad on these which makes it even more of a shame that better care was not put into the paint detailing. The Gobo topper is one of the better sculpting jobs of his likeness.

Fraggle Rock School Folder (1985)

This Fraggle Rock folder from Bright Ideas used plenty of the familiar Fraggle Rock photos to make it quite an active thing to look at. Inside, it has a small explanation about who the Doozers are which is printed on the pockets. One would think that the entire folder would have a Doozer theme. After the description, it tells you the be sure to watch Fraggle Rock on HBO, so they sort of hide an advertising plug for the series.
There most likely were other styles of school folders made but, paper items like these are hard to come by, and sadly, once they've been used, they tend to get thrown in the trash. Actually finding one these days can be quite the thrill for the Fraggle Rock connoisseur.
Go back to Fraggle Rock Collectibles.

Section compiled by
Nick Bondra, Cindy Chapman and Phillip Chapman