Lobby Cards and Press Kits
Fraggle Collectibles

Fraggle Rock Color Glossy (1983)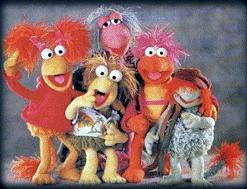 This Fraggle Rock full color glossy photograph was most likely used as reproductive material for newspapers or magazines to promote the show. It also may have been given out to fans to have autographed.
It was taken during the early part of the first season because Gobo is still the original younger looking puppet with the red jacket instead of his trademark vest. This is the same photo featured on the HBO produced record.

Fraggle Rock HBO Press Kit (1983)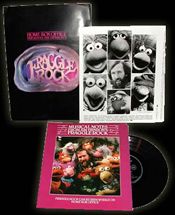 HBO sent out these press kits to media members nationwide, including select teachers and school administrators in order to promote this new program.
The kit includes:
A fold-out folder that reveals pop-up art of all of Fraggle Rock
A song book with floppy record
Three photos featuring Fraggles, one featuring Jim and another Fraggle group photo, Brady Bunch style
Bios on all the lead performers
A press release on the first episode airing at 6:30 central/7:30 eastern on Jan 10, 1983
A description of the show and the different races of Fraggle Rock

Fraggle Rock Lobby Photos (1983-1986)
These black and white photos were used primarily for publications
such as magazines or newspapers. Some have captions and some do not.
Many of them were used in articles announcing the beginning of the new
season of Fraggle Rock on HBO. There's even a really nice shot of the
Fraggle five from the animated series. Some were taken from specific
episodes like "Mokey And The Minstrels" and others are just production
shots from the Muppet archives. Some were included next to a picture of
other HBO series. There are probably a larger number of these glossies
in existence. Their sizes are about 8 1/2 x 11.

Fraggle Rock Video Cassette Press Kit (1993)

Before the most recent volume set of Fraggle Rock videos were released, a press kit was sent out to dealers with information regarding the latest video release. It was sent in a full color envelope with a huge picture of one of the most common photos of the Fraggle five. Inside were several sheets describing the show and the new videos.
The following is included in this kit:
Fraggle Rock Credits
Fraggle Rock Synopsis
Volume Synopsis
Fraggle Rock Character Biographies
A sheet informing the customers about a mail-in promotion for 2 free hard back books (which were small versions of "Best Friends" and "What's A Fraggle" from the Weekly Reader series)
A sheet discussing the new release of the videos along with the "Music and Magic" CD and cassette
Also included is a nice black and white glossy of the Fraggle five which features the Fraggle Rock logo these videos sported (which was nowhere near as nice as the original logo)
Go back to Fraggle Rock Collectibles.

Section compiled by
Nick Bondra, Cindy Chapman and Phillip Chapman
With contributions from
Chad Garner (HBO Press Kit)