Fast Food Toys
Fraggle Collectibles

McDonald's Test Set (1987)
Set of four: Red in radish (wobble wheels), Gobo in a carrot (wobble wheels), Doozers in forklift, and Doozers in a bulldozer.
This set was only issued as a test set to see if people would like them. They were only issued in the southern part of West Virginia and were made in very limited quantities. They are very hard to find even in the West Virginia area.

There is Red in a radish and Gobo in a carrot. They are both wobble wheels which means they wobble when you roll them. The regular ones roll smoothly. They were changed because people didn't like the wobble wheels. There is also three Doozers in a fork lift. The fork lift should still be attached, but this part is easily lost. The Doozer driving the forklift is Cotterpin which is the only time she was made into a toy figure. The last test toy is three Doozers in a bulldozer. The front of the bulldozer moves up and down.
Ironically, the regular set had no Doozers in it. They were replaced with Wembley and Boober in a cucumber car, and Mokey in an egg plant car because the people didn't like the Doozers . Now though, Doozer merchandise is highly sought after among collectors because few items were made featuring them.

McDonald's Vegetable Cars (1988)
Set of four: Gobo, Red, Mokey, and Wembley & Boober. Plus two under-3 toys: Gobo and Red.
The main toys feature the Fraggles in little cars made out of vegetables. Gobo's in a carrot car, Red in a radish, Mokey in an eggplant, Wembley & Boober in a cucumber.
The under-3 toys are solid PVC's: Gobo holding a big carrot, Red with a big radish.
Shown to the right is the McDonald's Fraggle display case used to promote the cars in each restaurant.

McDonald's Happy Meal Boxes (1988)
The Happy Meal boxes for the Fraggle Rock vegetable cars came in four styles: a box for Gobo, a box for Red, a box for Mokey, and a box for Wembley and Boober. Since Wembley and Boober came together in their vegetable car, they were shown together on the fourth box.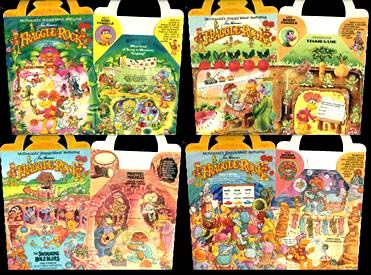 The boxes consisted of puzzle type of things and punch outs featuring the Fraggle Rock characters. A few of the unnamed background Fraggle characters appearing in a matching puzzle on the Wembley and Boober box were taken from the Weekly Reader book "Fraggle Countdown".
There is a fifth box that was planned, but not used for the two Doozer test market vehicles. Only two of these are known to exist and both boxes are just prototypes.
Go back to Fraggle Rock Collectibles.

Section compiled by
Nick Bondra and Phillip Chapman