The Muppets' Wizard of Oz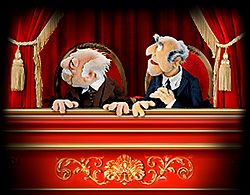 D.W. McKim (June 3, 2005) - After "It's a Very Merry Muppet Christmas Movie", I could hardly wait to find out what the next big Muppet project would be. I felt they were really getting back on track, but then came the news that there would be another telefilm and it would be a remake of "The Wizard of Oz".
I was not very happy about the news since it seemed like a huge step backwards. The films where they play other characters pale in comparison to when they play themselves. Oz seemed a bit like kiddy fare, and they were taking on a story that has been done to death that really did not need another film adaptation. Let sleeping Toto's lie! Especially compared to several of the other film projects I knew had been on the discussion table. This was such a poor choice. Apparently, I was not alone.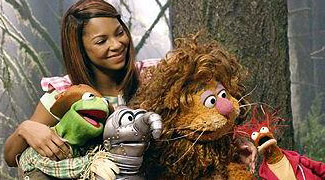 Order the Muppets' Wizard of Oz DVD. The disc will include twenty minutes of added scenes, bloopers, a behind-the-scenes featurette and more.
Emotions among Muppet fans have been very strong concerning this movie. There have been very strong and passionate discussions on Muppet message boards all around. It seems a lot of people had a hard time just sitting back and enjoying it because they knew at least in the back of their minds that there would be so many politics involved. Would Disney suck the life out of the Muppets? If it wasn't a success either in quality or in the ratings, would that mean the end of the Muppets?
All and all, this was still a Muppet movie. A project meant to entertain by a troupe known for its whimsy. Whatever else may be going on behind the scenes, when it came time to watch, I wanted to just relax and just watch the movie and just let it take me where it would. Because my expectations had been rather low, I ended up being pleasantly surprised by how much I enjoyed it. Many fans will strongly agree and many will strongly disagree with the views expressed here. While not the greatest thing the Muppets have ever done, it was by no means a disaster. More than that, I thought it was the strongest of the Muppet story film adaptations. I came away at the end feeling they did the project justice and was happy to have watched.
THE MUPPETS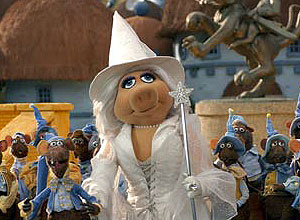 "Oz" may have been without Frank, but Eric Jacobson delivered the goods in spades. Jacobson's handling of Frank's characters have arguably been the best of all the Muppet performer recasts and here not only does he play all of Oz's characters (Kevin Clash really did not sound right as Sam the Eagle in "Christmas Movie"), but he pulls off the incredible task of playing Miss Piggy playing five different parts (the four witches as well as herself). Even though I was surprised at how long it took before we got to see Piggy's Western Witch, this was still very much a Miss Piggy movie.
But while the project was a tour de force for Piggy, Eric's handling of Fozzie shouldn't be overlooked either. What makes Eric such a great recast is not only because his vocal qualities match that of his predecessor but also because his characterizations are equally as strong and true to what's been developed prior. Fozzie seemed more Fozzie-like than he has in quite some time (including many times when he's been performed by Frank). It took awhile for Eric to really get the hang of Fozzie's voice, but "Wizard" was the first time when I really felt Jacobson had nailed Fozzie down as well as he has Piggy.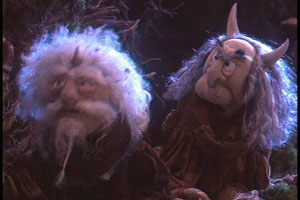 Of all the storybook projects, the Muppets were best used here. I know many fans wanted to see Rowlf as Toto but the fact that the writers were willing to think outside of the box (or is that "barks"?) and give the role to a non-mammal shows that they're still willing to take risks and fracture fairytales. Pepe was an excellent choice to be Dorothy's constant companion.
Aside from the main roles, there were some truly inspired cameos for characters such as Statler and Waldorf, Clifford, and The Swedish Chef, but it was especially nice to see many of the Treasure Island pirates brought back as the Flying Monkeys (though it would have been even better to have Polly and Clueless among them). Crazy Harry is a fan favorite that unfortunately has been relegated to the back burner due to world events making the character a bit too "explosive" a persona. It was nice to see him get the most onscreen time that he's ever had in a Muppet movie but also deliver what may be his first speaking lines on television or in the movies since the late 80's. Another welcome return was Foo Foo. In many ways, Foo Foo has always been a prop for Miss Piggy but Alice Dinnean actually managed to steal some scenes with the pup and had me laughing out loud.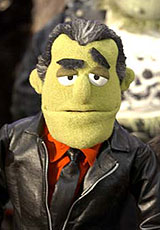 Also of particular note was the use of Johnny Fiama as not only one of the witch's henchmen but also there was some suggestion of romantic involvement between him and Piggy which was an interesting and intriguing choice. Ever since "Muppets Tonight" I had wanted to see some interaction between Fiama and Piggy being that they are both larger than life singers but I would never have imagined the kind of chemistry that came from their pairing in this movie. It worked the same way when it was fun to see Miss Piggy and Link Hogthrob play out love-hate scenarios and subtext onstage in Pigs In Space or in production numbers. But at the end of the day, fans still knew where Piggy's affections were backstage.
THE HUMANS
Often the human casting in Muppet movies can be a mixed bag with some great choices among some really questionable ones. It was pretty much a given that Queen Latifah would lend her always strong screen presence to Aunt Em, but in casting Ashanti as Dorothy, would we be suffering through yet another young singer cast in a major acting part that she otherwise would not have been considered for? As someone who generally detests this practice, I'll be the first to say that Ashanti showed herself not only of being a capable lead actress but also displayed the ability to act along the Muppets' goofiness which not even some of the most seasoned actors are always able to accomplish.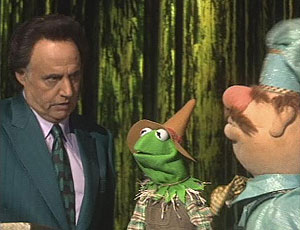 As for David Alan Grier (Uncle Henry), I wasn't concerned that he wouldn't do well in his part but rather that he would be under cast, that he wouldn't really be given anything to do and it would essentially be a throwaway part but Grier managed to get in some laughs and bring some uniqueness to the role. Just as important as Ashanti, Grier and Latifah's individual performances, the threesome managed to collectively present a believable family unit that had both genuine affection for each other but also the irritation that derives from the day to day stresses of running a family business. One could easily see why young Dorothy would get lost in her music video daydreams and want to get away from it all but in the end there is true love underneath the squabbles.

But the real breakout star was Jeffrey Tambor in the title role. Tambor is usually funny in everything he does but he really brought out some new flavors playing both an overly fuddy duddy man behind the curtain but then contrasted that with the wildly over the top TV host with a way too wild for words toupee. Casting Tambor in a big role was a risk being that he had a major role in 1999's "Muppets From Space" (a similar risk was taken with David Arquette in "Christmas Movie") but Tambor managed to create a unique persona that wouldn't be too confusing for the kids who saw both films.
EFFECTS AND COSTUMES
Speaking of the Wizard, many fans weren't impressed with the CGI effects but it's my belief that they were supposed to look a bit cheesy. We all know the story and know that what each character sees when visiting the Wizard is an artificial construct and the production team took a risk making it look a bit out of whack since a lot of viewers probably wouldn't get that it was purposeful but the giveaway or wink to the audience comes when Gonzo sees the beautiful woman who morphs into a chicken. The fact that not only did they not use a real actress (which would have been easier and less expensive) but also made her look obviously like something out of a video game was the signal that "yes, it's not supposed to look too authentic". I did notice that the Wizard's appearances to both Kermit and Dorothy looked rather inspired by Farscape's Rygel, definitely a Hynerian look going on there.
CGI aside, the Muppets looked wonderful in their assorted costumes. Statler and Waldorf really got an interesting makeup job. It was fun to see Fozzie's bearish features turned lionesque, and though subtle to where it's barely noticeable. It looked like Kermit's skin was made of a different fabric when he was in his scarecrow gear. But again, it's Piggy that gets special mention here. The Miss Piggy puppet itself has gone through some hotly debated phases, changes, and styles over the years but in each of her five guises the pig looks simply fabulous. (And what a treat to see Miss Piggy back on a motorcycle in leather!)
THE SCRIPT
The script overall had the typically Muppet elements of mixing adult and family humor mocking everything from trendy nightclubs to color warning codes. There were a number of lines throughout that caught me off guard and had me rolling on the floor like "friends of Dorothy", "getting witch-slapped", and Pepe's observation of Munchkinland being a small world after all. I particularly loved seeing Poppyfields transformed into an evening hotspot (again with a great cameo for Clifford plus the Electric Mayhem among others).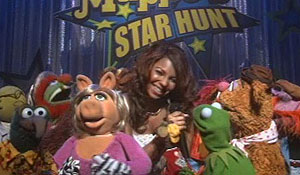 Yet even among the fun and irreverence, many of Baum's more serious themes of the differences between reality, fantasy, and all-out artifice was not lost and throughout the film this was set against an extended metaphor of today's reality shows. Dorothy wants to leave Kansas to be on Muppets Star Hunt, the Wicked Witch of the West has Johnny and Sal tape her every move for broadcast, and The Wizard of Oz has his own propaganda machine running in full force giving the residents of Oz his own version of Fox News Meets Tacky Game Show.
Still, the script was not without its weaknesses. The most glaring of which was when the very first mention of the Muppets comes when Uncle Henry refers to them as the world's most powerful puppet troupe totally breaking their reality up front. The Muppets can often engage in self mockery but given that line was essentially their whole introduction, it changes their dynamic and sets them up as fictional characters straight away. Like we should expect Dorothy to see a man underneath Kermit when she talks with him. We should expect things to not be what they seem in Oz, but the real life should have some aspect of reality.
The other major gaping hole that lends evidence that there were some rushed rewrites was that at the end of the film, its left clear without room for interpretation that Dorothy really did visit the land of Oz and this was not a dream or hallucination. She comes back to Kansas in her new wardrobe, returns to find her face on missing posters and her entry via golden twister is witnessed by people on the street. Yet, why is it then that when she came to Oz, her pet prawn all of a sudden Muppetizes and can talk? This suggests conceptual variances in between drafts of the script that were never fully reconciled.
CONCLUDING THOUGHTS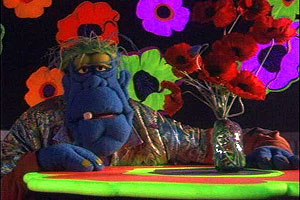 Overall, I found myself impressed with "Wizard" and while I still would have liked to see them do something else instead, this was far from the bomb I initially feared it would be. Granted because my expectations were lowered going into it, I may find myself thinking less of it in time. The way "Muppet Christmas Carol" has improved in age to me after originally falling below my expectations upon its initial release. Yet still, the Muppets were able to spin gold bricks out of a weak concept. Let's just hope that next time, they'll pick a project that is strong enough to begin with so that they don't have to overcompensate to make it work.