I'm Going Back There Someday
Paul Wililams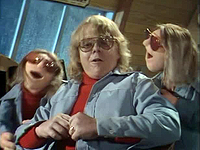 Cindy Chapman (July 14, 2005) - This two-disc collector's edition DVD, released by AIX Records allows Muppet fans to learn more about songwriter extraordinaire Paul William's career as well as the man himself. While most Muppet fans know he guest starred in the first season of The Muppet Show and many know he was given a Muppet likeness of himself, you may not know much more about his acclaimed career.

The DVD will expose you to the range of Williams' career and transport you back to the 70s. I guarantee you will you'll find yourself saying, "I didn't know he wrote that song." From "We've Only Just Begun," made famous by the Carpenters, to "I Won't Last a Day Without You," Williams' career was so much more than the Muppets. In fact, the realization of his status makes his association with the Muppets even more special.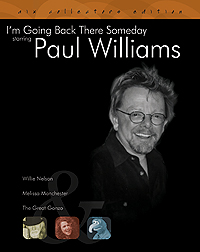 You may or may not realize that Paul Williams was one of the masterminds behind the entire soundtrack to The Muppet Movie. I don't know a single Muppet fan who hasn't in some way been touched by "Rainbow Connection." The song is magic and we feel it every time we listen. Paul admits that it is also his favorite song. It is only fitting that Rainbow Connection opens this DVD set. This time, instead of Kermit, Willie Nelson, an icon in the country music industry, performs. Nelson performs this song and does so at nearly every one of his live concerts. For those of you who are not Willie fans I can assure you he does not disappoint. Willie's version of "Rainbow Connection" is soothing and warm.
Unfortunately for Muppet fans this DVD set isn't filled entirely with Muppet music. Paul's music isn't all about the 70's either. Sprinkled throughout the DVD we hear old songs and new songs that show us a little more about Paul's life. And thanks to the song introductions we get insight into how each song came to life. For instance, during the song "You're Gone" we learn about Paul's battle with alcohol and how he found sobriety after working on The Muppet Christmas Carol. We learn about Paul and what he was thinking, saying and praying during the song writing process. Many of the bio's and behind-the-scenes interviews on the dual-sided discs are just as interesting.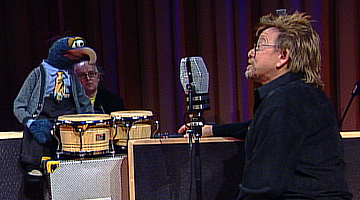 We learn how pick-up lines influenced the song "It's All Been Said Before" and how "We've Only Just Begun" actually began as a song for a bank commercial. Paul's major influence in the music business is evident when Paul recalls an episode in which "Old Fashioned Love Song" was rejected by the Carpenters and in turn he immediately took it "down the hall" to the band Three Dog Nite who made it a huge success. Although not every Paul Williams song was included on this set, we get a nice retrospective of his career
The opening disc plays as one long jam session. Although originally recorded over three separate days, you hardly notice that any time has passed. The setting remains the same, the Zipper Auditorium at the Coburn School for the Performing Arts. With five cameras and 5.1 surround sound, you feel as if you are at your very own private concert. Sometimes Paul is singing duets with Willie Nelson, Melissa Manchester and The Great Gonzo accompanied by a string quartet and a full band.

Last but certainly not least, the song that influenced the title of this DVD set wraps up this musical journey. "I'm Going To Go Back There Someday" was Gonzo's solo in The Muppet Movie. It is a very touching ballad about souls, love, and finding yourself. From the very second you open this boxed set, you'll know just how much this song means to Paul. Gonzo even graces the cover with Willie Nelson, and Melissa Manchester. Throughout the inside art and lyric book are sprinkled pictures of Gonzo and Dave Goelz. I especially like the photo on the back of the lyric book that shows Paul with his arm around Dave and a shared smile. Their genuine respect and friendship are evident in the way that they interact.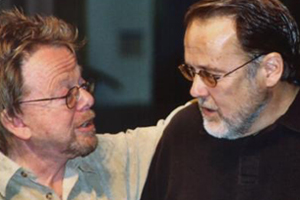 During the introduction to "I'm Going To Go Back There Someday," Gonzo recalls his unusual way of getting to the auditorium (via UPS) and the various "alterations" he has had done over the years. From the early days of The Muppet Show to Emmett Otter's Jug-band Christmas to the two films, Paul and the Muppets go way back. This version of "I'm Going Back There Someday" is, at the risk of sounding cheesy, breathtaking. From the alternating of verses to the little sigh that Gonzo gives at the end. In fact, Gonzo sums up the entire thing with, "Beautiful song, Paul." Yes, Paul, I think we would all agree: beautiful song. (You can hear Gonzo and Paul singing "I'm Going To Go Back There Someday" on Muppet Central Radio.)
And though playing the DVD through the entire twelve tracks is entertaining enough, you must not omit the other features. Besides the overall sound quality and cinematography of the widescreen presentation, this DVD is packed with juicy bits of information especially if you are a Muppet fan. Many off stage conversations can be found in the behind-the-scenes extras. Paul even mentions his performance during "The Muppet Show Live" at MuppetFest.
You'll also find an extensive biography of Dave Goelz. We learn about a new project for Dave which includes a children's book and song written with the help of Dave's children's elementary school. Extra video footage includes Gonzo meeting Willie, Gonzo's wardrobe, band members talking about Gonzo, and a very hilarious Surround Sound Check complete with chickens and other sound effects.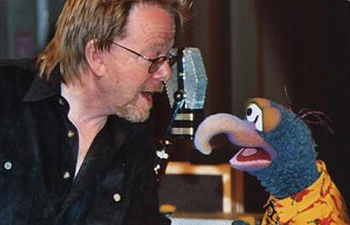 The flip-side of disc one includes a documentary on Paul with additional behind-the-scenes interviews and concert footage. Of particular note is a scene where he is talking about working with Jim Henson and the impact Jim had on Paul's life. Disc two is a dual disc featuring CD audio of the live performances on one side and DVD-Audio on the other. The overall quality of this two-disc box set is extremely high. Each copy in this collector's edition set is hand-signed and numbered by Paul himself. The two-disc DVD set is available to purchase for a limited time from AIX Records.
If you buy this DVD set solely for the purpose of watching Muppet footage you might be a little disappointed. But if you enjoy Paul Williams's music and like to have "live" music in your collection this is the DVD for you. The extras with Dave Goelz and Gonzo are fantastic but as Muppet fans we would always like more.
Paul Williams will also be appearing on other Muppet releases later this year. On August 9, the first season of The Muppet Show with his guest appearance arrives on DVD. And on October 4, Paul Williams uncovers a "lost song" for Emmet Otter's Jug-band Christmas DVD along with behind-the-scenes interviews on the making of the perennial holiday favorite.

Discover what you may be missing!
Learn the differences between widescreen and pan-and-scan DVDs.