The Wisdom of Big Bird
(and the Dark Genius of Oscar the Grouch)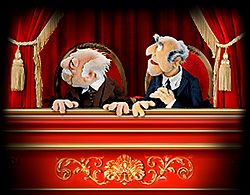 Cindy Chapman (May 10, 2003) - I sat down today and had a visit with a new friend. As it turns out this friend and I have a lot of the same friends, and yet we hadn't met until today.
I grew up with his friends Big Bird and Oscar the Grouch and all the other characters of Sesame Street. For at least an hour a day, these creatures were my friends. And when Sesame Street wasn't on for me to watch, I was wearing these mutual friends on my clothes, playing make-believe with them, and singing along with them on my records. Sitting down with Caroll Spinney today was like visiting an old neighborhood. Did I have the great pleasure of actually visiting Sesame Street? No. I simply read "The Wisdom of Big Bird" written by my new friend, Caroll Spinney.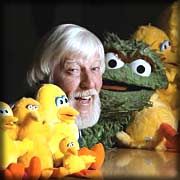 What a pleasant time Caroll and I had today. Opening this bright yellow colored book allowed me to put my feet up and enjoy a chat with my new friend. Caroll takes us through the early years of his career with his first performance as a puppeteer with a dedicated audience of sixteen. Not bad for a puppet monkey and a stuffed snake. From there Caroll takes us to his venture in animation and how that led him to full time puppetry. It really wasn't until some time later that Caroll first encounters Jim Henson. I won't give it all away as I want you to read the book yourself, but as it turns out, Caroll was asked twice by Jim Henson to work with the Muppets before Caroll found his way to Sesame Street. How grateful we are to have Caroll Spinney when we read that he almost left Sesame Street after the second season.

Most fans reading this know how Big Bird works. Caroll has an arm raised high in the air working Big Bird's head while watching a tiny camera. But what fans probably don't know is just how much Caroll hated the puppet when he first saw it. Readers get into the evolution of Big Bird and how he has become the beautiful bird he is today. Caroll has such insight as to what fans want to know and you dive right in, wanting to know everything from this gentle man.

Caroll also lets us in to his personal side. We get to really know the man behind the Bird and the Grouch. We learn his feelings about the competition. Just how does Caroll Spinney feel about that purple dinosaur? Caroll also shares with us his thoughts on Elmo and how he dealt with the new kid on the block. Readers also learn about his feelings on being a grouch, his difficulties with Jon Stone, how he struggles as a dancer, and of course his feelings on Mr. Hooper and Jim Henson's death. Caroll also opens up to us outside of the Street. We learn of his love for the Chinese culture and how filming "Big Bird in China" changed his life. And for the first time, readers are introduced to his wife Debra and just how strong his devotion is to her.

I always find it difficult to provide an adequate book review. There's a delicate balance to persuade your audience to read something without feeling like they already just read it. What I'd like to do is tell you to pick up a copy of this book and have a visit with a new friend. Soon, like me, you will discover that Caroll is not such a new friend after all, but an old friend you just met.

Andrew Young (May 26, 2003) - After spending thirty-four years at the pinnacle of his profession, it's not surprising that Caroll Spinney would write a great book. The surprising thing is that it took him this long.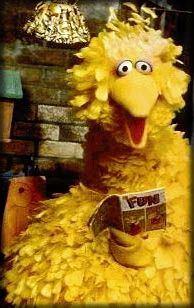 Though most people wouldn't recognize his name or face, Caroll Spinney is one of the world's most popular and beloved entertainers. Since it's inception in 1969, Caroll has delighted Sesame Street viewers around the world, entertaining and educating children and adults alike as the lovable Big Bird and his grouchy green nemesis Oscar.
As a long-time fan of the Muppets I had been looking forward to the release of the Wisdom of Big Bird ever since I first read rumors about it's publication a little over a year ago. Despite coming in at a relatively slim 156 pages, the book doesn't disappoint. Spinney provides a rare glimpse in to the life and work of the man "behind the bird" in a volume filled not only with his stories and wisdom, but many original illustrations as well.
It's always been surprising to me that in addition to being one of the most prominent Muppet performers, Caroll is also one of the most under-profiled. Unlike many of his peers, Caroll has spent most of his career working almost exclusively on Sesame Street and in this book he discusses his complete devotion to the show, his characters and the importance he places on maintaining his young audience's absolute belief in Big Bird.
Of all the poignant reminisces in the book, of most interest to Muppet fans will probably be those of his childhood and early career. Equally moving are his experiences visiting China and his thoughts on Big Bird's connection to the Chinese people. Also enjoyable is his account of his now-legendary first meeting with Jim Henson following a particularly disastrous show at a Puppeteers of America Festival in the 1960s.
My only criticism of this otherwise delightful book has less to do with it's content than it's marketing. For some reason "The Wisdom of Big Bird" has been presented by the publisher as a self-help book, a label that doesn't seem to quite fit. Don't misunderstand, this is a wonderful book and Caroll extols valuable life lessons as he recalls his life and career, urging us to "find our inner bird," but the self-help positioning of the book seems forced, unnecessary and not entirely appropriate.
This is a wonderful memoir by (and about) a wonderful man who has entertained millions. It's a must have item for fans of Sesame Street and the Muppets. No further explanation should be necessary.



Zachary Haumesser (May 17, 2003) - Caroll Spinney's new book was a delightful read, I don't read as much as I should, but I can honestly say this book makes me want to read more.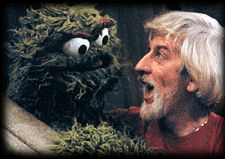 I enjoyed "The Works" and "Jim Henson's Designs and Doodles", but I sometimes find myself lost in the colorful pictures. Spinney's book focuses on the details and events from when he was young until today. Not that the book is without pictures, there are many illustrations that Caroll Spinney drew himself spread throughout this book. The reader will find out how Spinney came to perform Big Bird and how he made Big Bird what he is today. Big Bird has even had some dangerous close calls with disaster over the years.
Spinney really opens up in this book and shars a lot of his personal life. You really feel like he is directly talking to you. This book made me laugh and cry. I've never really had a book effect me so strongly. It's a very nice read. Spinney doesn't use complex language to tell his story, making this a nice book not adults and children alike. We all love Spinney, and that he shares the wisdom of his life to the world. This book is a real treat and I hope the whole world can enjoy it.

Justin Piatt (May 27, 2003) – "Show me your true colors. Mine is yellow."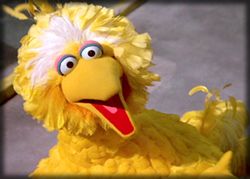 I have to be completely honest with you. So many times during the book, I was fighting back tears. The book was everything that I expected it to be, and more. It covered so many aspects of Mr. Spinney's life. I had the hardest time trying to put the thing down. The book is written in a way that it almost seems like you're experiencing memories, rather than just reading them. I've read some boring biographies in my time, but this is most definitely not one of them.
Each chapter is titled after some of the lessons Caroll's learned during his life, and each chapter starts out with an interesting quote that deals with the particular chapter. Caroll Spinney shares an inspiring look into both the personalities of himself and Jim Henson. He talks of his experiences during his Bozo's Big Top days, right up to being tempted into leaving the Muppets. As big of an effect as Big Bird and Caroll Spinney have had on so many lives, you can tell that Big Bird has had an effect on Caroll as well. As has Oscar who is just misunderstood...
"You know what I can't stand? I hate it when people do things that make me happy. Give me a present of some trash, and I'm happy. But I don't like being happy... so that makes me miserable. But I like being miserable... so that makes me happy... but I'm a Grouch, and I don't like being happy. I like being miserable! But being miserable makes me happy, which makes me miserable, and I like that, which makes me happy, which makes me unhappy... I'm a mess!"

From one chapter, it seems Caroll's among those of us who like Elmo, although can't help but feel a bit jealous. It's also explained that Elmo's the reason why Big Bird has seemed to mature over the years.

It's amazing to learn more about people you've admired your whole life. The humorous stories, his experiences in China, and Bob Hope's obvious affection for him are merely a handful of the Wisdom of Big Bird (and the Dark Genius of Oscar the Grouch).