Sesame Monopoly: The Collector's Edition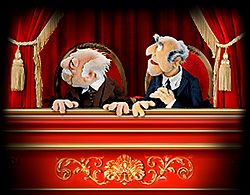 Cindy Chapman (June 21, 2004) - Can you tell me how to get to Park Place?
USAopoly has done it again. Like Muppet Monopoly that preceded it, Sesame Street Monopoly pays homage to those of us who grew up on the Street. Sesame Street, that is. With expert attention to even the smallest detail, you will delight in finding all your favorite characters. And maybe even finding a few you had forgotten. Of course the classic Monopoly game is still preserved, so this is not geared for those preschoolers that snatch up the typical Sesame Street products. With the stakes high for real estate and finance, consider this the Street-friendly version.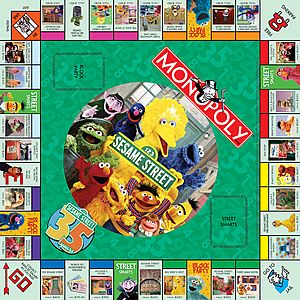 Time to set up the board! An extremely nice color photograph of Big Bird (holding the "123 Sesame Street sign), Grover, The Count, Cookie Monster, Bert, Ernie, Zoe, Elmo, Prairie Dawn and Oscar take up the center of the board (or the Free Parking money area if you play the way we play). The traditional Monopoly squares (Go, Jail, Free Parking, Go to Jail) are in each corner. Every other board space features a Sesame Street character along the way.
Now that you have set up the board, it's time to divvy out the money. Same rules, same game yet you might notice that the money looks a little different. Each bill features the 35th anniversary logo, a nice illustrated character head shot and an autograph of each Muppet graces the front of each bill as follows:
$1 - Super Grover
$5 - Elmo
$10 - Bert
$20 - Ernie
$50 - Cookie Monster
$100 - Oscar
$500 – Big Bird
Player pieces are essential to any Monopoly enthusiast. Perhaps you were always the puppy or the top hat.

Was anybody ever the iron? With Sesame Street Monopoly you might have a hard time finding your "new" favorite or lucky playing piece. You get to choose from the vintage Sesame Street veterans: Big Bird, Bert, Ernie, Oscar, Cookie Monster, and Super Grover. Each pewter piece is moderately detailed yet instantly recognizable. Big Bird is standing, as is Bert, Ernie holds his rubber ducky, Oscar is in his can (where else?), Cookie Monster is holding a cookie, and Super Grover stands tall with his Super cape waving in the breeze. Noticeably missing from this line-up is Elmo. Although, he's not always a favorite among the adults, it was interesting to note that we were spared his presence here. Perhaps he could not sit still long enough for the sculptor.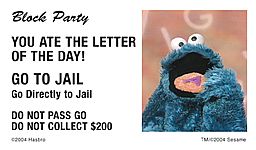 Instead of Chance cards you get "Block Party" which features Zoe and Elmo. And instead of Community Chest you draw from "Street Smarts" with Little Bird. And unlike the original Monopoly set you might already own, you get great color photographs that depicts the doom or fate you just drew. You might actually look forward to buying an "8" from Lefty the Salesman for $50 or sharing $50 with each player as Prairie Dawn insists. One particular favorite among the "Block Party" pile is the "Support your favorite non-profit organization, Sesame Workshop. Contribute $100 to help educate children around the world." That is if your opponent gets the card. Of course there are good outcomes to landing on "Block Party" and "Street Smarts". You could get invited to Bert's Birthday Party and advance to the coveted "123 Sesame Street" or win a disco contest with Grover and collect $45. It's not even too painful to pay $75 for tickets to Monsterpiece Theater.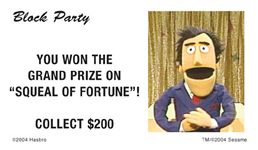 As you move your playing piece your goal is to collect deed cards that represent the property that you purchased. Unlike the Muppet Monopoly version you won't find the "ghosted" photo of the character on the front of the card. However on the back of each deed card there is the "123 Sesame Street" sign. As you acquire properties and begin to build, you will find the regular "House" and "Hotel" pieces still look the same, but in this game you call them "Parking Lots" and "Garages". Building is fun until you draw the "Block Party" card where Biff and Sully assess your properties for street repairs and find yourself in debt $40 for each Parking Lot and $115 for each Garage.
There are a few things I wish the game included. On last year's Muppet Monopoly, each property deed card featured a colored silhouette of the Muppet character associated with that particular property. For example, the deed card for Kermit's Swamp had a picture of Kermit over the written description. However, with Sesame Street Monopoly each deed card includes text only with no character on the card. (There is a silhouette of the Sesame Street sign on the back of every deed card though.) As adult Sesame Street fans, it also would have been wonderful to have seen Don Music or possibly Roosevelt Franklin included. All-in-all these are very minor quibbles though.
USAopoly does not fail to please Muppet fans once again. Special care has been given even to the slightest detail. Old friends and new friends are featured here. It may have been a while since you have seen Lefty or Biff and Sully and thankfully they haven't been forgotten by USAopoly. Bright colors and clever tie-ins make this a top-notch product. For casual or serious Muppet collectors, Sesame Street Monopoly is a guaranteed hit.

Sesame Street Properties

PURPLE: Twiddle Bug Windowbox & Barkley's Doghouse

LIGHT BLUE: Sherlock Hemlock's Detective Agency, Martians' Home on Mars & Biff and Sully's Construction Co.

MAGENTA: Charlie's Restaurant, Sesame Street Library & The Mail-It Shop

ORANGE: Guy Smiley's Game Show, Mumford's Magic Shop & Super Grover's Phone Booth

RED: The Count's Castle, Bert's Rooftop Pigeon Coop & Ernie's Bathtub

YELLOW: Elmo's World, Oscar's Trash Can & Cookie Monster's Bakery

GREEN: Furry Arms Hotel, Sesame Street Courtyard & Big Bird's Nest

BLUE: Hooper's Store & 123 Sesame Street

RAILROADS: Oscar's Taxi Service, Furry Monster Ferry Line, Bus Stop & Sesame Street Subway

UTILITIES: Oscar's Recycling Center & Sesame Street Fire Department