Muppet Monopoly: The Collector's Edition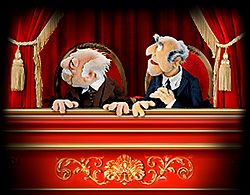 Cindy Chapman (June 14, 2003) - The Muppet Monopoly designers at USAOPOLY obviously put a lot of thought into this very special release. This game is so detailed and expertly designed that it was made with the die-hard Muppet fan in mind. You will be pleasantly surprised by all the little Muppety extras and surprises. I don't think Muppet fans anywhere could ask for more.
First of all the box is magnificent. Bright and colorful it features the leading Muppet characters such as Kermit, Miss Piggy, Fozzie, Gonzo, Animal, and even Rowlf. The images are large and definitely intended to get the consumers attention in the store. Upon opening the game, I was surprised to find that the Monopoly instructions had a Muppet twist to them as well. Kermit has a special greeting as the rules are explained. And of course you have to read the rules because who can ever remember how much money to start off with?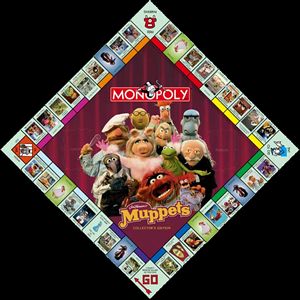 The playing board is the most lovely of all. There's a large center color picture of Muppets (although it excludes Rowlf). All the properties even have color photo images of the characters they represent. Even if you haven't played Monopoly in a while, you will recall that the two most valuable properties on the board are Park Place and Boardwalk. Well on Muppet Monopoly, you will find Miss Piggy's dressing room and Kermit's Swamp respectively. Remember having to pay the luxury tax? Well, I guarantee you will look forward to spending that $75, because in this game it's for every fan's dream, Muppet Show tickets. Other properties of note are Pepe's Salsa and Samba Club (we fight over this property at our house). There's also the Newsman's Desk, Sam the Eagle's Podium, Rizzo the Rat's Sewer, and the ever so popular Johnny Fiama and Sal's Night Club. Beauregard, Rowlf, Crazy Harry, and Nurse Janice are also represented in various properties.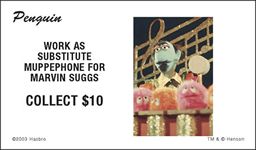 The only items that even resemble an original Monopoly game are the "Go", "Jail", "Free Parking" and "Go To Jail" corner spaces of the board. I still can't help but think that a scene from "Bear on Patrol" would be excellent for the "Jail" space. Perhaps even a Fozzie Bear in uniform pointing you in the direction of the jail in the "Go To Jail" corner. However, in order to be a licensed Monopoly product, USAOPOLY was required to use the traditional trademarks on the game spaces at each corner of the board.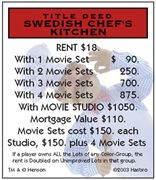 With a Muppet Monopoly game you need special Muppet tokens to move yourself around the board. Specially designed out of pewter you could chose to be Kermit, Miss Piggy, Animal, Swedish Chef, Fozzie Bear, or Gonzo. Although quite tiny, these tokens are excellent resemblances of the characters. My only request would be a few more choices of characters such as Rowlf and perhaps Pepe.
Improving your properties is much more fun when you build with movie sets (houses) and studios (hotels). Although the pieces still resemble the original houses and hotels it's so much more fun to say you're going to buy movie sets.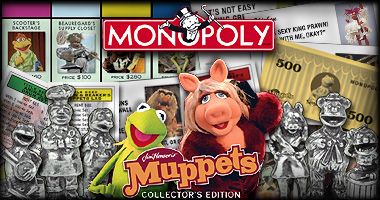 Unlike the original Monopoly with Chance and Community Chest, Muppet Monopoly throws in Penguin and Chicken cards. A lot of the cards have remained the same only with a little Muppet twist. For example instead of winning $10 for second prize in a beauty contest you work as a substitute Muppephone for Marvin Suggs. Through various cards you can survive the Chef's cooking, avoid a boomerang fish from Lew Zealand, and plan a Muppet cast party. Be careful not to chose the card that wakes up Miss Piggy or you'll go directly to jail. And as we all know, you do not pass "Go", and do not collect $200 if you do. Fortunately your "Get Out Of Jail Free" card has Sweetums busting through the jail cell for you.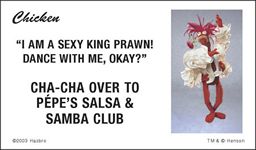 Each Penguin or Chicken card also features a beautiful photograph of a Muppet representing the activity spoken on the card.
About the only thing that hasn't changed from the original Monopoly game is the premise. In order to win you must be the last person standing, which means you have all the money, and probably own most of the property as well. Speaking of money, this Monopoly money has its own Muppety trademark as well. What else did you expect? Each denomination has a picture of a character with signature.
$1 – Sam The Eagle
$5 – Swedish Chef
$10 – Gonzo
$20 – Fozzie Bear
$50 – Animal
$100 – Miss Piggy
$500 – Kermit
Even if you haven't played Monopoly in a while, I assure you that you'll enjoy this version even if just for the clever properties and cards and exquisite photos. Perhaps you'll just want to add the pewter Muppet characters to your collection. Either way, this game is meant to be taken out of the box. Play with it and enjoy it. This game was made by Muppet fans for Muppet fans.

Muppet Properties

PURPLE: S.S. Swine Trek & Veterinarian's Hospital

LIGHT BLUE: Beauregard's Supply Closet, Newsman's Desk & Lew Zeland's Boomerang Stand

MAGENTA: Johnny Fiama & Sal's Lounge, Robin's Lilypad & Scooter's Backstage

ORANGE: Crazy Harry's Hideout, Electric Mayhem's Stage & Rizzo The Rat's Sewer

RED: Sam The Eagle's Podium, Swedish Chef's Kitchen & Pepe's Salsa & Samba Club

YELLOW: Statler & Waldorf's Balcony, Bunsen & Beaker's Muppets Lab & Rowlf's Recording Studio

GREEN: Gonzo's Daredevil Stunt Show, Fozzie Bear's Comedy Club & Animal's Drum Set

BLUE: Miss Piggy's Dressing Room & Kermit The Frog's Swamp

RAILROADS: Motocycle, Automobile, Bicycle, & Hot Air Balloon

UTILITIES: Red Carpet & Romantic Rendezvous