Muppets Collector's Edition Jigsaw Puzzle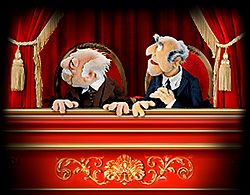 Cindy Chapman (October 11, 2003) - Not since the Hallmark puzzles of the early 1980's, have adult Muppet fans been able to add a collector's jigsaw to their collection. Remember the days of old (before VCR's and game consoles), when rainy days found you inside with a giant puzzle, painstakingly eyeballing piece after piece?
Typically, there are two kinds of people when it comes to most puzzles. There are those of us who are drawn to the quest and won't quit until our fingers are numb. "Just one more piece and I'll stop, I promise." Then there are those who will casually stop by and put a piece in here or there. Regardless of which category you belong to, you will enjoy this collector's edition Muppet puzzle from USAopoly, makers of Muppet Monopoly.
All 550 pieces wait neatly in a square collector's tin with a vivid photograph depicting the final puzzle. Unlike a box that can easily cave in or tear apart, the hard metal keepsake tin will keep all your pieces secure and safe. USAopoloy could have easily put the puzzle in a cheap cardboard case, but they went the classier route.
It's easy to see that the large selection of characters was carefully chosen by a Muppet fan for Muppet fans. Thirty-three of your favorite Muppets are included, some rare and some not so rare. Printed on the underneath side of the tin, you'll find each of the Muppets' names along with a diagram representing their location in the puzzle. Fan favorites such as Pepe, Johnny Fiama and Sal, and even Janice are included. Classic characters such as Kermit, Miss Piggy, Gonzo, Fozzie, and Animal will satisfy the casual Muppet fan. Rarer characters such as Pops, Angus McGonagle, Zoot, and a Muppet Penguin will appeal to die-hard fans.
Although the image is a compilation of several different character photographs manipulated to appear as one group photo, it has been done quite well. Most of us would have preferred seeing a new photo with all the represented characters, but we will all have to settle for the next best thing. Once the puzzle is completed the blending of images is not as noticeable as on the tin cover. Some of the older images work very well, like Scooter or Lew Zealand. However, Link and Julius Strangepork appear too light in relation to the others.
Being a puzzle addict, I was really looking forward to assembling this puzzle. On numerous rainy days I have pulled out my old Hallmark Muppet puzzles and spent hours upon hours carefully putting together Miss Piggy and King Kong, the Miss Piggy Cosmo cover, or the 1000 piece Muppet group puzzle. But never before have so many Muppets appeared together in one jigsaw puzzle.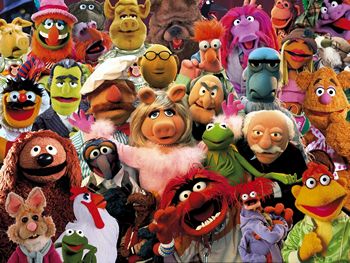 Clearing the coffee table, I prepared myself for the challenge. Like an artist creating a masterpiece, I first laid the boundaries in which my puzzle would lie. A frame of 18 by 24 inches began to take shape as I assembled the edge pieces. A few hours later the finished product awaited for all those to admire. Okay, so it's no Monet or Picasso, but I'm pleased nonetheless. Not an extremely difficult puzzle but an entertaining challenge. The assortment of colors depicted by the various Muppets does require a bit of thinking. Those who may not be familiar with the Muppet characters may have trouble detecting subtleties in 33 pairs of eyes or a rainbow of fur and felt.
I would have preferred that this puzzle was 1000 pieces instead of 550. It would have been more challenging with a bigger image. Most will be able to complete the puzzle in an afternoon. If the puzzle was larger, a few more characters could have been included as well (like Uncle Deadly, The Newsman, Mahna Mahna or Louis Kazager). A larger puzzle also could take several days to complete, therfore extending your Muppet fun.
Although puzzles don't have flashy lights or loud noises, they're still worth investing in. Someday you'll thank me when you're stuck inside on a stormy day without electricity. And for Muppet fans, it's not everyday that you see this many Muppets in one place. This puzzle is very good, but it could have been even better with more pieces and more attention to image details such as color balance and shadows. So get busy, go clear your coffee table and accept the challenge of putting tiny pieces together for hours.
This collectible puzzle will be available in mid-October. It is available now to pre-order from Wickedcoolstuff.com. The puzzle will also be at Barnes and Noble and other specialty stores. The suggested retail price is around $11.95. Hopefully, we will see more fine Muppet puzzles from USAopoly in the future.