Muppets From Space Score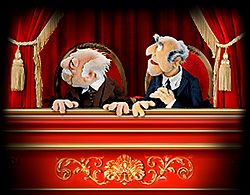 Derrick Shadowens (9-11-99) - The magic of the "Muppets From Space" film is captured perfectly in this breathtaking score by Jamshied Sharifi. The music is the first in what I hope will be a long line of Muppet music scores in the future.
The main title explodes out of the speakers with a slow sound building up to a climactic moment of the theme. Then for all those die hard crazy Muppet fans, who like the more obscure sounding music, go straight to track 7 for the delightful sounding theme Sharifi has conjured for Muppet Labs.

Still not interested? Want some more of the funky sounds from the other soundtrack? Well there are quite a few groovy sounds on here also. Just scan to tracks 4, 5, 6, 13, or 15. All have a groovy beat that's assured to get your toes a tapping. Still not interested? I don't know how, but there are still some treats in the bag.
Want more of a deep dark sound, with a hint of comical interlude? Well then scan on over to track 3, named, "Singer's Theme". In case you don't remember, Singer was the man trying to capture Gonzo in the film. His theme comes across dark and scary sounding, but as it goes on, you can tell Bobo is near to lighten things up. Some other tracks that have Singer's theme are 9, 11, and 18. Track 18 is named after one of the great lines in the film, "The Really Big Gun".
Okay you've got to be hooked on buying it now, but just maybe you might be someone who's read this and wanted a sci-fi soundtrack, with eerie sounds of space and creepy alien music. Well get ready, because that's the next thing on my list. There are some great sci-fi themes on here also. The opening theme has a great sci-fi feeling to it that is so explosive in sound you'll swear you are a hooked nose alien if you didn't have mirrors around to let you know different. Some other tracks featuring sci-fi music are on tracks 4, 16, and 20.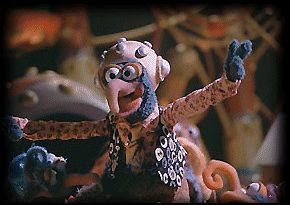 Want a little more? You have got a great montage of Miss Piggy's fight with the government agent, that's so good if you listen closely you might hear her karate chop him. But I must say one of my most favorites on this music score is Gonzo's theme, which appears on tracks 3, 4, 16, and 19. It's a great theme that makes you truly realize how Gonzo feels alone, and the joy he discovers when he is found and at peace. I know that sounds deep for a Muppet film but that's truly what I feel when I hear the music. And I hope you will too.
So I say cheers to Jamshied Sharifi, who did an extraordinary job bringing the Muppets first score to the big screen. This is truly a wonderful score and a must have for any Muppet fan.
You can order this great new score along with the movie soundtrack today from Muppet Central.
1. Main Title/The Ark
2. Gonzo's Lament
3. Singer's Theme
4. Through The Stars
5. Fanatics For Aliens
6. Gonzo On TV
7. Muppet Labs
8. Piggy And The Mibs
9. Singer Turns The Screws
10. Rats In Prison
11. Rentro
12. Muppet Infiltration
13. Porcine Wiles
14. Rescuing Gonzo
15. To The Beach
16. The Ships Arrive
17. Moment Of Glory
18. The Really Big Gun
19. Gonzo's Goodbye
20. Boldly Gone