Muppets From Space Soundtrack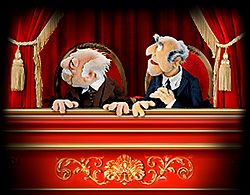 Ken Plume (7-01-99) - In what marks a remarkable departure from form that is daring, inventive, and a bit jarring (in a positive way), this is the first Muppet film that relies on established songs as opposed to character driven, penned-for-the-film tracks.
Relying heavily on funk-based hits from artists such as Billy Preston, George Clinton, The O'Jays, and The Commodores, the album really represents the Muppets growing up and reclaiming the adult audience that had been alienated by the Disney-fied Muppet Christmas Carol and Muppet Treasure Island. The Muppets are playing themselves - in fine form I may add - and the musical selections reflect the franchises new confidence.

The only Muppet-sung song in the film is a cover of "Celebration" which Gonzo's alien brethren perform… And it actually is a more raucous, energetic version than the original… And surprisingly, that's possible. The only jarring cut on the album is its final, which is a remix of Gonzo's classic Muppet Movie song "I'm Going To Go Back There Someday." The backing music track is funkified, but Gonzo's vocal is still slow and lilting, which works perfectly in the original, but seems too slow and out-of-sync with the new backing.
Despite that one draw back, this is still a fine album for both funk and Muppet fans… Who knows, there may be some crossover.
You can order this new soundtrack today from Muppet Central.
1. Shining Star - The Dust Brothers featuring Jeymes
2. Flashlight (Spaceflight) - George Clinton with Pepe
3. Brick House - The Commodores
4. Getaway - The Getaway People
5. Dazz - G Love & Special Sauce
6. It's Your Thing - The Isley Brothers
7. Survival - The O'Jays
8. Get Up Offa That Thing - James Brown
9. Celebration - The Alien Gonzos
10. Outa-Space - Billy Preston
11. I'm Going To Go Back There Someday - Gonzo