The Muppet Movie DVD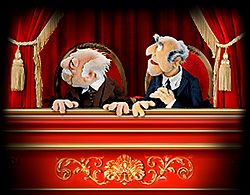 Kenneth Plume (6-5-2001) - Let me preface this by saying that The Muppet Movie is a truly cherished piece of my childhood. I remember watching it almost daily on videodisc, remember those? It is, by far, the best (and most sincere) of the Muppet films.
While The Great Muppet Caper showcased British sensibilities in its humor, The Muppet Movie is genuinely American in feeling and flavor. It's the tale of a Frog with aspirations – and a strength of character that won't be corrupted by the lure of easy money in a reprehensible venture – most notably in the form of promoting Doc Hopper's French Fried Frog Legs. The film is also a classic road picture. In fact, it's best to sum it up as a pastiche of genres, from romance to slapstick to drama to musical – it's got everything.
I love the fact that this film is finally on DVD, but I am disappointed that it did not receive the truly special edition that it deserves. One of the first features that belong on this disc are audio commentaries. A good chunk of the performers are still around, and based on interviews I've done in the past they've got fascinating stories to tell. Also, the original TV special promoting the film – The Muppets Go Hollywood – could have been included as well.
Having said all that, though, I did enjoy immensely one of the few features the disc does include: Director Jim Frawley's original camera test. For those not in the know, up until the production of the film, the Muppets had only been shot indoors in the studio – no one knew if they would look good in "real" outdoor environments. In order to test this, Frawley ventured out to the English countryside with Muppet performers Jim Henson, Frank Oz, and Richard Hunt and shot them on 16mm film. Almost 20 minutes of that footage is included here, shot in fields, trees, and even in a car – all filled with wonderfully funny ad-libbing from the performers. This is truly a remarkable piece of history, and kudos for its inclusion here – while that doesn't excuse the lack of the other features mentioned above, it does soften the blow somewhat.
Another disappointment that I have to get off my chest is the quality of the video, which is often grainy and blemished, especially towards the beginning of the film. We can be thankful, however, that it is presented in anamorphic widescreen (luddites will also find the pan & scan version on the disc's flipside). The disc does feature a few other extras worth mentioning, namely a few "Muppetisms" (comedic "self-help" interstitials originally produced for the Odyssey Channel) and some trailers for other Muppet DVD releases. One can only hope that a truly special edition of the film will eventually come to pass, but this is a presentation that will tide one over until then.

Michael Bellino (6-6-2001) - I just received my Muppet Movie DVD and I must say I am extremely pleased with it. The screen test alone makes the DVD worth its price.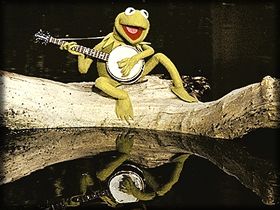 The screen test features Kermit and Fozzie in the outdoors with a guest appearance by Sweetums and Miss Piggy. At one point in the test, the wind is blowing and it keeps blowing Fozzie's hat off. Another scene has Fozzie and Kermit telling each other that they are not real. Kermit tells Fozzie he's not a real bear, just something with fur on it and Fozzie turns around and tells Kermit he has a wire on his arm and it's only for movement. The total length of the screen test is 12 minutes.
There are three Muppetisms on the DVD. One with Pepe where he talks about himself, one with Miss Piggy talking to the director and one with Kermit singing and dancing. The bonus trailers featured are Muppets From Space, Jumanji, Buddy, The Muppets Take Manhattan and The Adventures of Elmo in Grouchland. The DVD has two sides - a wide screen format and a full screen format.
One other thing I forgot to mention about the DVD was that the sound sounds better when you listen to it in Spanish or French. When you have it in normal, it sounds like the other versions released previously. The newer audio dubs sound recent and have a better sound quality than the two English tracks.
I give the DVD 4 Kermits. If they would have included the original movie trailer that aired in the 70's or would have added a "Making of Segment" or the special "The Muppets Go Hollywood", I would have given it a perfect 5.

Randal Lombardo (6-18-2001) - My expectations of the DVD were rather low. I expected a great film full of snaps, hisses, and that nasty gritty color that the VHS tape offers which makes Kermit look like mud. But wow, I felt like I was looking at a re-filmed version! I can't put enough emphasis into the quality of the DVD itself. It looks fabulous, especially when you compare it to VHS tape. The colors are extremely vibrant, Kermit's green just leaps right out of the screen, and the sound quality with Dolby Digital is excellent, except it only played out of one of my surround sound speakers. The TV compensates well enough, and after five minutes it was a problem easily ignored.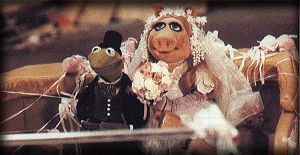 Being that the quality of the disc is so high, I will give my opinion of why the film is just as stupendous. It performs the near impossible. It appeals to kids of today just as well as it did when I was a wee lad collecting the McDonald's glasses and making mom and dad rent it all the time. The Muppets are timeless, and that's what makes them so great. They're all about funny situations, larger than life characters, and heart-warming tales of this motley group of animals. For example, Piggy having her daydream at the fair. Suddenly her and Kermit are thrust into this grand fantasy of the two of them in various time periods, from the streets of London to the rolling green mountainous fields of someplace with rolling green mountainous fields. And it works. Some films just portray the characters in situations that can't be believed, or it's the sort of thing that you watch today and just wonder how you ever liked it.

It also has a new dimension added to it now that Muppets from Space is around, the catalogued identity of Gonzo's fauna and species. I remember reading somewhere that the idea to have Gonzo be from outer space came directly from his fascination with the sky in this film, and I think the extrapolation and effort really paid off. There are some nice foreshadowing's layered beneath the humor of Gonzo flying with balloons. I've always been a huge Gonzo fan, and I really love how Muppets From Space suddenly added a whole new layer to Gonzo's existence. He has a perfect blend of chicken-chasing, wild antics, and the opportunity to reflect on his own being, not many comedians get to do that. And I seriously fall on the floor every time I watch his Prince of Plunger truck "collide" with Fozzie's Studebaker. It's one of my favorite scenes in all of moviedom, along with "you owe us a nickel!"
Now for the sad part... Special Features. After the pushing back of the release date and waiting so long, I really thought we were in for something special in this category. Maybe loads of old footage, maybe a commentary with Kermit and Fozzie and Gonzo.... Don't get me wrong, what they have is very nice, but there's simply not enough of it to sedate my hunger. After all the attention that was put into the Muppets From Space DVD, some more care would have been appreciated.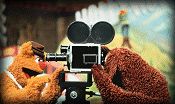 The Muppet Movie's Camera Test, although short, is an absolute riot, and just as amusing as the film. It was like watching a "Before they were stars" type video, and it's exactly the kind of thing I was hoping the movie would come with. I just really wish they could have added something else. The Muppet Movie is such a great movie it really deserves the all-star treatment.
In all, I give this disc an absolute perfect rating. But lack of more special features must knock it down a peg. In the meantime I will pray for a Criterion Uber-Chicken Deluxe Mega-Wocka Green Edition.

Discover what you may be missing!
Learn the differences between widescreen and pan-and-scan DVDs.