Fraggle DVD - Dance Your Cares Away

Greg James (January 4, 2005) - It was only nine months ago on April 1, that HIT Entertainment bought the licensing and distribution rights for many of Henson's Family Showcase, most notably Fraggle Rock. The first Fraggle Rock DVD was released in July 2004 (with a special edition of the same product in October). Now the second DVD of Fraggle Rock is here. HIT entitled this DVD "Dace Your Cares Away". The disc includes three episodes: Boober Gorg; Blanket of Snow, Blanket of Woe; and Inspector Red. A fourth bonus episode can be unlocked on the disc as well.
Here is a small plot summary for each episode:
Boober Gorg (Episode 83)
After being hit on the head by an exploding radish, Boober gets amnesia and thinks he's a Gorg. When he tells Ma and Pa Gorg, they believe him, because they think a sorcerer has changed Junior, who is missing, into a Fraggle.

Blanket of Snow, Blanket of Woe (Episode 52)
Mokey's made too many promises, and forgotten most of them; the most serious of which was to knit a new tarpaulin for the Trash Heap before the first big snow.

Inspector Red (Episode 92)
The Fraggle Horn is missing, and Red tries to find it, accusing many along the way.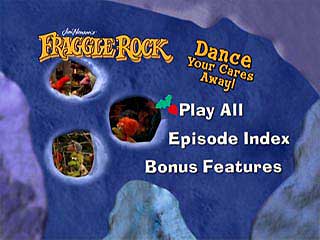 Considering the source material is more than 20 years old, the video quality is very good. Audio is crisp and clear. The opening menu is much more advanced than the first disc. As you can see, there are three Fraggle holes that contain full-motion video. It's a great effect and shows that HIT really cares about the Fraggle television library.
The first special feature is entitled "Behind the Scenes of Doc & Sprocket". This is a nice feature that takes a look at the loveable characters of Doc (Gerry Parkes) and Sprocket, including their international counterparts. In other countries (England, France, Germany, etc.) various actors played Doc making the show more cultural for that nation. This bonus feature is just a small part of the Fraggle Rock behind-the-scenes documentary "Down at Fraggle Rock." Hopefully future single-disk releases have more in the series; such as "Behind the Scenes of the Gorgs", "Behind the Scenes of Doozers", or "Behind the Scenes of Gobo".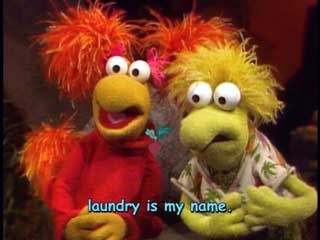 The second special feature is an entire episode from the half-hour animated Fraggle series, "No Fraggle Is An Island?". While the animated version leaves a lot to be desired in comparison to the high standards set by the original version, it is still a great special feature, especially for those who grew up on the animated version. The DVD also includes "Fraggle Karaoke" which allows viewers to sing along with their favorite Fraggle songs from the episodes on this disc. The songs include vocals or can be heard instrumentally.
The DVD features a fun new game for Fraggle-fans, a Fraggle Rock trivia game. If you complete the game it unlocks an entire bonus Fraggle episode, "Home is Where the Trash Is" (Episode 52). HIT also includes another special feature, an episode of another HIT-owned show called Pingu.
It is vital that you snatch these DVD's up as soon as possible to show HIT that you want more. Buy one for you, buy one for your favorite child or buy one for your favorite child at heart. If all of the 3-episode Fraggle DVD's sell out quickly, then it greatly enhances our chances of box sets in the future, and more single-disk releases too.
HIT has been hinting that they will be releasing Fraggle Rock Season 1 in its entirety on DVD in the Fall of 2005 (but still no official announcement yet). Just to be sure season 1 sees the light of day, take a few minute to call HIT's Fraggle Rock hotline and request Fraggle Rock DVD season box sets. Also, request that HIT works with Palisades Toys to release Fraggle Rock action figures.
The toll free Fraggle Rock customer service number is 1-866-405-7625. You can write them a letter at:
HIT Entertainment
Attn: Consumer Relations (Fraggle Rock)
PO Box 9000
Allen TX, 75013
Hopefully, 2005 will be the year of the Fraggle!

Discover what you may be missing!
Learn the differences between widescreen and pan-and-scan DVDs.