Fraggle DVD - Where It All Began Special Edition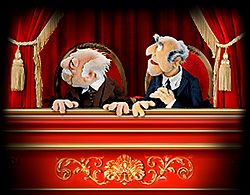 Phillip Chapman (October 7, 2004) - In March 1997, the first consumer DVD player arrived on the scene. Ever since that day, obsessed Fraggle fans have been salivating at the dream of seeing their favorite childhood show in glorious hi-resolution.
In fact more than 27,000 of you have pleaded for The Jim Henson Company to release Fraggle Rock on DVD. And we know that you not only want a few episodes, you want the whole series in season-by-season box sets. Well, today is the first step to that happening.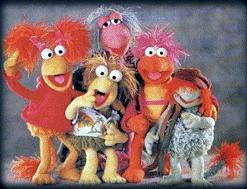 It was only three months ago on April 1, that HIT Entertainment bought the licensing and distribution rights for many of Henson's "Family Classics", most notably Fraggle Rock. Amazingly, it only took HIT 111 days to get the first US Fraggle Rock DVD on store shelves. And the great thing is they want to bring you more and more Fraggles. But HIT first wants to find out if the 27,000 of you (and then some) will snatch up Fraggle DVD's. We believe you will.

Before we get into the details of the disc, if you have never seen Fraggle Rock you may be wondering what all the excitement is about. Our friend Byron Summers, wrote a great editorial on the "magic" behind the rock. It's a wonderful primer to the series and why Fraggle Rock is needed more for this generation than any other. Jim Henson once described Fraggle as a "children's show that brings peace to the world."

WHERE IT ALL BEGAN

For me, Fraggle Rock began on January 10, 1983. I was lucky enough to watch the show for the first time during its original run on HBO. And I was mesmerized. What made Fraggle Rock so outstanding was not only the music or the performers, but it was the characters.

I couldn't immediately relate with these strange creatures per say, but I could relate with their personalities. I knew a Gobo, a Wembley and a Red in real life. We have all felt as small as a Doozer or as clumsy as a Gorg from one time to another. It's these ever-changing relationships and interdependence on one another that make the show so powerful. Most children's shows can be seen in any order, but not Fraggle. The characters change and develop as the series progresses which is why it's so important the shows are seen in episode order.

HIT entitled this DVD "Where It All Began". By doing so, HIT acknowledges Fraggles' beginnings and that there is a lot more to come. Inherently, the title shows an appreciation for the series. The disc includes the first three episodes: "Beginnings", "Wembley and the Gorgs" and the bonus feature "Let the Water Run".

Here is a small plot summary for each episode:
• In "Beginnings", Gobo's Uncle Matt discovers the opening to Outer Space and sets off to explore it, leaving Gobo behind to explore Fraggle Rock and pick up the postcards Matt will send.

• In "Wembley and the Gorgs", Wembley agrees with everyone, including the Gorgs, who decide he makes a great loyal subject.

• In "Let the Water Run", Red's Swimming Extravaganza is canceled when the pool goes dry and there's no water to fill it.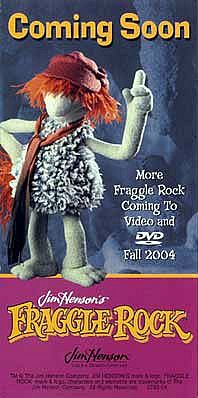 Unfortunately, once the first episode ends, you will see a fade into episode two. When the closing credits would have rolled on "Beginnings", a Fraggle Rock graphic is shown, and the opening credits on "Wembley and the Gorgs" is skipped. If you want to watch episode 2, you have to start at "Beginnings" and then chapter skip to "Wembley ad the Gorgs". I would have preferred that each episode was archived as originally presented with a separate theme and closing. As happy as we all are to have Fraggle DVD's, this transitional edit is unsatisfactory. Since the third episode is a "bonus feature" it is shown in its entirety.
Considering the source material is more than 20 years old, the video quality is very good. Audio is crisp and clear. HIT includes another bonus feature, "Pingu is Introduced", to promote another one of their non-Henson properties. The segment is about five minutes. Unlike the Time-Life and Columbia Muppet Show DVD's, HIT did include closed-captioning for the hearing impaired on this disc.
It is vital that you snatch these DVD's up as soon as possible to show HIT that you want more. Buy one for you, buy one for your favorite child or buy one for your favorite child at heart. If all of the 3-episode Fraggle DVD's sell out quickly, then it greatly enhances our chances of box sets in the future.
The "merging" of two episodes brought down the Kermit rating a bit. HIT scores high marks though for not only the quality of the transfer, but for releaseing the first three episodes in order. Hopefully HIT will continue to release chronological episodes or give us what we really want, season-by-season box sets.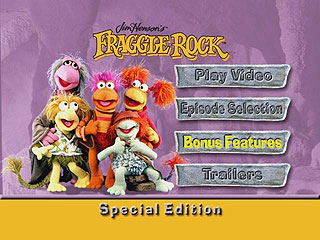 HIT is now planning to release a special edition version of the "Where It All Began" DVD on October 19, 2004. It will be available from Amazon.com and wherever DVD's are sold. (The original version was a Wal-Mart exclusive released in July to test the market for future Fraggle DVD's. To say the least, it was a big success.)
The episodes are exactly the same as the original disc with the exception that episode two ("Wembley and the Gorgs") doesn't include the closing theme and episode three ("Let the Water Run") doesn't include the opening credits. A "Fraggle Rock" logo is shown in between the three episodes.
The first special feature is entitled "Fraggle Songs: A Musical History of Fraggle Rock". It is really the entire 1983 UK video release of "Fraggle Songbook". It is exactly the same as the 1983 US release ("Fraggle Songs") with the exception of the extended opening featuring Fulton McKay, the UK's version of Doc who works in a lighthouse. The UK theme is sure to be a treat for those US fans who have never seen it previously. The runtime of this special feature is about 53 minutes.
Throughout "Fraggle Songs", video clips of these songs are interspersed with introductions from Traveling Matt:
Fraggle Rock Theme
Workin' Workin'
Doozer Marching Song
Dumb Of A Son
I Seen Trouble
Follow Me
Ragtime Queen
Here To There
I Can Do It On My Own
Get Blue
Let Me Be Your Song

The Fireman's Anthem
Beetle Song
Pantry Chant
Catch A Tail By The Tiger
Why?
Easy Is The Only Way To Go
The Ballad of Sir Blunderbrain
I'm Not Scared
Lost And Found

Convncing John
Brave Boy Jump Up
Rollin' Rollin' On
Friendship Song
Yucky
Fraggle Rock Rock
Dixie Wailin'
Music Box
Our Melody
Fraggle Rock Closing Theme
The second special feature is an entire episode from the half-hour animated Fraggle series, "The Great Fraggle Freeze". While the animated version leaves a lot to be desired in comparison to the high standards set by the original version, it is still a great special feature, especially for those who grew up on the animated version.
HIT also includes a trailer for the second Fraggle DVD. It will be entitled "Dance Your Cares Away" and will most likely include the episodes: "You Can't Do That Without A Hat", "The Thirty Minute Work Week" and "The Preachification of Convincing John". It has a planned release of Spring 2005.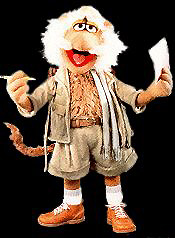 More good news is that HIT has now officially confirmed that they will be releasing Fraggle Rock Season 1 in it's entirety on DVD in the Fall of 2005. Just to be sure season 1 sees the light of day, take a few minute to call HIT's Fraggle Rock hotline and request Fraggle Rock DVD season box sets. Also, request that HIT works with Palisades Toys to release Fraggle Rock action figures.
The Fraggle Rock customer service number is 1-866-405-7625. You can write them a letter at: HIT Entertainment, Attn: Consumer Relations (Fraggle Rock), PO Box 9000, Allen TX, 75013. With your help, 2005 can be the year of the Fraggle!

Discover what you may be missing!
Learn the differences between widescreen and pan-and-scan DVDs.