Leland Mississippi:
Birthplace of Kermit the Frog Exhibit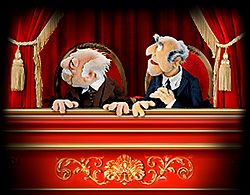 Cindy Chapman (8-28-99) - Although Greenville Mississippi is the birthplace of Jim Henson, Leland Mississippi is also the birthplace of Kermit the Frog.
Leland, a quaint town just a hop west (hop = 12 miles) of Greenville is where Jim Henson spent most of his childhood years. Leland, which lies on a delta of the Mississippi River known as Deer Creek, is where a young Jim Henson grew up and played during the years 1936 to 1948. It is here in Leland, that Jim Henson met his boyhood friend Kermit Scott, and who is believed to have later inspired him to create Kermit the Frog.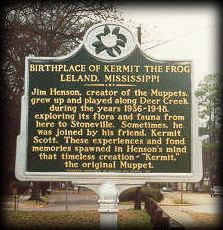 Leland, Mississippi pays tribute to Jim Henson and his popular green creation with an exhibit located within their Chamber of Commerce. This two-room exhibit is located right along Deer Creek, the same creek in which Jim Henson spent his time fishing and swimming as a young boy. When I visited there in 1992, I found the exhibit quite small, yet charming.
A giant wooden cutout of Kermit dressed in his finest from "The Muppets Take Manhattan" was placed at the entrance to greet all of his visitors. Inside, a glass display case contained three original Muppets including the Swedish Chef, Dr. Teeth, and Chester the Rat.
Along the wall, you could find pictures with lots of interesting information regarding Jim Henson and the Muppets. Also located in the exhibit was a small collection of various Muppet memorabilia. And sitting right in the middle of Deer Creek, during the winter holiday season, one could find a wonderful display of Kermit sitting on a log playing his banjo, accompanied by his "froggy" friends.
Now, several years later, you can still find this marvelous two-room tribute. Obviously, the exhibit has changed somewhat since my original visit.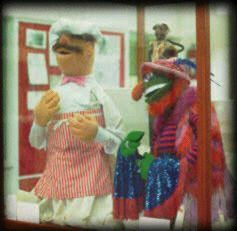 Today, the exhibit proudly displays a giant Applause Kermit plush in which visitors can have their picture taken. They also have a newly expanded gift shop and memorabilia section. They offer for sale an assortment of Applause merchandise including coffee mugs, T-shirts, PVC's, plush dolls, key chains, and much more. They also have a video room in which visitors can sit and watch hours of footage from some of Jim Henson's greatest moments.
Also, for the genuine Muppet fanatic, there is a comprehensive library containing pages upon pages of Muppet facts. Unfortunately, the Swedish Chef, Dr. Teeth, and Chester have been returned to The Jim Henson Company. However, approximately two years ago, a reception was held for Jane Henson to visit the exhibit and donate an original Kermit Muppet to replace the previous trio. Kermit can now be found in a glass case in what is probably his most famous pose. Kermit looks as though he belongs in Mississippi as he sits atop a log and holds his banjo. It is as if Kermit "came home".
LELAND MISSISSIPPI: BIRTHPLACE OF KERMIT THE FROG EXHIBIT

Hours of operation: 10:00 am until 4:00 pm Monday-Saturday, 2:00-5:00 pm on Sunday (in June, July and August they are open until 5:00 pm everyday)
Admission: Free!
Phone: 662-686-2687
Fax: 601-686-2689

The exhibit manager, Ashley Zepponi, can be contacted for those who wish to purchase any Applause merchandise (especially since the Applause license has expired). A shipping and handling charge of $4.95 will be charged for most items shipped in the US.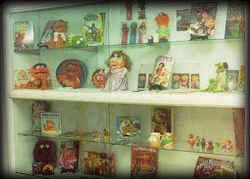 Brant Sappington (3-7-00) - If you are ever anywhere close to being in the area, this is an absolute must see. The collection consists primarily of photos of Henson and the Muppets and of Henson's early years. The center piece as earlier mentioned is a large diorama with an original Kermit donated by Jane Henson sitting on a log with his banjo. The collection of toys and other memorabilia is pretty impressive, particularly when you consider that the museum operates on a very small budget. They can't afford much advertising, so I just wanted to take this opportunity to help out. It is truly a great trip, and no true Muppet fan should miss it if given the opportunity.