Best of Sesame Street Spoofs! Volumes 1 and 2

Phillip Chapman (July 2, 2011) - Fans have been waiting since the fall of 2009 for another two-disc "best of" Sesame Street DVD collection after the "40 Years of Sunny Days" box set.
Given the amount of time that has passed, great anticipation has surrounded "Sesame Street Spoofs" the latest Sesame Street DVD box set arriving on Tuesday July 5. The world's most famous street has been parodying popular culture in songs and skits since the show's first season in 1969. The beauty of a fine-crafted Sesame spoof is that when done well it can entertain the adults while educating children at the same time.
Over the past few months fans have been speculating what clips and songs would be included in this "best of" collection spanning more than 40 years. No doubt Sesame Street could fill multiple box sets if they were to release all of their parodies and spoofs from over the years.
"Sesame Street Spoofs" is the fourth two-disc DVD set Sesame Workshop has produced. Previously released were: "Old School Volume 1 1969-1974", "Old School Volume 2 1975-1979" and the previously mentioned "40 Years of Sunny Days".
OVERALL PRESENTATION
On the opening menu, a cinematic film strip rolls vertically down the screen showing clips in each film as it passes by. Cookie Monster has a voice-over announcing the title on disc 1 and Elmo announces disc 2. The menus are presented in a 4:3 aspect ratio to match the content of both DVD's.
There are three options on each menu: "Play All", "Select a Spoof" and "Bonus Features". The background audio on the menus include snippets from each of the various clips on both discs.
Six Dollar Man parody of the
"Six Million Dollar Man"

Hey Food parody of the
Beatles' "Hey Jude"

High Twelve parody of
"High Noon"
Sesame Workshop has to walk a fine line here with this collection. There are some parodies that are so well-known that they have to be included. But there are others that are rare or fan favorites that were included as well. About a third of the spoofs are on DVD here for the first time. You may have seen the 80's spoof "Miami Mice" promoted as being part of this set. For whatever the reason, a "Miami Mice" segment was not included. This also would've been a nice opportunity to include some unreleased segments from Don Music, Placido Flamingo or the Muppets' early Beatles spoofs.
Hill Street Two's parody of
"Hill Street Blues"

Rebel L parody of
Billy Idol's "Rebel Yell"

Colambo parody of
"Columbo"
As you watch the segments, some of them are outstanding all on their own because they work on multiple levels. Even if you aren't familiar with a particular song or show, the parody still works. Some spoofs however can tend to fall a little flat if you aren't familiar with the original material. The musical parodies are great because they help to break up the dialogue for the viewer.
| | | | | |
| --- | --- | --- | --- | --- |
| | | | | |
| Law & Order: Special Letters Unit parody of "Law & Order: Special Victims Unit" | | Extreme Makeover: Home Addition parody of "Extreme Makeover: Home Edition" | | The Closer parody of "The Closer" |
Each DVD includes 19 spoofs as part of each main feature with a runtime of about an hour on each disc. All of the clips are presented in 1.33:1 full frame, along with English Dolby 2.0 mono and stereo soundtracks. The 16:9 clips from recent years are shown in 4:3 letterbox.
BONUS FEATURES
| | | |
| --- | --- | --- |
| | | |
| Beat The Time: Elmo | | Jon and Kate Plus 8 |
Disc 1 Bonus Spoofs
Beat The Time: Grover [2:42]
Beat The Time: The Count [3:14]
Beat The Time: Elmo [4:52] *First Video Release
With the "Beat the Time" Cookie Monster sketch included in the main feature on the first DVD, fans are treated to all four "Beat the Time" segments ever recorded. These are all great and kudos goes to whoever pushed for these to be highlighted here. (I've got to say though, I didn't remember until watching this that Elmo can slow down time. Elmo's 30 seconds lasted 2 minutes and 20 seconds. At least with the earlier Beat the Time sketches, they tried to keep it more realistic.)
In fact, there are five Guy Smiley skits included on this set, a new record for a Sesame Street release. And more classic Jim Henson is always fantastic for fans young and old.

Disc 2 Bonus Spoofs
Jon and Kate Plus 8 [2:49] *First Video Release
Smell Like a Monster [:42] *First Video Release
We finally get to see the "Jon and Kate Plus 8" parody that was filmed several years ago, but never shown on the Sesame Street program or on-line. And it was worth the wait. When Jon and Kate split up before the segment aired, Sesame Workshop decided to pull the parody out of respect for the family. Sesame's version of "Jon and Kate Plus 8" is a really fun sketch and it's great to see it included here. The Count even helps care for the children with his counting advice and more.
The "Smell Like a Monster" Old Spice commercial parody that has taken the Internet by storm is a welcome inclusion as well.
Because the runtime of the main spoofs on each disc is about an hour, it's a shame that more bonus material wasn't included. Even if Sesame Workshop didn't have the budget to produce a behind-the-spoofs feature, there are so many more jewels that could've been included from the archives.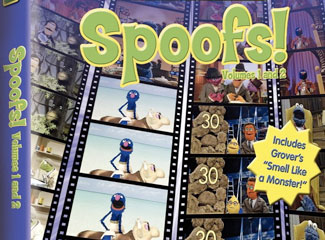 PACKAGING
The packaging is very similar to the "40 Years of Sunny Days" release. Each of the DVD's are in individual slimline cases. Thankfully, there are no digi-pack cases where the discs are stacked on one another. The cardboard case is thinner than the "40 Years of Sunny Days" release because a book in not included with this set. Given the lower price point, that's understandable.
Strangely instead of just titling this release "Best of Sesame Street Spoofs", the title has "Volumes 1 and 2" listed underneath the main heading. It's almost is if Sesame Workshop was considering releasing both DVD's separately initially and then later decided to put them together as one box set.
I've heard that it's possible that we'll see another release of Sesame Street Spoofs. So a "Volume 3" or "Volumes 3 and 4" may be in the works. That makes sense given the "volume" label and the fact that so many fantastic spoofs could still be included in upcoming releases. Sesame Street's new season will contain several great parodies including a Spiderman the musical parody with Grover (Frank Oz) and Fat Blue (Jerry Nelson).
CONCLUDING THOUGHTS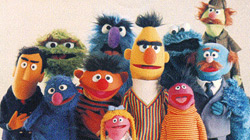 While some fans might choose the previously released Sesame Street DVD box sets before this one, "Sesame Street Spoofs" makes a great purchase on-line or in stores for under $20. There are just so many segments that have never been released that "Sesame Street Spoofs" is still a must-buy.
We must applaud Sesame Workshop for continuing to provide classic Old School DVD's and CD's along with other "best of" material for fans that have grown up with the show. We're still hoping to someday see more "Old School" DVD releases from the 70's and 80's though. Even if they are themed sets, like "Best of Sesame Street Trips", "Best of Sesame Street Rarities" or "Best of Sesame Street Ernie & Bert", the possibilities are diverse. "Sesame Street Spoofs" is a great remedy until that day arrives.

Best of Sesame Street Spoofs! Volume 1
Intro with Cookie Monster VO [:24]
Dragnet [2:16]
King Minus [1:20]
Here Is Your Life: Oak Tree [4:30]
Beat The Time: Cookie Monster [2:57]
Count It Higher [2:04]
Six Dollar Man [2:56]
Born To Add [2:26]
Family Food Game [7:25]
Hey Food [2:10]
Rebel L [2:51]
Hill Street Two's [3:38]
Monsterpiece Theater: Gone With The Wind [2:31]
High Twelve [4:02]
King And I [1:54]
Oooo-klahoma! [4:15]
Casablanca Alphabet [4:57]
Cereal Girl [1:59]
Twin Beaks [5:23]
Ronnie Trash [1:58]
Best of Sesame Street Spoofs! Volume 2
Intro with Elmo VO [:24]
Colambo: The Great Plum Plunder [3:04]
Spaceship Surprise The Next Generation: Planet H [3:34]
Braid-Y-Bunch [:56]
Six Feet Under [1:43]
Dr. Phil Meets Dr. Feel [2:32]
24 [2:11]
Desperate Houseplants [1:50]
Law & Order: Special Letters Unit [3:35]
Outrageous Makeover Home Addition [4:50]
A's Anatomy [4:07]
GNN [2:44]
RSI (Rhyme Scene Investigation) [3:31]
30 Rocks [2:50]
Pre-School Musical [3:11]
Dirtiest Jobs [5:43]
Mad Men [2:13]
True Mud [3:52]
The Closer [2:42]
O Network [1:42]

Discover what you may be missing!
Learn the differences between widescreen and pan-and-scan DVDs.