Sesame Street - 40 Years of Sunny Days

Phillip Chapman (November 3, 2009) - We just received an advance copy of the long-awaited "Sesame Street 40 Years of Sunny Days" anniversary DVD box set. It's been two long years since Sesame Workshop released their last Old School DVD collection so fans are counting the days until the Sesame Street 40th anniversary set is released on Tuesday November 10.
Instead of including a few hour-long episodes, Sesame Workshop decided to highlight over five hours of short segments comprising the "best-of-the-best" from the show's 40 year history. No doubt the production team had a challenging time deciding what clips would be included from more than 4,200 episodes.
Obviously, there are particular classic segments that we've all seen time and again that had to be featured in this collection. But fans have been wondering, would this collection include enough rare and previously unreleased material to justify the purchase? Would the promised behind-the-scenes footage live up to its billing or would the bonus features be somewhat lacking (like the recent Letters to Santa DVD release)?
If you already bought Sesame Street Old School Volume 1 or Old School Volume 2, then you need no introduction to Sesame Workshop's high-quality presentation from packaging to bonus features. Thankfully, the "40 Years of Sunny Days" DVD set continues these same high standards. The set includes two DVD's along with a limited edition mini-hardback book.
OVERALL PRESENTATION
Each DVD begins with Count von Count turning on a TV and watching short clips from each season. The first time you watch this television montage it's quite enjoyable, however, after repeat viewings you may find yourself skipping over this segment and going to the main menu instead. All of the clips are also included in their entirety on each of the DVD's.
The menus are beautifully designed as they include photos, scripts, props and sheet music. On each menu, the camera pans from one item to another. You can either watch all of the clips on a disc sequentially or you can choose the "Select a Segment" option and advance to a particular clip. Vocal and instrumental versions of popular songs are previewed on the menus.
Thankfully, the included segments feature many songs from the show. Some of the included tunes are ones you'd expect (like "Rubber Duckie", "I Love Trash" and "Bein' Green"). Thankfully fans get to once again see favorites like Little Jerry and the Monotones' "Mad" and the cast singing "Hello Hello Hello" from Season 12.
There is such a wealth of material to choose from for inclusion on these discs that if offered the opportunity nearly everyone would have a different list of clips they would like to see. Overall, the selection is very good and will appeal to a wide audience. From Mr. Hooper's death to Snuffy's reveal to Maria and Luis' wedding most of the big moments are here.
Some of the rarities include Telly Monster's first appearance, Oscar and Bruno's trip to the theater (with a few surprise guests) and the first time Elmo "found his voice". Some fan favorite characters like Roosevelt Franklin, Dr. Nobel Price and Forgetful Jones are featured while others like Sherlock Hemlock and Don Music unfortunately are not.
When some of the clips begin playing you'll see a behind-the-scenes photo either related to that particular segment (like Carol Spinney meeting R2-D2) or a Muppeteer performing on-set.
Guest stars with their own segments include: Madeline Kahn, James Taylor, Patti Labelle, Batman, Lena Horne, Fonzie, the Star Wars droids, Mister Rogers, Diana Ross, Pee Wee Herman, Feist, Smokey Robinson, Tony Bennet, Destiny's Child, and Robert De Niro among others.
All of the clips are presented in 1.33:1 full frame, along with English Dolby 2.0 mono and stereo soundtracks. The 16:9 clips from seasons 39 and 40 are shown in 4:3 letterbox. The bonus preview of Abby Cadabby's new CGI segment "Abby's Flying Fairy School" is presented in 16:9.
BONUS FEATURES
Jim Henson and Frank Oz
with Ernie and Bert

Bob McGrath, Caroll Spinney
and Alaina Reed rehearse
The following bonus features are included:
An interview with Jon Stone on research and curriculum, and the barriers the show broke.
An interview with legendary puppeteer Caroll Spinney on Oscar the Grouch.
Leslie Carrara-Rudolph and Jason Weber talk about the creation of Abby Cadabby.
Behind-the-scenes rehearsal footage of several songs including "The Honker Duckie Dinger Jamboree", "Hello Hello Hello", "Guess The Seasons," and "Friendship Song".
Exclusive archival footage featuring incredible behind-the-scenes studio rehearsals with cast, puppeteers and crew including the making of Dr. Nobel Price, green screen passes of Elmo and other characters and even a sneak peak into a Sesame Street production meeting.
An interview with Kevin Clash about the origin of Elmo.
Fan Favorite Clip - "Bert and Ernie String Tied" (Voted through Amazon.com)
Trivia and on-screen pop-up's featuring fun facts about Sesame Street.
| | | |
| --- | --- | --- |
| | | |
| Leslie Carrara-Rudolph with Abby | | Kevin Clash with Elmo |
There are several options to view the behind-the-scenes footage. You can watch them in order seperately from the main titles or you can choose to have them play in relation to the main titles. Meaning you can see the behind-the-scenes footage after you see the original segment while watching all of the clips from the main menu.
Fan who are familiar with the Muppet Morsels segments from The Muppet Show Season 1 DVD will appreciate the on-screen pop-up's which include facts and trivia about Sesame Street. There are a few grammatical issues here and there, but nonetheless this is a great feature and highly recommended. You might even want to turn on the "on-screen pop-ups" before you watch the clips for the first time.

Overall, the bonus features are outstanding especially the behind-the-scenes footage of the puppeteers in action. Often the magic below the camera is even more exciting than what happens on-camera. I was impressed with how much behind-the-scenes footage exists from the 1980's especially from the original Muppeteers Jim Henson, Frank Oz, Jerry Nelson and Richard Hunt. Seeing some of these rehearsals and read-throughs for the first time is more than worth the price of admission.
On the second DVD, there is a bonus option titled "Bonus Behind the Street Scenes" which reveals a link to Sesame Workshop's website with even more popular clips from the show's 40 years.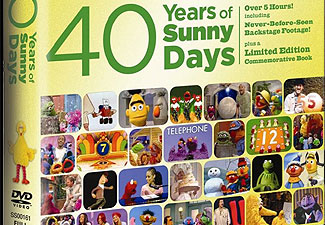 PACKAGING
The front cover is bright Big Bird yellow and includes stills from many of the segments featured on the two DVD's. Each of the DVD's are in individual slimline cases. Thankfully, there are no digi-pack cases here. None of the discs are stacked on one another. The back of the packaging includes retrospective photos and text. Unfortunately, there is a character mistake on the back of the first DVD case. Oscar's trash man Bruno is referred to as Biff.
The included limited-edition book is actually a mini-version of the comprehensive "Celebration of 40 Years of Life on the Street" book, cover and all. This mini-book includes a few of the same photos as the large version, but has updated layouts and abbreviated text to suit the smaller edition. The mini-book is 24 pages. No doubt this was included to promote the incredible Sesame Street collector's book that we previously reviewed.
CONCLUDING THOUGHTS
"Sesame Street - 40 Years of Sunny Days" is a joyous trip to the most famous street in the world. It's a delight to see Sesame Workshop finally release some of these rarities and fan-favorites on DVD. With an on-line purchase price of around $20 this collector's set has a lot of value for any fan's collection. Overall, the selected segments are very good, I just wish more was included. Increasing the set to four discs, instead of two would have allowed each DVD to have been devoted to its own decade.

This set is one of the last Sesame discs to be produced by Genius Products. It was recently announced the Warner Brothers will be distributing Sesame Street DVD's in 2010 and beyond. We can only hope that this is just a tease of future releases to come. With more than 75 million adults who've grown up on Sesame Street looking for a taste of nostalgia and now having children of their own, releasing more classic material no longer shown on Sesame Street is a no-brainer. Hopefully, Warners will be releasing many more classic DVD box sets from the early years of Sesame Street in the months ahead. If so, they'll be plenty more sunny days ahead indeed.

You can listen to the music of Sesame Street from the show's 40 year run on Muppet Central Radio.

40 Years of Sunny Days Disc 1
Season 1

"Sesame Street Open"
"Henson #1 Song"
"Rubber Duckie"
"I Love Trash"
Batman Around/Up/Through
"If I Knew You Were Coming"
"Bein' Green"

Season 2

Bert & Ernie: Banana in Ear
"Henson Queen of Six"
"Mad Song"
Sorting Song With Cookie Monster

Season 3

Mad Painter #5
"Bienvenido Song"
"Lady Bug Picnic"

Season 4

Herry & John-John Count
Talking Loud / Talking Soft
Remembering Bread, Milk, Butter
Kermit News: Sleeping Beauty
Bert & Ernie: Bert's Bust

Season 5

"Fat Cat"
O-Orange Man
Lena Horne: "How Do You Do?"
"Doin' the Pigeon"

Season 6

Super Grover: Exit
Typewriter: N-Nose
Invisible Ice Cream

Season 7

"Pinball Animation #7"

Season 8

"People in Your Neighborhood"

Season 9

Fonzie on/off/on
Clips From Hawaii
I-Beam

Season 10

Telly Plugs in (Telly's first appearance)

Season 11

Star Wars: "One You Go Beep"
Kermit News: Foot Snuggies (with Dr. Nobel Price)
Geometry of Circles (with music by Philip Glass)
Monsterpiece Theater: Me Claudius
Martians: Radio
"Me Lost Me Cookie at the Disco"

Season 12

"Hello Hello Hello Song"
Dancing Dog Imagines
Two-Headed Monster: Telephone
Bring Your Own Can Night
Mister Rogers Returns

Season 13

Making Crayons
Diana Ross: "Believe in Yourself"
Bert & Ernie: Fish Call Quiet/Loud
Madeline Kahn: "Friendship Song"

Season 14

"Honker Duckie Dinger Jamboree"
James Taylor: "Jellyman Kelly"
Bert & Ernie: Snowman
"We All Sing the Same Song"

Season 15

Teeny Little Super Guy: School
Just Because (Big Bird comes to terms with Mr. Hooper's death)

Season 16

"Peanut Butter Factory Song"
Smokey Robinson: "U Really Got a Hold on Me"

Season 17

Elmo's Make Believe Trip
"Batty Bat Song"
Snuffy Is Seen

Season 18

"Put Down the Duckie"
"Sing Your Synonyms"

Season 19

Pee Wee Herman's Alphabet
Maria and Luis Get Married
"African Alphabet"

Season 20

OOOO-Klahoma!
Meet the Baby (Gabriela is born)
40 Years of Sunny Days Disc 2
Season 21

Monsterpiece Theater: King and I
AlphaQuest: Letter R
"Monster in the Mirror"
"Elmo's Song"
Grover's Restaurant: Most Important Meal

Season 22

Cecille the Ball: "I'm Gonna Get to You"

Season 23

Does Air Move Things?
"What's the Name of That Song?"

Season 24

Ooh What a Fabulous Party

Season 25

Marilyn Horne: "C Is for Cookie"

Season 26

Arrested Development: "Pride"
Dance Theater of Harlem: Five Birds
Luxo Jr.: Front/Back
"My Name Is Zoe"
"B Is for Bubble"

Season 27

The Spin Doctors: "Two Princes"

Season 28

Fay Family: To Market

Season 29

Tony Bennett: "Slimey to the Moon"
"Count Me In"

Season 30

Patti LaBelle: "Gospel Alphabet"

Season 31

The Goo Goo Dolls: "Pride"
Celebrity "Sing"

Season 32

Robert De Niro: The Actor Prepares
My Nest, My Home
Elmo's World Games: Mr. Noodle

Season 33

"Bird on Me"
Destiny's Child: "A New Way to Walk"
Fire on the Street

Season 34

"ABC Hip Hop"

Season 35

TJ: "Me and My Chair" Song
Elmo's World: Lord of the Feet
Six Feet Under

Season 36

Alicia Keys: "Dancin'"
"A Cookie is a Sometime Food"

Season 37

Abby's Arrival
Matt Lauer Interviews Cookie Monster
Law & Order Special Letters Unit

Season 38

Can't Say the Alphabet Enough
I Love Every Part of You

Season 39

Feist: "1234"
The Golden Triangle of Destiny
David Beckham: Persistent
Plain White T's
Neil Patrick Harris: The Shoe Fairy
Bert and Ernie's Great Adventures: Penguin

Season 40

"Guess the Seasons Song"
D-Dance
[an error occurred while processing this directive]