Sesame Street Old School Volume 3

Phillip Chapman (November 1, 2012) - In 2006, Sesame fans were delighted with the release of Old School Volume 1 featuring five season premiere episodes from 1969-1974, the original Sesame pitch reel and over 54 classic clips. Then in 2007, it got even better with Old School Volume 2 which included five more season premieres from 1975-1979, the show's first test pilot, over 57 classic clips and even a "Pinball Number Count" commemorative animation cell.
Then the Old School video releases stopped with thousands of episodes sitting unreleased. In the meantime, Sesame Street released several nostalgia related DVD box sets including 40 Years of Sunny Days and Sesame Street Spoofs. Even more unreleased episodes appeared as Sesame Street Classics Volume 1 and Volume 2 on iTunes. Fans begin to lose hope that another Old School DVD set would be released.
Thankfully, Sesame Workshop and Warner Home Video have finally made it possible for Sesame Street Old School Volume 3 to see the light of day.
OVERALL PRESENTATION
From 1979-1984, the Muppet characters were at the height of their popularity with The Muppet Show, the first three Muppet movies and many TV specials being taped and filmed. Since many of the main performers were working on Muppet Show projects, new characters and talented performers began to make appearances on the street including: Forgetful Jones, Telly Monster, Dr. Nobel Price, Dolly Parton, a blind Muppet named Aristotle, the Honkers and more.
| | | |
| --- | --- | --- |
| | | |
| Two DVD's are included in the box set | A 28-page booklet on 1979-1984 Sesame | |
Featuring the five season premieres from 1979-1984, fans will be delighted to finally see these episodes from Sesame's teenage years in DVD quality with more classic cuts and fantastic bonus features. Like the previous two sets, there's a 28-page booklet which includes a Sesame Street timeline, character sketches, celebrities on the street, extensive cast tributes for Mr. Hooper, a biography on Muppeteer Marty Robinson and an interview with Telly Monster.
| | | |
| --- | --- | --- |
| | | |
| The opening menu on Disc 1 | Episode 1316 highlights menu | |
Fans will immediately notice a new design on the DVD menus. The main menu for each disc features a full-screen video clip from an episode along with a menu at the bottom of the screen. A small black-and-white animation featuring different characters (like Ernie and Bert in a car or Grover in a plane) occasionally moves across the menu.
Gone in this set are the animated character introductions before each episode (and thankfully so are the disclaimers that these Old School episodes were not intended for today's generation). They've been replaced with a short eight-second animated opening with a voiceover from Big Bird or Oscar with the episode number shown on-screen.
Fans will be surprised to see that the opening "Sesame Street Theme" song has been removed from all of the episodes. When the theme song appears in the middle of two episodes ("Sesame Street Goes to Puerto Rico" and "Big Bird Goes to Camp"), the familiar theme has been replaced with new music. Multiple clips have also been removed from the original broadcast version with other insert material used in its place.

Edited Scenes from Original Broadcast

Episode 1316 - Sesame Street Goes to Puerto Rico

In the original broadcast at the beginning of the episode when Maria and Olivia arrive in Puerto Rico, a Spanish version of the Sesame Street Theme plays. This has been replaced with an instrumental track and sound effects.

Closing credits removed.

Episode 1446 – Big Bird Goes to School

"Sesame Street Theme" removed.

The "8 Octopus" animation from the original broadcast has been replaced with the "Ringmaster 8" animation.

Closing credits removed.

Episode 1576 - The Birdwatchers

"Sesame Street Theme" removed.

The Muppets segment "Honk Around the Clock" has replaced Cab Calloway and the Count singing "I Want to Count" from the original broadcast.

When Big Bird roller skates an instrumental version of the Sesame Street theme plays. This music has been replaced.

Closing credits removed.

Episode 1706 - Big Bird Goes to Camp

"Sesame Street Theme" removed.

The "2 Farmers" animation from the original broadcast has been replaced with the "Subtracting Three Mules" animation.

The "Two Giraffes" animation has been replaced by the Christopher Clumsy jumping over a hole animation.

Like in the Puerto Rico episode, when Big Bird is riding the bus through the city and the country, the instrumental Sesame Street Theme from the original broadcast has been replaced with new music.

Closing credits removed.

Episode 1836 - Gordon in the NYC Marathon

"Sesame Street Theme" removed.

The "Two Farm Animals" animation has been replaced with another number two animation counting different objects (headlights, eyes, school books, pies, colors, swirls, zeros, curls).

Closing credits removed.

What is the reason behind all these changes? In most of these cases, only broadcast television rights were secured for Sesame Street episodes. Video releases weren't yet common in the early eighties, therefore, DVD royalty rights had to be acquired and negotiated thirty years later. As Sesame Street grew in popularity, better and more expensive artists, writers and lyricists were hired. Therefore it's no surprise that some rights were either too expensive or not possible to secure.
Fans of Old School Volume 2, will remember that Maria singing "Happy Birthday" to David was cut from an episode due to the exorbitant licensing rights of the song. So many fans were expecting to see the "Happy Birthday" song cut from the Puerto Rico episode as well. Surprisingly, "Happy Birthday" sung in English and Spanish appears as originally broadcast.
While shown in the booklet, Mister Rogers' memorable appearance in 1981 is unfortunately not included here. (It is on the 40 Years of Sunny Days DVD box set.) There also are a small number of celebrity appearances in the bonus clips. The most notable of which is Big Bird's duet with R2-D2 from Star Wars.
Even with the necessary changes, these episodes are a delight and will bring back a flood of memories and nostalgia for anyone alive in the 70's and 80's. Our two boys who are 8 and 3, loved all the classic material just as much as we did.
VIDEO AND AUDIO
Video quality is very good considering the source material is from aged video tape. All of the clips are presented in 1.33:1 full frame, along with an English Dolby 1.0 mono soundtrack. Some of the recent bonus features were shot in 16:9.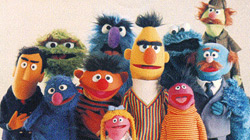 There does seem to be an unfortunate playback issue with the second DVD. It appears that it will not play properly in a few set top DVD and Blu-ray players. This issue occurred on our Panasonic DMP-BDT110 player. When the disc begins to play the opening menu, there are no selectable or highlighted buttons making it nearly impossible to navigate further than the opening menu. (When on the opening menu, by pressing the "menu" button on our player, the Easter Egg bonus clip began playing which allowed us to watch this and five of the behind-the-scenes clips.) The DVD played fine on an older Toshiba DVD player and also on a PC and Mac.
When discovering this issue, we notified Sesame Workshop and they are looking into the situation. (If you have trouble playing Old School disc 2 as well, please post here and let us know.) Even though this issue is disappointing, don't let it detract you from getting Old School Volume 3. We're hoping Warner Brothers offers a replacement disc for those experiencing any playback issues.
BONUS FEATURES
| | | |
| --- | --- | --- |
| | | |
| Dr. Nobel Price: "Umbrella" | | Behind the Scenes: "Birdwatchers" |
BEHIND THE SCENES: Sesame Workshop gives the viewer a wonderful behind-the-scenes look at the puppeteers in action for four songs and sketches. Seeing the great Muppeteers and their skill off-screen is inspiring for not only future puppeteers but fans as well. Each clip is about 2 minutes in length.
| | | |
| --- | --- | --- |
| | | |
| Filming of "The Singing Waiter" | | Filming of "Exercise with Grover" |
EXTRA FEATURES: An Interview with Caroll Spinney (13:04) – Caroll Spinney shares his insight on performing Big Bird and Oscar the Grouch for over forty years. The interview is great and just wets our appetite for the documentary, "I Am Big Bird: The Caroll Spinney Story" scheduled to premiere in the fall of 2013.
"How to Be a Grouch" Read by Caroll Spinney (8:57) – Caroll Spinney reads the classic 1976 book as Oscar while pictures Caroll illustrated are shown. You can watch "How to Be a Grouch" with or without Caroll Spinney on-screen as he records the Oscar dialogue in the studio. (Sesame Workshop, how about Eric Jacobson reading "The Monster at the End of this Book" for Old School Volume 4?)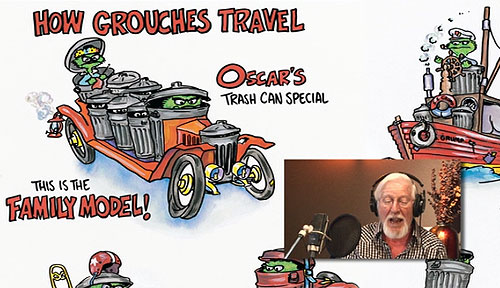 "Goodbye, Mr. Hooper" (11:01) – Three clips are included from the landmark episode where the cast shares with Big Bird that Mr. Hooper (Will Lee) passed away. Norman Stiles' beautiful script wonderfully contrasts the loss of death with the joy of new life. While the "I'm Gonna Miss You Mr. Hooper" clip appeared in the 40 Years of Sunny Days box set, this is the first time the following three scenes have been released on DVD.
"I'm Gonna Miss You
Mr. Hooper"

"Meeting the Baby"
Sonia Manzano Audio Commentary on Episode 1316 – Sonia's commentary is fantastic and a sought-after fan addition to this Old School DVD set. Sonia shares fond memories of the cast and the technical challenges of shooting an episode on location and so much more. It was really insightful to hear her thoughts on how the show has changed over the years from the 1970's to today. Sesame Workshop, please include cast and Muppeteer commentaries on future Old School releases. We'd like to see several cast members do a commentary together so that fans could hear the interaction between them.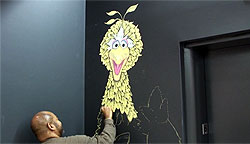 CREDITS – Since the video "credit crawls" from each season were not included on this release, a 27 page "credits.pdf" file is included on disc 2 and viewable on any computer.
EASTER EGG – On the first "Behind the Scenes" menu there's a hidden easter egg of a time-lapsed video of Louis Henry Mitchell drawing Big Bird near an elevator. This was shot on the eight floor of Sesame Workshop's offices. In the video, you'll see that pictures of Elmo and Cookie Monster have already been beautifully illustrated on the accompanying walls. Oscar and Grover are also on the other side of the elevators.
BONUS CLASSIC CLIPS – Twenty-five classic clips are thankfully included here. That's about half of the number of clips on previous sets, but since this volume was reduced to two DVD's this reduction is understandable. It seems strange that "Henson Ball #3" from 1974 (with the reshot ending) is included as a Season 15 bonus clip.
Bonus Classic Clips
DISC 1

- Season 11 Classic Cuts
Letter B (Beatles)
Born to Add
Disco Frog with Kermit
Star Wars: I Say Banana
Weather Around the World

- Season 12 Classic Cuts
Cookie Monster & Kermit: The Beginning, Middle and End
Big Hello 1-20
Dr. Noble Price's Talky Stick
Wavin' Goodbye
Dancin' Dog's Shadow

- Season 13 Classic Cuts
Reading Lesson: Big Bird and Aristotle
Rainy Day Song
Snowflakes with Bob
Proud to Be a Cow
Dance Myself to Sleep

DISC 2

- Season 14 Classic Cuts
Grover the Singing Waiter
Teeny Little Super Guy: Baseball
We All Sing the Same Song
In the Rain: Maria as Charlie Chaplin
Frogs in the Glen

- Season 15 Classic Cuts
Henson Ball #3
Trash Outta Heaven: Oscar and Bruno with the Cast
In/Out with Barkley and Luis
Cooperation Song
Exercise with Grover
CONCLUDING THOUGHTS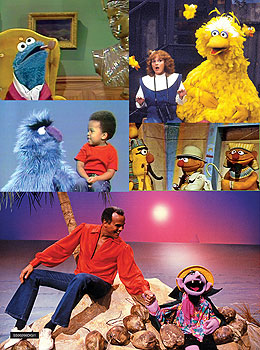 Sesame Street Old School Volume 3 is a must-buy addition and an amazing continuation of the Old School series. While we would've loved more bonus clips, fans are still treated with a variety of classic material and five great episodes. With an on-line purchase price of around $25 this collector's set has a lot of value and would make a great Christmas gift for any fan young or old.
From what we've heard, sales of Old School Volume 3 will determine whether or not Old School Volume 4 sees a street date as soon as November 2013. So please do your part and purchase Old School Volume 3 in order to help ensure more classic material sees the light of day in the future.
With more than 75 million adults who've grown up on Sesame Street looking for a taste of nostalgia, Old School is required viewing again and again. Hopefully, Warners will be releasing many more classic DVD box sets from the early years of Sesame Street in the years ahead.
You can listen to the music of Sesame Street Old School twenty-four hours a day on Muppet Central Radio.

The Noggin Cuts
For fans who are familiar with the Noggin versions, the following sketches were removed from these episodes when they were broadcast on Noggin. (The network cut about four-five minutes from each episode.) Thankfully, they are included on the DVD's in their respective episodes.
Episode 1316 - Sesame Street Goes to Puerto Rico

The Noggin broadcast version cut about a minute of footage of Maria and Olivia arriving in Puerto Rico. The video appears as originally broadcast on PBS (with the aforementioned music changes mentioned above).

The "A Box" animation that was cut from Noggin's broadcast is included here.

The Noggin broadcast cut the scene when Susan tells Big Bird that the cast should hide from Maria. It's included in Old School Volume 3.

An animation of a girl drawing the letter "a" was removed from the Noggin version.

Noggin also cut the second part of the Oscar and Osvaldo in the rain scene.


Episode 1446 – Big Bird Goes to School

The film of Gordon's city bike ride cut from Noggin is on this DVD release.

The animation of Billy and Dad talking about seat belts is included here.


Episode 1576 - The Birdwatchers

The Road Runner film cut from Noggin is shown on Old School Volume 3.

The animation of a lady singing the ABC's throughout the country and a man singing the alphabet in the city is on this DVD set.

Joe Raposo's eagle film is also included.

A cut Noggin film showing different kind of birds is also on Old School Volume 3.


Episode 1706 - Big Bird Goes to Camp

The Herman Happy and Stanley Sad animation cut from Noggin is here as well.

The "Geometry of Circles" animation removed from Noggin is included.

The cut Noggin film "Dressed Up" by Joe Raposo is here as well.

The "Small b, Small d" animation is also an addition from the Noggin version.

The monkey film "Somebody Come and Play" by Joe Raposo is featured.

Episode 1836 - Gordon in the NYC Marathon

The animation of a short boy drinking from a tall water fountain cut from Noggin is shown on Old School Volume 3..

Noggin removed the animation of "K Kangaroo" and it's included in Old School Volume 3.

The elephant helping an alligator remember was also cut from Noggin.

The popular "K is for a Keyhole" animation makes an Old School appearance.

The animation of Millie and Molly walking and imagining was also removed from the Noggin broadcast and it's included in Old School Volume 3.

Discover what you may be missing!
Learn the differences between widescreen and pan-and-scan DVDs.